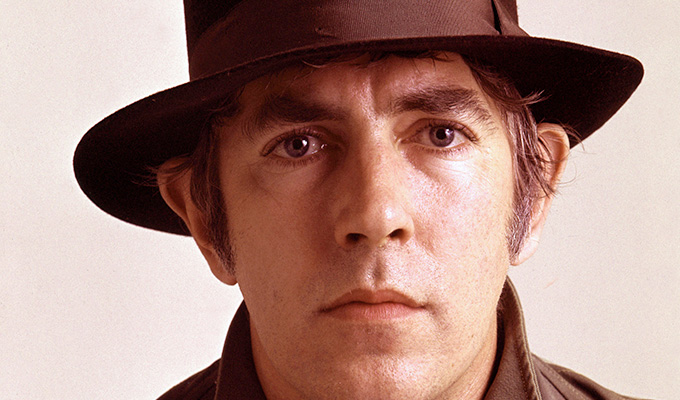 Peter Cook
Date of birth:
17-11-1937
Date of death:
09-01-1995
A genuine comedy genius whose prolific output, especially in the early years, made the comedy landscape what it is today.
He applied his considerable talent to theatre (Beyond The Fringe), press (Private Eye) and the genesis of stand-up (The Establishment Club) - all when he was still in his twenties.
In latter years he seemed to drift - an image he did little to dispel - yet still produced some comedy masterpieces, if underappreciated ones - in the later years of his incredible life.
Cook's early life was unusual: he was brought up by his grandmother for the first six years as his parents were in Nigeria, then went to Radley public school, where he found an outlet for his lively imagination, contributing to the school magazine and becoming involved in revues.
Exempted from national service because of his asthma he started a modern languages degree at Pembroke College, Cambridge in 1957. There he successfully auditioned for the Footlights, performing in the 1959 show, written mostly by John Bird it was called The Last Laugh and set in a nuclear bunker.
On the strength of that show, he was commissioned to write a new West End revue for Kenneth Williams, called Pieces of Eight, which was so successful it spawned a sequel One Over The Eight.
Ironically, these old-fashioned revues wee to be killed off by Cook's next project - Beyond The Fringe, an Edinburgh showcase for the best Oxbridge performers: Dudley Moore, Alan Bennett, Jonathan Miller and Cook, whose agent had advised him not to take the job, as he was a professional, above working with amateurs.
The show heralded the start of the so-called satire boom, a scene given a focus by Cook, who opened London's first satirical nightclub The Establishment Club in 1961, shortly after Beyond The Fringe transferred to the West End. The club would allow performances to go further than they could in the theatre, where scripts were at the mercy of censorship by the Lord Chamberlain. It was an instant success, with regulars such as John Bird and John Fortune, and guests like Barry Humphries and, controversially, Lenny Bruce.
Cook also had his heart set on a satirical newspaper, so was disappoined when Christopher Booker got there first with Private Eye. But when its key backer shied away in 1962, Cook stepped in as proprietor - and helped circulation rise from 18,000 to a more viable 50,000
When the satire boom fizzled out while he was in New York with the Broadway run of Beyond The Fringe, Cook found work on the current affairs show On The Braden Beat, appearing every week with a reprisal of an earlier deadpan character, who he renamed EL Wisty
In 1965, his former Beyond The Fringe colleague, Dudley Moore, was offered a solo show - and he invited his pal to help up the comedy stakes. The duo were such a hit that Not Only, But Also became one of the most influential TV comedies around, running for three series
The duo were lured to ITV with a big-money deal, but the four episodes of Goodbye Again failed to capture the magic of the original, so they returned to the BBC for their third series, broadcast in colour in 1970.
Their partnership was epitomised by the cloth-capped Pete & Dud and their surreal and obscene counterparts, Derek and Clive, originally created solely for the duo's own entertainment.
Their partnership started to fall apart during an Australian production Behind The Fridge, aided by Cook's heavy drinking. After their split, Moore became a Hollywood romantic comedy star, while Cook's career languished in mediocrity.
Things turned around in the last few years of his life - his tour de force performance as three character on Clive Anderson's chat show; and two series of interviews as oddball aristocrat Sir Arthur Strre-Greebling ­ one with Ludovic Kennedy for BBC2 and the other with a young satirist by the name of Chris Morris - helped re-establish his reputation.
Since his death in 1995, from a gastro-intestinal haemorrhage, that reputation has continued to grow, as a new generation of comedians take inspiration from the full body of his comedy legacy.

Read More