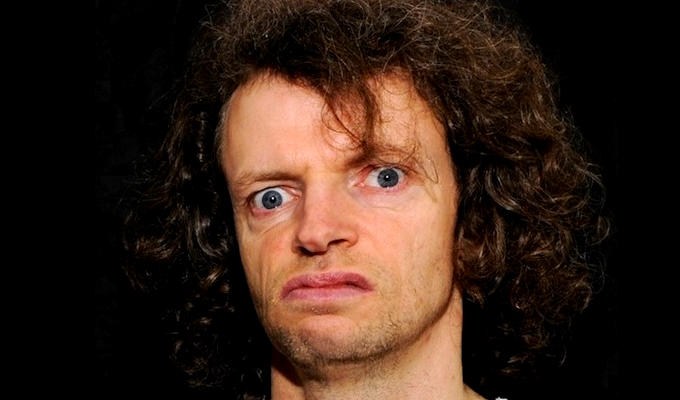 Phil Zimmerman
Phil Zimmerman: Killing Granny
Phil Zimmerman had a fight on his hands at this show, forever battling a group of gobby Scousers – and one woman in particular – who took every line as an invitation to start a conversation with him. Sometimes regional stereotypes hold up…
The comic humours them as much as he can, but while there's a good smattering crowd work in the hour, it's predominantly a series of strange set-pieces that do not, unsurprisingly, benefit from endless interruptions.
Zimmerman has been on the fringes of the comedy circuit for a couple of decades, probably best known for his bonkers outbursts, all wild, jerky movements and repeated non-sequiturs. A pigeon impression (which we get a glimpse of here) used to be his signature routine.
In this work-in-progress gig, most of the verbal absurdity fails to fly. A routine imagining the sport of 'footbull' is received in stony silence. He becomes Boris for a while, but all the parodic 'um, ah, follow the science' blether is so long-windedly repetitive he never gets a sentence out. That's obviously the joke, but it's irritating rather than funny.
On the other side of the ledger, there are some solid one-liners, and his manic physical outbursts remain hilariously demented. Weirder than these, though, are the constant hints that he's a bit of a Covid fruitcake, with dismissive references to masks, PCR tests, BBC reporting and asymptomatic spread. And there's a straight song about 'lines in the sky' that doesn't actually use the word 'chemtrail' but heavily suggests it.
It's not entirely clear whether he means it or not – one great line is 'do I look mad to you?!" (Or course, the astute Scousers have to answer that yes, yes he does, lest there be any ambiguity). But then he closes the hour with an entirely straight rant about 9/11 being a fit-up and it definitely feels weird.
And that's not even the most extreme conspiracy theory of the show. At one point, he asked if anyone believes in such notions and one woman instantly becomes a human 4chan, unloading about mind control, media conspiracies and global Satanic child sex cults within seconds.
You can't blame him for what she said, but it makes an already awkward atmosphere even more uneasy. Zimmerman gigs are always going to be weird, but usually in a more benign way than this.
Read More
Published: 21 Aug 2021
He may now be exposing his famously pendulous testicles…
1/01/2006
Phil Zimmerman certainly looks the part - his unkept…
1/05/2005
Past Shows
Agent
We do not currently hold contact details for Phil Zimmerman's agent. If you are a comic or agent wanting your details to appear on Chortle, click here.