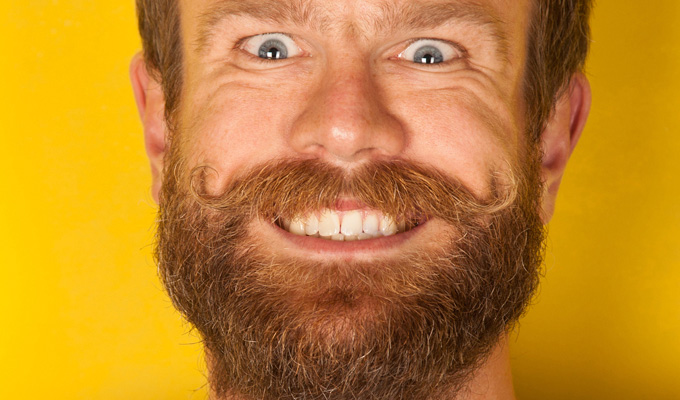 Olaf Falafel
Olaf Falafel: There's no i in idiot
Two sorts of Vines are key to explaining Olaf Falafel. The first Vine is the now-defunct six-second video platform on which he became something of a social media star. The second Vine is Tim, whose world of childish stupidity and gleeful 'dad jokes, the Swede happily shares.
He has puns galore – you can guarantee he'll be on every 'joke of the Fringe' list going – jingles, props and daft bits of audience interaction of a very non-threatening kind. 'A lot of comedians are afraid of bad jokes,' he says, but Falafel leans into them.
Falafel is not, however as manically cheesy as Vine. He's friendly, but with a certain Scandinavian aloofness that treats his idiocy seriously.
While his gags, certainly his best ones, are short, he's extended many of them for the hour-long format, amplifying a moment of silliness into a grander set piece. Sometimes by expanding the build-up, sometimes by repetition, and sometimes by engineering an epic, if low-budget, recreation, calling back to many earlier punchlines.
Building towards these scenes gives this wonderfully-titled show a sense of purpose, however unlikely, even if any attempt to impose reason on Falafel's quirkiness is destined to fail. And even applying such focus doesn't quite overcome the hit-and-miss nature of what he does.
Yet by convoluted logic, he manages to connect his reverie about the time a porpoise saved him; his stilted conversation with his local shopkeeper, played on video by Mark Silcox; and the visit from the spirit of Cure frontman Robert Smith, who is hilariously brought to life.
There was to have been another big moment, too, but a blown fuse incapacitated Falafel's tech for several minutes, a hitch that threw him off the pace for other sections too, despite his determination to push through.
The downside of these bigger segments is that they seem to be pushing too hard for the same foolishness he can achieve more simply in a crisp one-liner, or a segment such as Biscuitology, where he ascertains forensically precise aspects of audience members' characters based on their snacking preferences.
Such gags – and Falafel's obvious love for them – ensure an entertaining hour, covering patchier moments both tech-related and otherwise.
Read More
Published: 5 Aug 2018
It was a cavalcade of funny foreigners, both actual…
30/11/2015
Past Shows
Agent
We do not currently hold contact details for Olaf Falafel's agent. If you are a comic or agent wanting your details to appear on Chortle, click here.