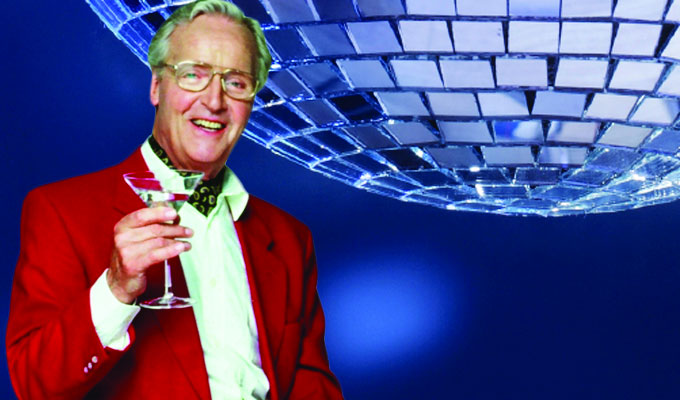 Nicholas Parsons
Date of birth:
10-10-1923
Date of death:
28-01-2020
Nicholas Parsons was born in 1923, the son of a GP in Grantham, Lincolnshire, whose patients included the parents of Margaret Thatcher. After his education at St Paul's School, London – where he excelled in Latin, Greek and rugby – Parsons started an apprenticeship as an engineer to please his family, , even though he knew acting was his true passion, and earned a mighty 49p for a 48-hour week. He briefly worked in the Clydeside shipyards before studying engineering at the University of Glasgow.
He started doing impersonations, which landed him his first professional engagement on the radio, the joined an amateur concert party, before going into repertory as an actor at Bromley in Kent.
He moved to the legendary London cabaret circuit in the Fifties, where he was resident comedian at the famous Windmill Theatre for six months; and in 1956 teamed up with comedian Arthur Haynes in 1956. Parsons played his straight man on TV for a decade until Haynes's sudden death in 1966.
He then worked with Benny Hill, being a regular on his show from 1969 to 1974, as well as working solo - most famously hosting the Anglia Television game show Sale of the Century, broadcast weekly from 1971 to 1983.
Other notable TV appearances include playing himself in the 1988 Comic Strip Presents film Mr Jolly Lives Next Door; playing a vicar in Doctor Who in 1989; and guest hosting Have I Got News for You in 2005.
Parsons made his film debut in 1947, and appeared in many British comedy films in the Fifties and Sixties. He returned to the West End stage in 1967 to star in Boeing-Boeing, and has more recently taken the role of the narrator in the The Rocky Horror Show.
Parsons will also be forever linked with the Radio 4 panel game Just a Minute, whcih he has hosted since its first broadcast on December 22, 1967. During the late Sixties he also presented a two-part programme on Radio Four called Listen To This Space, a small part of the 'satire boom' of the time.
In 1976, he was asked to stand as Liberal Party candidate for Yeovil. He refused – allowing an unknown newcomer called Paddy Ashdown to fight, and win, the seat
Between 1988 and 1991 Parsons was Rector of the University of St Andrews, and was given an honorary Doctor of Laws degree for his work there. And in 2005 he became honorary chairman of the International Quizzing Association.
He is also active in the Grand Order of Water Rats charity, and was president of the Lord's Taverners chairty in 1998-1999. He also works for the NSPCC, the Variety Club and Childline. In 2004, he was awarded OBE.
He continues to tour a one-man show, which is esecially popular on cruise ships, and in 2000 started an annual stage chat show at the Edinburgh Fringe.
His autobiography, The Straight Man - My Life In Comedy, was published in 1994.
Read More