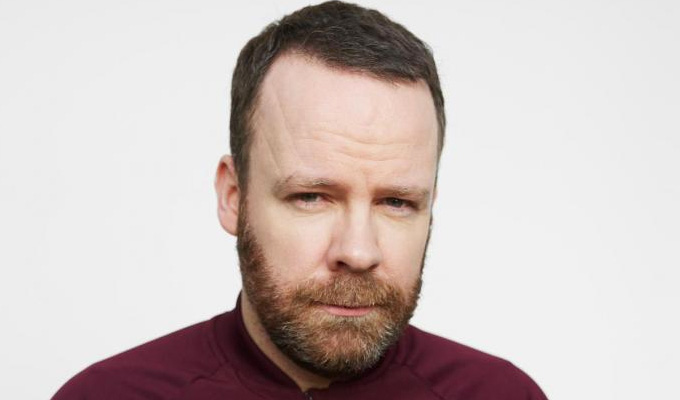 Neil Delamere
Neil Delamere: Smartbomb
Note: This review is from 2013
There's no denying that Neil Delamere is a very funny man, even if (at times) his show doesn't hang together quite as well as it should. He admits early on that he came up with the title long before he wrote the content and the last-minute feel does slow things down. However, the confident, witty way he engages with the audience goes a long way towards making up for the loose, written-on-the-bus feel.
The anecdotal, thrown-together show explores the reasons why six people have been rather disappointed in him this year, for reasons that are as varied as they are (usually) extremely funny. A particular highlight has to be a section about a man who showed up to deep clean Delamere's Dublin home, an errant foster dog and some ensuing farcical confusion that wouldn't be out of place in an episode of One Foot In The Grave or Father Ted.
However, it's the frequent audience banter that really give him a chance to shine. Right from the start, he's chatting with people, asking them where they work, who they're with, what they do, and he's got an answer for everything. It's great craic. In fact, his responses are so quick and assured you'd be forgiven for thinking you'd strayed into an improv sketch show by mistake.
Anecdotal comedy can sometimes feel a bit stale and Delamere certainly isn't trying anything new. However, there's an element of 'if it ain't broke, don't fix it' and the audience certainly appreciate his style, smooth delivery and near-perfect timing. Well, most of the audience anyway. The three men who leave halfway through to nip to the loo/bar probably didn't appreciate ending up as the subjects of a particularly lurid (imaginary) threesome.
There are plenty of rib-crackingly funny moments as he takes us through his quick witted accounts of dealing with an angry ex-girlfriend, smuggling a highly dangerous apple into a game of football, and the aforementioned dog/cleaner incident, with his slightly threadbare material bolstered with plenty of callbacks and audience participation.
Read More
Published: 14 Aug 2013
Neil Delamere provides great material and laughs, with…
27/08/2012
The recession is certainly taking its toll on Kilkenny.…
5/06/2012
Divilment, as the internet told me, is an Irish term…
8/08/2011
As far as pulling power goes, you couldn't have assembled…
11/10/2010
Kudos to Neil Delamere, not only for recommending his…
24/08/2009
If you were looking for a theme to unite most of the…
1/01/2008
Jovial Irish gent Neil Delamere banters effortlessly…
1/01/2008
Neil Delamare has put together a slick show. He is…
1/08/2007
The Just For Laughs festival is notoriously tight when…
1/01/2007
Make no mistake. Hosting a televised Just For Laughs…
1/01/2006
Neil Delamere has an engaging, natural warmth with…
5/06/2004
It's the nature of this festival that everything's…
1/01/2004
This quietly charming young Irishman had his mettle…
1/01/2004
Past Shows
Agent
We do not currently hold contact details for Neil Delamere's agent. If you are a comic or agent wanting your details to appear on Chortle, click here.