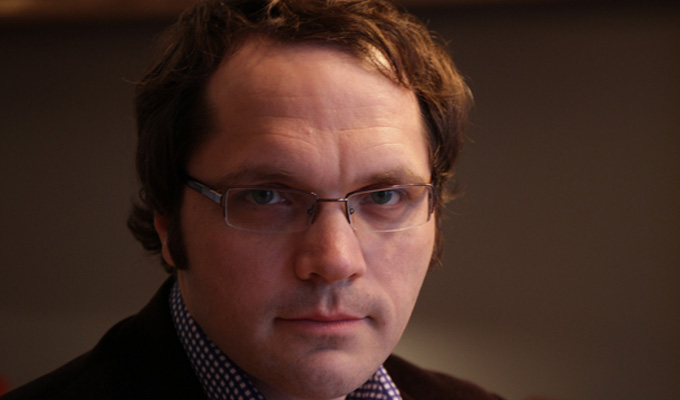 Matthew Holness
Angstrom
Note: This review is from 2018
Radio 4's new comedy show has been written by Joel Morris and Jason Hazeley, the duo who have made wheelbarrows of cash from their Ladybird Books for Grown Ups.
But Angstrom – a spoof Nordic noir crime yarn – has a tone less like their surprise publishing phenomenon and more like another of their previous projects, A Touch Of Cloth, the brooding Sky 1 detective spoof they co-created with Charlie Brooker.
For the comedy here is based on puncturing the hero's seriousness with a script that boasts a veritable blizzard of wordplay, whether ridiculous puns, tortured metaphors or elegantly daft constructions: 'Angstrom poured himself a whisky… into his brandy.'
So while it feels like Morris and Hazeley are the best part of a decade too late to parody the bleak literary genre they target, there are certainly enough good jokes in this first of four episodes to overlook that fact. Besides, the deadpan style of such crime thrillers contrasts well with their gag-driven humour.
The riddle in this story, The Man Who Wasn't Dead is that there's no corpse – which maverick cop Knut Ångström assumes is because the victim has been so utterly obliterated. Although his sidekick has another theory: 'What if there's no body because there's no murder?' – a preposterous thought.
Matthew Holness is the perfect actor to play Angstrom, with the same poker-faced, terse pomposity he brought to Garth Marenghi. Moody voiceovers add a suitably pretentious tone to be undercut by the silly content, such as Angstrom ridiculously buying too many lawnmowers or communing with his dead duck.
And instead of a grizzled old newspaper editor arguing the toss with an eager cub reporter about reopening a cold case that may or may not be linked to the current one, there's an online content farm specialising in cat videos with more money than sense.
Not every gag fires, but there are certainly enough of them to ensure you'll soon find one that does. Aptly, you're never far from a killer.
Plus the story is compelling and labyrinthine enough for listeners to want to tune in next week to find out what happens next.
• Angstrom, which also stars Nadia Kamil, Simon Kane, Morgana Robinson, David Reed, Freya Parker and Kevin Eldon, launches on Radio 4 at 6.30pm tonight.
Read More
Published: 10 Jan 2018
The imposing and cavernous interior of the Royal Albert…
1/01/2007
Back with the same mix of over-egged horror hyperbole,…
1/01/2001
Dare you descend into the chilling netherworld of…
1/01/2000
Past Shows
Edinburgh Fringe 2001
Agent
We do not currently hold contact details for Matthew Holness's agent. If you are a comic or agent wanting your details to appear on Chortle, click here.