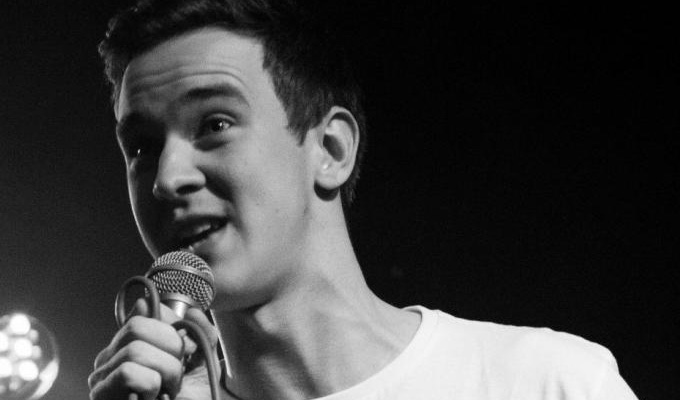 Michael Clarke
Absurd comedian, actor and poet who made the finals of the NATYs new act awards in 2107.
Read More
Michael Clarke: Felt
Michael Clarke gets full marks for ambition for his debut hour. Felt is a bold theatrical, multimedia, stand-up hybrid that touches on trauma and exploitation – and while not all the risks pay off, it's a more absorbing and memorable show that most observational or anecdotal stand-ups could hope to muster.
The idea is that this show was meant to be a tender look back at Clarke's childhood memories… though it's clear that things were never going to be that straightforward given the violent bloodbath that serves as a pre-roll bonus, not part of the story but a warning about the sort of intense performer Clarke can be.
Things calm as he sets out his stall for the nostalgia show, but he does have to make the disclosure that it has been sponsored by Felta Skelta, the UK's leading felt emporium. However, he doesn't feel it's a sellout, given the part that felt toys genuinely played in his youth… and because he's got all these expensive films to fund, including some kooky animations and a weird black-and-white arthouse film he once made for dogs, which proves suitably disturbing.
Through these, and some home movie footage, he tells the story of how his parents met – in a queue for the toilets of all places – and relives fond memories. The sweetness of this is mixed in with closer-to-traditional stand-up observations, as his sponsorship deal leads him to consider the nature of advertising, from the poignantly sad commercials brands roll out at Christmas, to his assertion that Cancer Research ads have been taking the wrong tack, and that they should use his darkly funny versions instead.
However, the demands Big Felt make on the content of his show become increasingly onerous. Clarke insists he had artistic control, but the hefty contract says otherwise. The show gets stranger and sadder as they impose their will on how they believe an audience should be manipulated to maximise textile sales.
There's a touch of Richard Gadd about the forcefulness of Clarke's performance, and the peculiar blurring of fact and fantasy. There are some fantastic moments, but not all the humour is well-judged. The insidious nature of Felta Skelta's subliminal advertising is especially overplayed, even laboured, while the need to explicitly signpost how his conclusion had been foreshadowed spoiled the impact of the audience figuring that out for themselves.
But there is plenty here that impresses and amuses; a strong calling card for a comic who can hopefully pick up a little more nuance and subtly, but is bursting with artistic invention.
And one tip, try to sit with a good view of the screen; from where I ended up perched in this busy room, I lost several visual punchlines down to indistinct text and a bloody great pillar taking out a third of the screen.
Read More
Published: 24 Aug 2018
It's always the most eclectic of the new act…
30/01/2017
Past Shows
Edinburgh Fringe 2018
Agent
We do not currently hold contact details for Michael Clarke's agent. If you are a comic or agent wanting your details to appear on Chortle, click here.