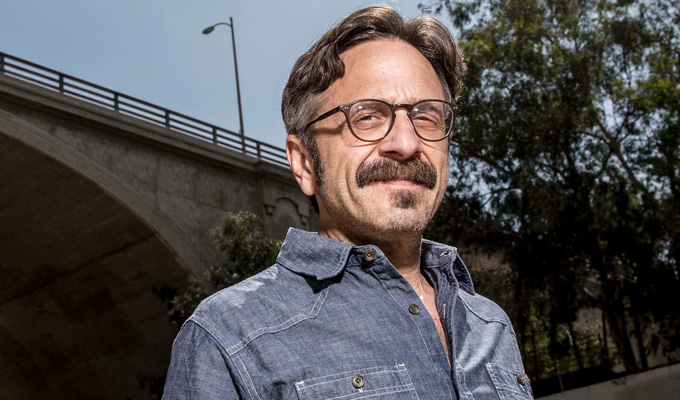 Marc Maron
Date of birth: 27-09-1963

The Alternative Show with Andy Kindler
The main thing to note about Andy Kindler's Alternative Show at Montreal's Just For Laughs is just how non-alternative it is.
Not Kindler himself, of course. His brand of self-sabotaging kvetching – in which he tires of premises mid-way though (despite giving them a very hard sell), undermines punchlines and gripes about the lack of career success – gives everything a meta twist. He is as uncompromisingly honest about the artifice of stand-up – or his stand-up at least – as most comics aim to be about whatever targets they look out at.
But comedy is a very broad church, welcoming all manner of weird and wonderful acts bending the perceptions of the artform. Yet here, they are all solo performers with a conversational monologues. Where are the oddballs and fruitcakes?
Opening act Moeshe Kasher, for example starts with talking about the travails of being a new dad and the perils of learning about sex from porn – as mainstream as you can get. He's personable and easy-going and the conversation about consent and #notallmen is hugely pertinent. But alternative? No.
Marc Maron crushed it, starting by roasting old pal Kindler for his low-wattage performance before regaling the audience with self-deprecating stories from his 35-year career as a comic and almost as many years as a screw up.
Yet all the corrosive bitterness that once defined him as a comedian has now evaporated – the result, perhaps, of finding success via his WTF? podcast, his own TV series and a lead role in Netflix hit Glow as well as sobering up – but the insightful self-awareness remains, underpinning his stories of peculiar behaviour. Not least bulk buying PG Tips teabags on an incomprehensible whim.
There's a sobering chunk of real life behind Grace And Frankie regular Baron Vaughn's funniest material, comprising bittersweet musings on how he had just been reunited with his father, who had been absent throughout his childhood. The set goes wider, covering a gamut from farting to Leonardo Da Vinci, but it's the personal that really stays with you.
Jackie Kashan admit she looks like 'every piece of shit white woman' set in her ways and passively-aggressively intolerant of others. But you shouldn't judge a book by its cover. She's has the liberal credentials, mixed in with tales of middle-aged woe from quite a bookish type. She something of a a wordy act, eliciting laughs on the build-ups more than the payoffs, thanks largely to a sardonic turns of phrase and the naturalistic way she delivers it.
Finally, Roy Wood Jr entertained with an astute commentary on Captain America to kick off a set that was on the money when it comes to the social landscape, subtly drawing attention to the different experiences of black and white people as well as taking in the #metoo movement, and those who might have dodged its career-ending bullet.
Read More
Published: 29 Jul 2018
He's now hanging out with presidents on a podcast…
5/09/2015
Marc Maron is one of the select few American acts flown…
30/07/2010
In a distracted moment in tonight's show, visiting…
30/07/2010
With more baggage than Louis Vuitton, this is Marc…
20/07/2009
When you see two comics sharing a Fringe show, the…
1/01/2007
Past Shows
Edinburgh Fringe 2007
Agent
We do not currently hold contact details for Marc Maron's agent. If you are a comic or agent wanting your details to appear on Chortle, click here.