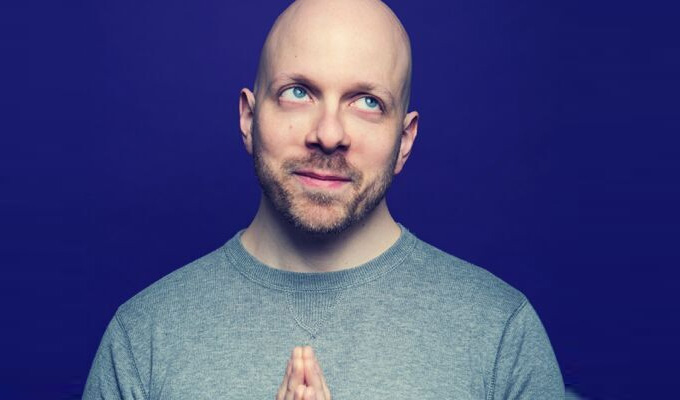 Luca Cupani: God Digger
Given how predominantly atheist the comedy circuit appears to be, it's rare to find a comic who questions whether his vocation is willed by God.
Yet told of his father's death shortly before a gig, Luca Cupani was faced with the dilemma of waiting long hours at the airport for the flight to take him to Italy, or honouring the booking and riffing about his father before setting off. Concluding that the latter option was preferable, he interprets the show's success as a sign that his stand-up career has heavenly endorsement.
Now, in Edinburgh, the Catholic comedian questions if God is rewarding him or punishing us by sending us to this show. And on that matter, divine judgement is perhaps still out.
There's a naif-like quality to the instantly likeable Cupani that's partly borne out of him being a late developer, only truly pursuing his artistic and romantic dreams in his mid-30s once his father and mother had died. With his mother, the stereotype of the mollycoddling Italian matriarch certainly seems applicable, as he darkly links meeting his fiancée to her passing.
Were his mother's death and his redundancy from his call centre job God's will? Cupani is steeped in the faith of his upbringing and interprets everything through it. His first glimpse of naked female breasts belonged to a statue of Saint Agatha and these were ripped from her body in martyrdom. It doesn't take a psychologist to imagine the effect this might have had.
Perhaps Cupani is too close to God, because his assessment of various saints and his take on the story of Abraham for example, are lengthy, drawn-out affairs that can't justify his 'what's all that about?' observations. Mysterious ways or supernatural nonsense depending on your perspective, it's hardly a revelation that the behaviour in these stories is excessive.
Moreover, while Cupani's English is conversationally excellent, it's rambling for a stand-up. He has a tendency to let his setups simply run on and follows his punchlines with clarifying explanations, which become slightly wearing over an hour.
His drive to follow his dreams is expanded upon in later routines, with Cupani relating how he and a friend set up a T-shirt-printing business, confusingly featuring cartoon (Jewish) golems, Beyond linking to a further get rich quick scheme, in which he is approached to run a swingers' club for singles, which he reckons might be the devil trying to tempt him, there's no obvious reason where he's going with this, beyond directing you to the Fringe venue where you can buy his merchandise.
He is, however, trying to branch out into acting, and performs an extract of the 'Friends, Romans, countrymen' speech from Julius Caesar, again, for reasons that seem opaque, his experience in auditions predictably tough given his accent. Indeed, it's proved as difficult as monetising comedy, despite him winning the So You Think You're Funny? competition in 2015.
Cupani belatedly returns to his core theme to introduce Genesius of Rome, the patron saint of comedians, suggesting that this protective icon had an off-day as his show limps towards its conclusion. Happily, though, he also reveals that he's found work taking over the lead in a religious play at the festival. And he hands out flyers with a broad grin as we exit.
Read More
Published: 20 Aug 2018
It was a cavalcade of funny foreigners, both actual…
30/11/2015
There was a strong showing at this year's So You…
28/08/2015
Past Shows
Agent
We do not currently hold contact details for Luca Cupani's agent. If you are a comic or agent wanting your details to appear on Chortle, click here.