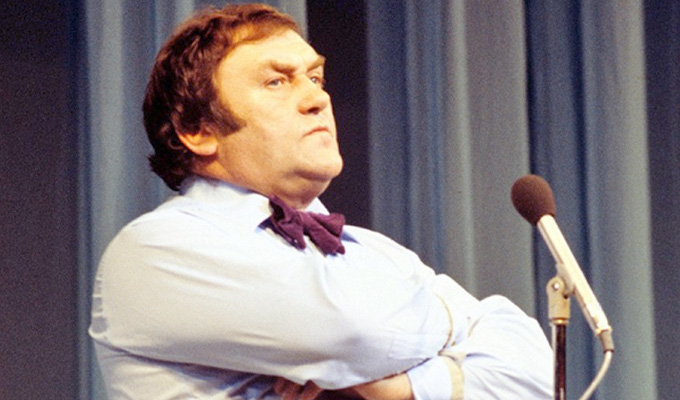 Les Dawson
Date of birth:
02-02-1931
Date of death:
10-06-1993
Les Dawson is a legend of British comedy, best known for his deadpan one-liners, long rambling monologues, and gags about his mother-in-law and his wife. His popularity spanned a 25-year career as a comic on television, radio, and several Royal Variety performances, and he remained a much-loved public figure until his sudden death in 1993.
Dawson was born February 1931 into an impoverished community of working class families in Manchester. He had originally wanted to be a writer, but ultimately preferred performing in working men's clubs. Despite a BBC audition in 1954 deeming him vocally out of tune and consequently not worth broadcasting, he became an overnight success after his television debut in 1967 on Opportunity Knocks.
  Dawson was soon given his own sketch show, Les Sez, in 1969 on ITV. This became the platform for some of his most memorable performances, such as the Cissie & Ada sketches, where Dawson and friend and comic actor Roy Barraclough performed a routine in drag, discussing 'women's problems' and drawing laughs from innuendo and miscommunication. The show featured guest appearances from John Cleese, David Jason, and the Roly Polys, a group of big-boned tap dancers who soon became a regular feature.
Dawson was not only a comedian; he was a talented pianist, but he kept that under wraps – as deliberately playing pieces such as Beethoven's Moonlight Sonata badly was a lot more amusing than playing them correctly. Dawson was also a master of language, poetry and subtle wordplay, often using Latin in his monologues and undercutting the momentum with punch lines which deliberately brought the audience back to earth.
Despite his passing from a heart attack in 1993, Dawson remains part of the public British consciousness in the same league as Tommy Cooper and Morecambe & Wise. He is also frequently mentioned on countdowns of British comedians, where in 2010 on Channel 4's 100 Greatest Stand Ups he was rated number 24, and on 2004's BBC programme The Comedian's Comedian, he was rated number 37, showing how 17 years after his death his back catalogue of material still manages to still entertain.
Read More