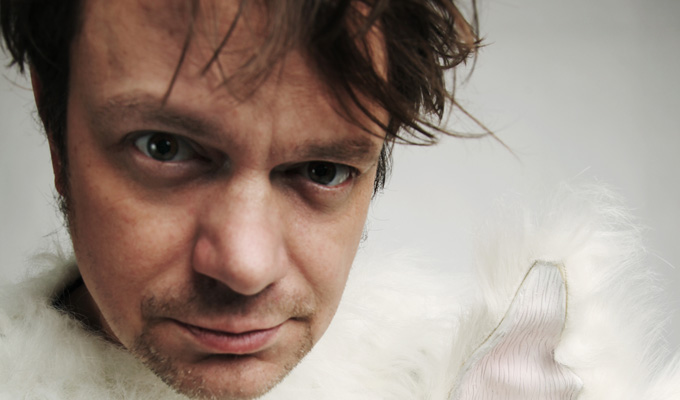 Liam Mullone
Liam Mullone: Game Over
Note: This review is from 2013
For reasons I shan't go into here, Liam Mullone thinks it might be best if he were to depart this mortal coil. But he wants to make sure he has a sublime Edinburgh show first, to leave as his legacy.
So he might be rather saddened to hear that he's got at least another year to live.
In Game Over, the inveterate iconoclast is as provocative as ever, with some brutally witty lines from his original point of view. However, the show doesn't gel as it might, while some of the extended routines seem to dissolve without the big pay-off they need. And that's the reason he probably shouldn't kill himself just yet.
Nevertheless, there are some smart segments in here, which pack an acrid sting. There's not many comedians who would stand up and say 'There's too much hatred – against the Tories' or suggest there might be a downside to feminism... and not with the usual irony defence, but just because it means more work for him. Henning Wehn might, I suppose – but then Mullone writes for him, too.
Elsewhere in the show, Richard Dawkins gets it in his sanctimonious neck, as does the proudly liberal Independent newspaper, reduced to ridicule through multiple repetition of Mullone's parody version of its narrow news agenda, a technique most closely associated with Stewart Lee. There's a similar approach of layering on the detail when he scrupulously and graphically describes every fine point of the mining tragedy he envisions befalling his wife.
It's delivered with a dry detachment that rather mirrors Mullone's overall blithe approach to life. Overall, he's of the opinion that he just wants to be left alone. That's why he struggles with his children, in one of those segments that outlives its welcome, and that's why his philosophy is that the world's vaguely fine, and he's not going expend any energy on worrying about its future.
It's an antidote to the passion of the political comics, and Mullone has a sharp brain to back it up. Yet there's just not quite enough in this hour to make it zing.
Read More
Published: 10 Aug 2013
As always, Liam Mullone has some intelligent, incisive…
24/08/2012
Liam Mullone is an intellectual bruiser of a comedian,…
28/08/2011
Ten grand's a tasty enough bait to lure out stand-ups…
7/12/2010
Somewhere in the shaded Venn diagram overlap between…
7/02/2010
This is No Country For Old Men on a Fringe budget;…
1/01/2008
There's some mighty fine writing in evidence in Liam…
1/01/2007
Times obituary writer Liam Mullone may have ostentatious…
6/12/2004
Past Shows
Agent
We do not currently hold contact details for Liam Mullone's agent. If you are a comic or agent wanting your details to appear on Chortle, click here.