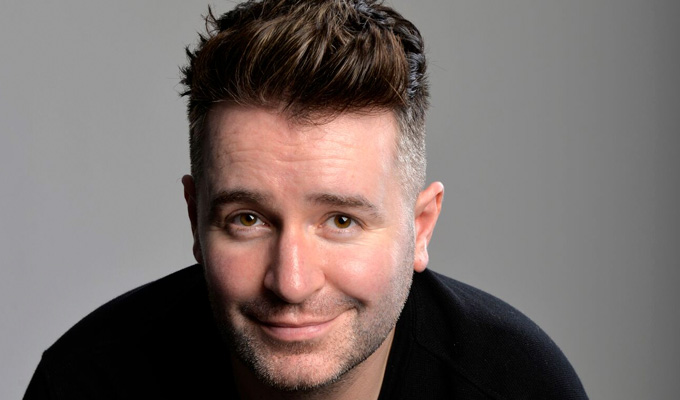 Jarlath Regan
'It made me fall in love with being a comedian again'
Jarlath Regan kicks off a UK tour of his show Organ Freeman – about donating a kidney to his brother – at London's Leicester Square Theatre on Friday. Here he shares his Perfect Playlist of comedy favourites that make him laugh…
Zach Galifianakis - Live At The Purple Onion
Every comic has a moment where they're watching someone on stage and they decide 'I'm going to do that'. For me that moment was watching Zach Galifianakis at the Cat Laughs Comedy Festival in Kilkenny in 2003.
At the time nobody knew who he was, he hadn't been in anything successful but his stand-up was extraordinary to watch. The lines were absurd and brilliant but it was the character that really blew me away.
People didn't know what to make of him simmering with rage at a grand piano. I was just 22-year-old drinking pints and hanging out. Part of me wanted to do stand-up but seeing him gave me the courage to go for it.
Dylan Moran - Monster
Last week I got to do my show my favourite comedy venue in the world, Vicar Street in Dublin. There is something about the room. It's just the perfect place for stand-up and it's the place where saw the best stand-up performance I've ever seen, when Dylan Moran recorded his Monster DVD there.
At the end of the first half, the audience were blown away. He did an hour and we would have gone home happy at that point. In the bar, my friends and I prepared ourselves for the understandable dip that was to follow.
The second half was up another two levels. I remember it being so good that I stopped laughing and started to feel sad. I still think Dylan is the standard we are all trying to reach.
I feel like this documentary was at one point 'required reading' for anyone trying to be a comic. At the time it came out I was neck-deep in the theories of stand-up. Joke structure, pacing, technique, styles, writing method…I couldn't see the wood for the trees and certainly hadn't found any sort of a voice.
I was overwhelmed and not enjoying comedy. I was wondering if I was doing it all wrong and if the stress I was feeling would ever go away.
Then I watched this documentary. It's hard to say what it did because there's so much of the cautionary tale within the story. Mainly I fell back in love with the process, the life and the grind of writing funny stuff.
Father Ted & The Simpsons
I group these two together because in terms of the comedy of my childhood these two series were everything to me. To say both have stood the test of time is an understatement.
I now watch 1990s Simpsons and Ted with my son now and we howl together. I'm pretty sure he will do the same too.
Laughter and jokes were the centre of my childhood. School was about laughs. Nobody would listen to you unless you were saying something with a punchline at the end of it. Jokes, gags, pratfalls and piss-taking were what made the mundanity of adolescence tolerable.
It boggles my mind sometimes that they now pay my bills.
Chelsea Peretti - One Of The Greats
I reckon Chelsea's Netflix special is about as inventive and funny a special that there has ever been. From the dogs in the audience to the nagging voice of her inner clown to the parody of every other type of special - it's just pitch perfect and loaded with incredibly funny bits.
She is Kaufmanesque in places and at other times she deftly makes political points without ever sacrificing the funny.
I'm amazed this special didn't have a bigger impact. I watch it any time I'm struggling to find the courage to just write what I think is funny.
John Mulaney - The Comeback Kid
I could have picked either of his albums the Top Part or New In Town - both are superb. But this Netflix special came after his sit-com Mulaney didn't work out. For most, that would be a death sentence. Instead, John produced this stunning piece of stand-up.
It's impossible not to love the writing but it's what this special means that I adore.
• Click here for the full list of Jarlath's Organ Freeman tour dates.
Read More
Published: 17 Jan 2018
Past Shows
Agent
We do not currently hold contact details for Jarlath Regan's agent. If you are a comic or agent wanting your details to appear on Chortle, click here.