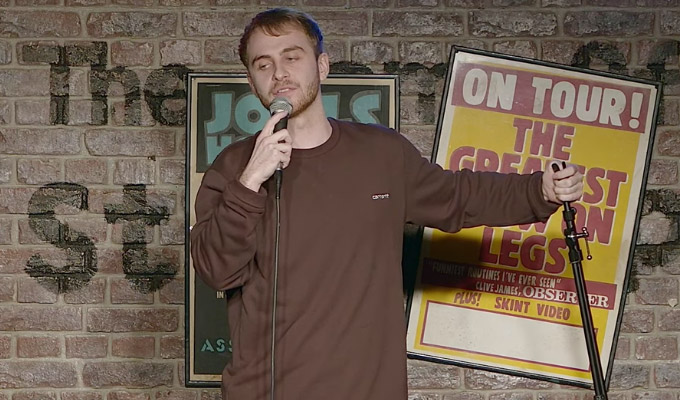 Joshua Mays
Brighton Grin final
Who would start stand-up in a pandemic? But despite the dearth of gigs in which to hone their craft over the past 18 months, the finalists in the first Brighton Grin new act competition last night set a cracking standard.
Despite the crowded field, Joshua Mays stood out with his offbeat dispatches from a shithole. With artfully vivid descriptions of Crawley, he made the awful beautiful, found surrealism in the mundane and created a real sense of the place he has to call home.
With his spaced-out delivery and off-the-wall content, he exudes a demeanour that he's not of this world. By his own description is either the greatest thinker of his generation, or someone who's consumed too many edibles in lockdown. Between the two is a good place to find distinctive comedy, as Mays so delightfully and originally demonstrated – securing him the £500 first prize.
Runners-up honours were shared by Micah Hall and Ashish Suri. Hall has a calm, laid-back poise, confident enough to be able to open with: 'I'm not gonna lie, I'm not that good' – a gambit that clearly only works if it's a lie.
An Everyman, but smarter than average, he demonstrates an appealing turn of phrase and inventive writing, covering topics from dead celebrities, troubled relationships and racial slurs so antiquated as to be ineffectual.
Suri wasn't so polished, but his beta-male persona has a lot to recommend it. There are shades of alternative comedy godfather Arnold Brown in his mild mannerisms and quirkily downplayed, offbeat delivery, which works well with material centred on his social awkwardness.
The night, hosted cheerily and briskly by Will Duggan, kicked off with character act Kitty Cassis – a gossipy beautician/clairvoyant and a vision in leopardskin, with 'subtle' makeup Ziggy Stardust might thing too much.
Creator Aimee Cooper shows glimpses of early Caroline Aherne in her performance, but in a five-minute slot she threw in too many personality quirks and not enough punchlines – making the set too rushed and chaotic to let the character breathe. But the potential is clearly there.
Next up, Matt Rouse, proved the very definition of a bad vegan – indeed any sort of virtuous living and personal growth seems anathema to his lazy personality. It's a solid attitude, but didn't quite parlay into decent jokes until he pivoted to address the fact he's a quarter Pakistani, despite looking 100 per cent white – a mismatch he skilfully exploits.
Alex Prescot takes to the stage in a suit and a topknot and already we hate him. Thankfully we're supposed to, since his opening track is as if sung by an escooter rider. Over three, slightly rushed, songs on piano and ukulele, Prescot proves he knows his way around a brisk, tricky lyric as well as demonstrating a little rock and roll showmanship. A sharp and jaunty writer, he's another one to watch.
As is Alex Franklin, who was unlucky not to be placed in the top three. He exudes a nervous, awkward energy, but harnesses his eccentricities with some sharp, distinctive writing via his comedy alter-ego: the man who lives in the Cluedo house. And he certainly committed to this tongue-in-cheek critique of the game, committing his entire, witty set to the topic.
Dan Jones also had an appealing attitude, happy to do a few dad jokes and quip about how inappropriate such cheesy lines are for such an auspicious occasion. Talking of cheesy, his set takes its cue from the well-known annual cheese race in his native Gloucester. As well as offering an amusing, wry commentary on the event, he uses it to bait an excellent callback in this well-constructed set.
Imperious in her military-style tunic, the brutally austere Fran Kissling exaggerated the stereotype of the Swiss as efficient and unemotive to Matterhorn heights. Her unsmiling facade never slips, but her aridly dry attitude sets a well-defined backdrop for some strong lines. It feels as if laughing would be frowned upon, which of course makes the audience more primed to do so, risking her disdain. An act for those who think Henning Wehn isn't sternly Germanic enough.
Finally, Elaine Fellows has an appealingly natural style, chatty and amiable. But she could make more of the bite she only sometimes shows. Her early line about those unworthy of Christ's love is strong, as is the original yet relatable material about her reaction to windscreen wipers. But while she doesn't sustain these obvious highs, she has a lot in her favour.
You could say the same of all ten acts who graced this impressive bill.
Read More
Published: 28 Oct 2021
The pool of new comedy talent often seems to be getting…
12/02/2020
Agent
We do not currently hold contact details for Joshua Mays's agent. If you are a comic or agent wanting your details to appear on Chortle, click here.