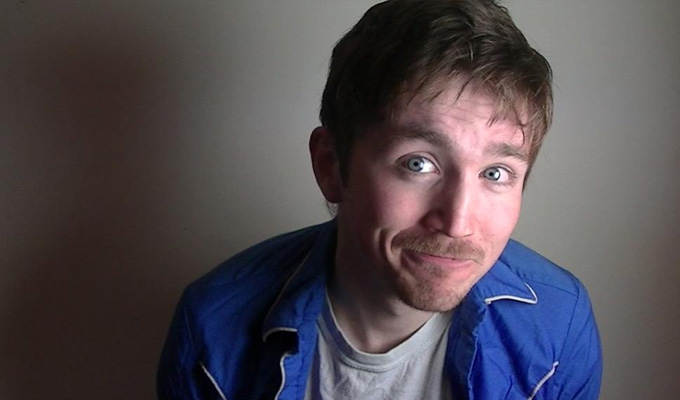 Joby Mageean
Winner of the Leicester Square Comedian Of The Year competition 2016
Read More
2017: The comedians to watch
To mark the new year, we asked several comedy club promoters around the country for their tips of comedians to watch in 2017 – the stand-ups they expect to break through to the next level of success. Here is their top ten (plus a few more for good measure)
Andy Field
The 2015 student comedy award winner was chosen by Daniel Dearlove of the Backyard Comedy Club in East London. He said: 'Andy is one of the most inventive newer acts I've seen - he makes me laugh out loud. He has a fresh take on things and would imagine that – even though his act is quite different – that he would go down well in any gig from a rowdy Saturday night to a laid-back arts centre.
Susie McCabe
The Stand Comedy Clubs in Edinburgh,Glasgow and Newcastle threw their weight behind Susie McCabe, They said: 'She's been doing comedy for a relatively short time and is already a consummate headliner and host for our weekend gigs. She was one of the first to sell out at The Stand for last year's Glasgow International Comedy Festival and was the first to sell out for 2017 – so quickly, in fact, we've had to put another date on.'
Joby Mageean
David Hardcastle,who organises the Leicester Square Theatre New Comedian of the Year Competition, said: 'It feels a bit lazy to pick the winner of a competition I run, but in a year when the standard was ridiculously high all the way through Joby was the stand out act in every round. He won the audience vote in every heat he was in despite travelling 300 miles to be there and as far as I know never bringing any supporters along.
'I first saw him in the 2015 Great Yorkshire Fringe New Comedian Competition in York as a musical act. He reached the final and was the happiest 3rd place winner I've ever seen. I got him back to MC a heat last year and he was terrific. Daft, playful and inventive and clearly having the time of his life. I'm not sure I've ever seen anyone have more fun on stage than he does.'
'In this year's Leicester Square competition he'd ditched the musical element - to be fair he'd always run out of time before getting to the song so it made sense to stop lugging an instrument around. Instead he had a tight, well constructed five minutes full of ridiculous personal anecdotes and great original jokes. He's got better every time I've seen him and I can't wait to see how good he is in a couple of years. He's also a really nice bloke but don't tell him I said that.'
Alasdair Beckett-King
Stephen Grant, compere and booker of the Krater Comedy Club in Brighton picked Alasdair Beckett-King as his tip to break through as a top circuit regular 2017. 'Not only does he have a stylish and original delivery but he appears to have broad appeal across all demographics which in the increasingly commercial club environment is more important than ever,' Grant said. 'And he seems to be improving at an impressive rate.
He also singled out Cally Beaton as the newcomer who'll start being noticed in 2017. He said: 'Cally is not your typical female open spot; starting comedy in her 40's tends to get you overlooked on the circuit, but a large amount of genuinely interesting life experience (and the fact that she is also an open-mic on the US comedy circuit) makes her set very listenable. Once she perfects her delivery she'll be the stand out addition on any new act bill.'
Higher up the circuit's food chain, Grant earmarked Geoff Norcott to become a regular TV face, saying: 'His recent Edinburgh shows that highlighted his political conservatism has suddenly given him an interesting niche; which is the voice of the oft overlooked "friendly" right. Guest appearances across magazine platforms should be the springboard to the panel shows and chat show environments that'll make him the go-to counterpoint to the supposed liberal majority in the comedy world.'
And finally he predicted Romesh Ranganathan will become properly become huge, now he is gaining genuine UK-wide recognition. 'It is fabulous to see that virtually all feedback about him is positive,' Grant said. 'This broad appeal should allow him to go that additional step to become the next Sarah Millican, Alan Carr or Jonathan Ross - hosting his own format with a following that will stay with him over his career.'
Toby Adams
Toby Adams regularly appears Downstairs at the King's Head in Crouch End, North London, whose promoter Peter Grahame nominated him as one to watch.
He said:' Although he's been doing stand up for quite some time, Toby has always put his job as a teacher first.But he is taking a sabbatical in 2017 to concentrate on his comedy career.
'He has a commanding and easy presence onstage, no doubt informed by dealing with tough kids in the daytime, and has a healthy turnaround of material.
'I was very impressed with his 2015 Edinburgh show, Quivertip: a lovely little show about river angling. There may some chances to see that in 2017 - catch it if you can (...and there's your Christmas pun)'
Liam Withnail
Comedian – and some time rap battler – Liam Withnail was chosen by Ben Verth of Edinburgh's Monkey Barrel comedy club.
He said: 'It's been a pleasure over the past couple of years to watch Liam develop as both a consistently magnificent live act, and as one of the most welcoming and deft comperes in Scotland.
'His work ethic also puts many to shame. His 2016 Edinburgh Fringe show was the real game-changer. True Defective was a great development, a courageous show about his battle with alcohol, mixing personal observation with political and social engagement.
'It was one of the best, most mature and considered shows to come from Scotland last year, as well as being incredibly funny, and the circuit and the audience are all the richer for Liam.'
Tom Ward
Hils Jago, of Amused Moose Comedy, picked Tom Ward, who reached the quarter-finals of her Amused Moose Laugh Off talent hunt 2013. She said she saw him again at the start of this year, and was 'so impressed with how he had developed' that she booked him to headline the final of this year's competition.
'It's always hard to identify exactly which comedians will make it big because there is a lot of luck and being in the right place at the right time involved, on top of determination and talent,' she said. 'But Tom certainly has something very special going on. And now that one of my 2015 favourites, Spencer Jones, has made it onto Apollo. the door is open for other unusual, exciting comedians to break through.'
Josh Pugh
Rob Riley, who runs a string of nights in the North, plumped for Josh Pugh as the newer act he expects to make some impact. 'People laugh at Josh before he's even said anything,' he said. 'His writing is first class, personal to him yet infuriatingly simple. When he tells the "fishmonger" joke you can see the other acts silently curse themselves that they didn't write it first. '
For a more established act who could start moving on to bigger things in 2017, Riley picked Tez Ilyas. 'He's got funny bones and his material comes from a perspective many want to know more about,' he said. 'Furthermore, just like Josh, he has both the work ethic and that undefinable little bit extra that make audiences love him, remember him and want to know when he's coming back.'
Rosco McClelland
Alan Anderson, the Scottish promoter who runs the English, Scottish and Irish Comedian of the Year awards. said the entrant that excites him most is Rosco McClelland – who previously performed as Rosco McSkellington – for his 'unique comedic voice and hard working attitude'.
Anderson said: 'Since dumping his skeleton persona in favour of becoming a Connolly-esque fragmented story teller, he has matured massively into an act who enjoys taking chances and doesn't let the few failures hinder his non stop progression towards stardom.'
Adam Riley
This new comedian was picked by Martin Besserman, of the Monkey Business comedy club. The promoter said he has booked Riley several times on his pro Saturday-night line-ups in North London. 'He always goes down well,' Besserman said. 'He has a very dark sense of humour, which is really clever.'
Read More
Published: 30 Dec 2016
Past Shows
Agent
We do not currently hold contact details for Joby Mageean's agent. If you are a comic or agent wanting your details to appear on Chortle, click here.