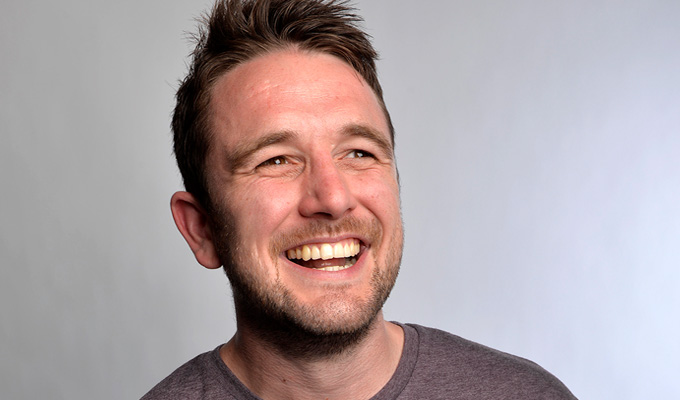 James Loveridge
Camden Comedy Club 2nd birthday
Note: This review is from 2016
The room above the Camden Head pub in Camden has been hosting comedy for years, so it might seem odd for it to be celebrating its second birthday only now. But in late 2014, the place got a fresh lick of paint, a new neon sign above the the stage – and a new promoter, Lucy Danser, who brought some professionalism and consistency to the previously ad hoc venue. The only thing she couldn't change is the room's L-shape, splitting the audience into two perpendicular halves.
Free burgers, prosecco, ice cream and, of course, birthday cake were dished out to create a party spirit… though it was barely needed: the audience on a mundane Tuesday night was as bawdy as many a weekend club.
Kudos to compere James Loveridge, then, for managing the ribald energy, engaging with some punters and putting others in their place with good humour. He's animated and confident, with a fine sense of timing and in turning the audience into a community, all of which make a perfect host. In the second half he got to material of his own, with an expertly-told anecdote of embarrassment involving one of his friends, but mainly this was an object lesson in MCing.
Opening act Laura Lexx often comperes, too, with the babbling stream of consciousness, which she describes as a 'frantic need of attention' 
proving endearing. Even if she lost some people with the digressions in her opening gag, a surreal image taken way too seriously, she wins them over with her good cheer. The bulk of her show is about being a wife and in contrast to much relationship cynicism that you hear on the circuit, she conveys the positive message that 'monogamy is beautiful' – even if such sentiment is always undercut with a joke, and frequently a filthy (and sometimes undemanding) one. But there's so much charm and effervescence here that you can't fail to be beguiled.
Christopher Bliss's charm is of a more vulnerable kind. He's a naive, dreadful novelist, certain that the tales he bashes out are masterpieces despite their flat narratives, turgid phrasing and lack of artistry. Bliss is a  character very much born of a world where 50 Shade Of Grey can be a bestseller. Rob Carter's lonely and parochial creation is endearing for his lack of guile, and easily sustains the one main joke of being a bad writer over the duration of his set, thanks to singularly inelegant constructions such as 'bits of water were running down the sky'. But Bliss isn't going to let the limits of his ability get in the way of his self-assurance, which proves a most amusing delusion.
Garrett Millerick has confidence of a different sort, exploding in intense fury from the moment he takes to the stage, ranting about the shortcomings of the gig and raging that: 'I'm not in a good mood!' lest you be in any doubt. A big, bold and brash comic, he portrays himself as some sort of Oliver Reed shambles of a man, but without the social life, knocking back Jack Daniel's at home, too much of a lazy wreck to leave the house if he can possibly help it. It's a vivid portrait, and he also applies the same scrutiny to external topics, too, surgically skewering Dragon's Den by ruthlessly reducing it to its core elements of the wealthy elite and the desperate 'peasants'. It's a full-on 15 minutes, but brutally funny with it.
As an American, Abigoliah Schamaun has to address Donald Trump, and gets some immediate mileage out of his awful 'grab 'em by the pussy' quote, her well-voiced outrage shared by the room. She scores more points on a related misogyny later when challenging the familiar 'I don't normally find female comedians funny…' 'compliment'. Other parts of her routine are less interesting – a chunk about Instagramming meals and precious food preferences seems like low-hanging fruit – but her sardonic attitude combined with an upbeat delivery makes for a slick, no-nonsense approach that sells her wares hard.
Headlining, Funmbi Omotayo focussed almost entirely on his British-Nigerian background, taking plenty of opportunities to play with prejudicial attitudes. 'You know when you experience racism, right?' he teases the predominantly white audience. He's not an angry man, though, but a calmly cheery and likably laid-back one, taking gentle bewilderment as his starting point. And he can't help but use a few familiar stereotypes himself, such as the Poles' work ethic, as he uses a new generation of Eastern European johnny-come-latelys to try to understand the attitudes his family faced. 
Without questioning his absolute right to talk about his experiences, the wry gags he produces can be a bit samey after a while, though there are some strong lines on tangential subjects such as being a Mo Farah fan.  However other topics like Hackney gentrification seem well-trodden and unambitious. Still, he maintains a decent rate of jokes, and his good nature is a delight.
Read More
Published: 26 Oct 2016
Past Shows
Edinburgh Fringe 2018
Agent
We do not currently hold contact details for James Loveridge's agent. If you are a comic or agent wanting your details to appear on Chortle, click here.