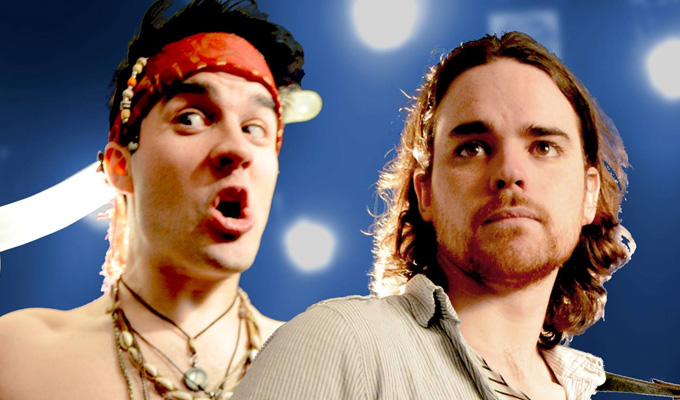 Jollyboat
Musical double act comprising brothers Ed and Tommy Croft.
Read More
Jollyboat: Nerdplay
Note: This review is from 2015
I'm a latecomer to Jollyboat. But then I suspect everyone is, because brothers Ed and Tommy Croft effectively began their musical double act playing computer games in their teenage bedrooms.
A show that you'll appreciate in direct proportion to how many of its geeky obsessions you share, Jollyboat are amiable hosts, the fun sort of dungeon masters, welcoming you into what rarely feels like a dark, solitary world by creating an energetic, celebratory space for all things fantasy, beat-'em-up and cult US box set.
To be cruel, they're like a pale Adam and Joe tribute act, and it's maybe damning how many of their obsessions might have been covered by Buxton and Cornish way back in the 1990s. Still, the Crofts make up in passion and commitment what they lack in satirical wit and originality.
They open with a gimmick of chart hits lyrically modified with pirate puns, a series as initially impressive for its length as it is ultimately dulling for the same reason. If there's buckled swash wordplay that they can pummel into the Western pop canon, then they won't be found wanting, their self-awareness just about keeping them the right side of tiresome.
I must concede to feeling a warm glow of nostalgia when it emerged that they derive their shtick from an abandoned dream to create a computer game in the vein of seminal 1990 adventure The Secret of Monkey Island, with added spoof shanties. Writing this now though, I'm wholly indifferent. Because that's the chief appeal of this undemanding hour - retro, comfort food-like humour that diverts you at the time, not so much after.
A Dungeons and Dragons section is dedicated to the crap monsters conceived when the creators were draining the barrel of inspiration dry, Flannel Beast being an apposite favourite.
Although accessible to non-roleplayers like myself, I feel for the poor sods that have zero interest in Game of Thrones, because Ed's strumming hagiography of the character Daenerys Targaryen must be long and impenetrable for those not in the club, even if the joke is her absurd number of titles and attributes, with spoilers helpfully redacted.
Indeed, I entirely switched off when the Legend of Zelda was evoked and you could doubtless divide the audience up at various moments of engagement along the lines of whether they used to own a Sega or Nintendo console.
Disney's ominous revival of the Star Wars franchise inspires a mash-up of the original trilogy's myth with some of the Mouse House's most familiar songs, portrayed with glove puppets and childlike abandon. But that's as nothing compared to their deliberately cringy, hip-hop masturbatory shout out to all the Disney princesses. Some aspects of our 14-year-old selves really ought to have the door kept shut on them.
Jollyboat close with what's probably their most emphatic and emblematic tune about themselves, a one-joke love song with the lyrics sourced exclusively from the keys of a computer keyboard. Of course, the appeal or otherwise lies in whether they can complete the challenge they've set themselves. Spoiler alert: they can. If that sounds like your thing, why not coin-op this free show? If not, leave the arcade, because there's little for you here.
Read More
Published: 29 Aug 2015
This Sassenach sister of the well-established Scottish…
8/07/2014
Past Shows
Agent
We do not currently hold contact details for Jollyboat's agent. If you are a comic or agent wanting your details to appear on Chortle, click here.