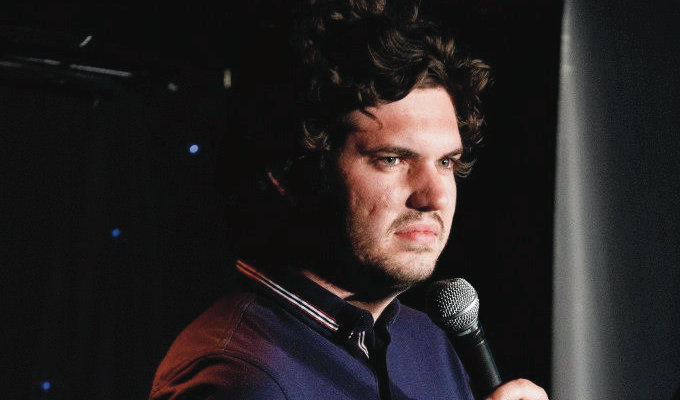 Joe Foster
Brighton-based stand-up who started comedy in 2010.
Read More
Squawker 2013 final
Note: This review is from 2013
Since comedy was never meant to be competitive, every performer in a new act competition is usually consoled with a universal 'didn't they all do well...' But in the case of the Brighton Comedy Festival's Squawker contest, there is more than a grain of truth to the platitude.
Only Eleanor Curry, drawing the short straw to go on first, really showed her inexperience. She's a geeky girl, whose whole set revolved around her obscure choices of costume for a fancy-dress party and was steeped in deliberately obtuse references to the likes of the Liberal Reform Act of 1905. All very droll, but eliciting more smiles than belly-laughs.
Almost every comic on the bill had a gag about their appearance; but Alasdair Beckett-King had not only the best line of the night, but one of the best on the whole circuit. He's a robust writer applying nicely absurd sensibilities to familiar concerns such as his veganism or the insults kids yell at him in the street. A joke about the archaic use of the word 'nonce' is a little strained, but he generally has an ear for the crafty use of words.
Archie Maddox milked his lookalike material (Lionel Richie in his case), a fault that applied to much of what he had to say. Observations about Americans struggling to get their heads around a black person with an English accent have been done by Gina Yashere and Stephen K Amos; and his patter about the versatility of the word 'nigga' seems to be on familiar territory, too - though he sells his material with a charismatic and enthusiastic style that stands him in good stead.
There's a lot to enjoy in Thomas Ward's eclectic and quirky set, which always keeps you guessing where he's going. Fine writing, evoking silly images and ideas, combines with a distinctive look and a deliberate, well-spoken delivery to make him memorable, even if he's hard to pin down. Plenty of lines stand out for their originality, showing a creative brain that should prove an asset to comedy.
Fraser Geesin makes an impact, too, starting his set with a bawdy and brash entrance from the audience. But his aggression is mere bluff; he's really a mild-mannered chap with a raft of dry, offbeat gags very much in the style of Sean Lock and a laptop to give many of them sound-effect accompaniment. The entertaining set is more like a sequence of zany sketches than fluid stand-up, but none the worse for that.
After the break came Adam Race, a capital A emblazoned on his T-shirt subconsciously evoking Superman's outfit. He certainly seems to have superhuman energy, with an exhilaratingly vibrant delivery, working the room like a seasoned pro, even incorporating gags than compere Romesh Ranganathan had just made with the front row. Corny jokes match the sometimes cheesy delivery, but it all works well together for a set that's simply refreshing and fun. A worthy winner.
Mark Silcox was the polar opposite in style; a dry and deadpan middle-aged man looking like he didn't belong on the stage at all as he witters on about his competency with mechanical items and failings in many other matters. Yet it is all hilarious, in no small part because it's so unclear whether he understands why he is funny at all. Laughs comes from the nuance and the detail in his seemingly mundane stories, as well as his utter commitment to them, stretching out each petty victory or defeat into a matter of great importance. He's unconventional, but very funny as he cuts a sympathetic low-status figure. And in the final judging, he came a close second to Race.
David Jordan, a big, theatrical bloke with a guitar, isn't breaking any new ground with his collection of jaunty, old-school comedy-cabaret songs all about aspects of himself: his heterosexual camp, his first name (David, never Dave) and his beard. But he's a consummate entertainer, and there's plenty of light-hearted joy in his songs and self-deprecatory banter. He's off-the-peg ready to play a club, but none-too adventurous artistically.
Joe Foster is a pretty straightforward anecdotal comedian, with a yarn about how much he hated the health and safety presentation at work and getting into an altercation on a canalboat. Not earth-shattering, but he tells them well and with an offhand wit. However twentysomething lads telling slightly ironic stories from their life is a very crowded marketplace, and he could do with more of an angle to stand out from the crowd.
Finally, affable loser Dan Fardell wrings empathy from the audience with tales of rejection, loneliness and misery from childhood to now, exacerbated in comparison to his perfect cousin. It's generally solid stuff, with a few flashes of brilliance, not least a cracking Mr Men joke - suggesting that in comedy, at least, he should break that cycle of failure.
Read More
Published: 17 Oct 2013
Past Shows
Edinburgh Fringe 2018
Agent
We do not currently hold contact details for Joe Foster's agent. If you are a comic or agent wanting your details to appear on Chortle, click here.