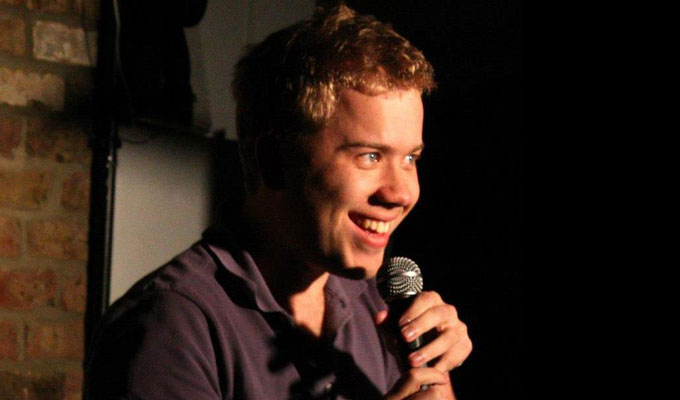 Jack Grant
Laughdance: The Experiment
Note: This review is from 2014
This was sold to me as being like The Horne Section – but with dancers rather than a band backing the stand-up; and that sums it up perfectly.
The Edinburgh debut is billed as an experiment, and while there are a few kinks to be ironed out, first impressions are that creator and compere Stu Richards could be on to something here. With Dave Callan also combining comedy and dance at Assembly Roxy, this seems to be an idea gaining traction.
The show opens to a straightforward movement piece to the Sunscreen commencement speech that Baz Luhrmann has previously purloined, before Richards calls them off, recruiting them to instead offer brief pieces to punctuate his cheesy one-liners. Think the celebratory jingles after a Nick Helm gig, but with dancers. And much, much worse jokes.
First guest is Abi Roberts, who rants about how she hates jazz, as the dancers mime a band in the corner, looking for all the world like those jaunty, jerky, early black-and-white Mickey Mouse cartoons. One of the team takes the role of the double bass itself, hilarious when she's spun around. The way they illustrate a story about pulling a guy while on the piss is rather more literal, and the routine more pedestrian, but the combination of dance and anecdote certainly boost each other.
They similarly interpret a brief Jack Grant routine about job rejection letters, but this time a little more indirectly. But they work best with him when the comic disappears to be left as voiceover for a section about drug-taking that's perfectly suited to the format, with its repetitions of themes and lines, like a song, which the troupe really bring to life – even transforming themselves into a dragon.
Last up was David Morgan, whose well-chosen story culminated in him being manhandled by the dancers as he relived an aggressive nightclub move by alpha-males he'd upset. Again the vision of them invading his personal space, hands everywhere, added zest to the words.
The dance routines are a mixture of rehearsed scenes like this and improv, though the latter is a markedly less assured. A section in which the four dancers play out the story of how a couple in the audience meet struggles as there's not enough information to go on. That their first contact was in a tattoo parlour, which is interesting, but it's not a narrative. Later audience participation, in which Richards tries to teach a few simple moves from the holy trinity – Jesus, Michael Jackson and Bez – is really just a chance for the eager to get involved.
Yet there's clearly a mutual benefit to merging this two art forms, working very much in step.
Read More
Published: 15 Aug 2014
So fierce is the competition to become a comedian that…
24/06/2013
Agent
We do not currently hold contact details for Jack Grant's agent. If you are a comic or agent wanting your details to appear on Chortle, click here.