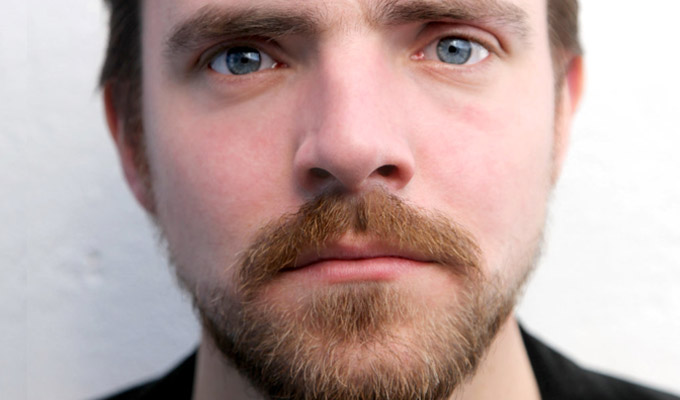 Jonathan Hearn
Comedysonic opening night
Note: This review is from 2010
The first night of this basement-bar gig, and the Comedysonic organisers haven't quite set the lighting up properly. Comics have to stand at the back of the stage, in the intense glare of the full- on spotlight to be seen – but the newish acts don't have the experience to realise this, so the audience gets a night of silhouette comedy, all facial expressions lost. It's all the difference between a show feeling professional or not.
There are also a lot of acts on the bill, unevenly spread – starting with Alyssa Kyria as Ariadne The Greek Wag taking up the entire first third. For all her chintzy attempts at glamour, this is a sketchily drawn character with unclear motives. Is she a feckless bimbo or a conniving money-grabber? Desperate for tabloid attention or hating it? Nothing seems thought through in depth, making her a shallow contrivance to bat lazily at the easy targets of celebrity culture, without any real agenda. There are a few formulaic set pieces, such as the how to be a Wag Q&A, but they don't engage much, while a few puns elicit a mix of groans and laughs. But ultimately this isn't a creation you'd be intrigued enough by to want to spend more time with.
After the break, Darren Maskell employs the usual tricks of the anti-comic, making his way to the stage so slowly that all the energy dissipates, fiddling clunkily with the microphone stand and setting up a bag of props with measured deliberation. This reluctance to 'perform' has almost become a big a cliché as telling audiences what famous people you might be the 'illegitimate child of'. Expectations duly lowered, he performs a quirky bit of downbeat weirdness involving coat hangers that is funny and original – even though he can't sustain that quality even through his short set, dominated by some business with a ventriloquist's doll that has potential, but doesn't quite come off tonight.
Charming storyteller is the cliché for Irish comics; and so it is for Padraig Ryan – but only up to a point. He starts with some assured gags about the English trying to pronounce his name before explaining we're just going to get one long yarn from his set. And he's true to his word, recalling the time he auditioned for America Idol. But aside from a few jibes at loud Americans, there's nothing really to it. He gets a chance to show off his Sex Bomb piece again, but the story evaporates into nothing. Seems like a nice chap, though…
An ill-judged bit of scheduling placed two one-line mongers in close succession. First up, Michael Ayers, a middle-aged New Zealander with an uninspiring repertoire of deadening 'dad' jokes. There are a couple of sharper puns in there, but they are crushed under the weight of mediocrity. Then Johnny Armstrong with extended lists of wordplay based around bras, pirates or dances – all of which are too painfully contrived to raise much of a chuckle.
There was another punmeister in the third third, Tim Rivett, who showed a lot more potential in this more-difficult-than-it-looks genre. There was a cleverness to his set-ups that made the punchlines hard to see coming, but maintaining the logic such efficient structures require. The set's still a little hit-and-miss, but the guy's got potential.
Jonathan Hearn, with the ubiquitous ukulele, produced a foul-mouthed version of a song that would be worthy of a Two Ronnies number – if they ever used their word manipulation for profanity. The uke's sometimes used to provide rhythm to a wry one-liner, and sometimes abandoned altogether for such nonsense as a bit of 'puppetry' involving his two hands. He's still a little drama-studenty, but with plenty of charisma and a glint of silliness that should stand him in good stead.
Rosie Martin's set revolved mainly around the fact that she's Jewish, though she struggled to convince us why we should care about that fact. She tried to make jokes about preconceptions no one actually had, making it dry, disconnected and impersonal. She has a quirky allure, but doesn't capitalise on it.
Expect to hear more of Erica Buist, though – she's a natural on stage with an easy charm and thoroughly engaging presence. There's still a bit of distance to go with the material, which although entertaining and absorbing and expressed with a keen turn of phrase doesn't quite leave a lasting impression. But she has that old-fashioned X factor, in the pre-Cowell sense, with an infectious wit and likeability.
Headliner Paul T Eyres, who's been going about five years, immediately demonstrated the difference between amateur and pro, grabbing the gig with a slick, confident delivery, hitting every word and pause with skilful timing and emphasis. He has an in-built authority, which makes all the difference. There are some strong gags in there too, even if the quality's not consistent, but the stage presence goes a long way to sell the weaker lines.
He is, perhaps, lacking a strong angle to his comedy, which is so often an obstacle for a middle-class, thirtysomething white male comedian with no obvious personality flaws trying to stand out. His solution is to try to push through with sheer professionalism, and the approach appears to be working.
The night was compered by Paul Laight, who despite hosting his own central London comedy club frequently drove his standard 'what's your job' banter into blind alleys. The packed bill didn't really give him chance to be much more than an affable functionary, but his prepared material showed glimpses of a drollness not really evident in the conversational sections.
Read More
Published: 8 Oct 2010
Past Shows
Edinburgh Fringe 2011
Edinburgh Fringe 2016
Agent
We do not currently hold contact details for Jonathan Hearn's agent. If you are a comic or agent wanting your details to appear on Chortle, click here.