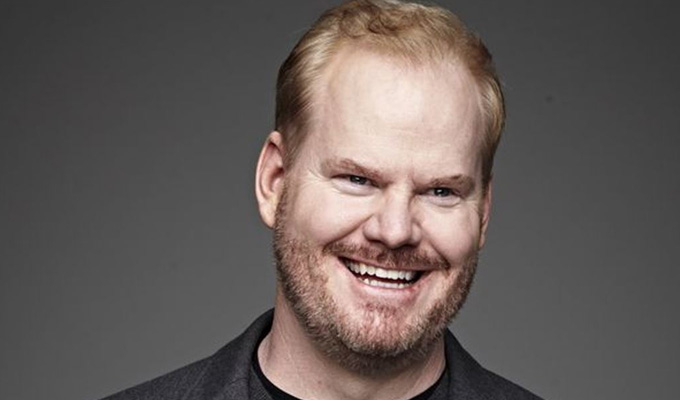 Jim Gaffigan
Date of birth: 07-06-1966

Jim Gaffigan: Fully Dressed
Note: This review is from 2017
Jim Gaffigan is playing London, but he might as well be back home given the warm reception his trademark 'Hot Pockets' bit get, despite the product – a sort of savoury PopTart – not being available in the  UK.
The audience at Leicester Square Theatre are an overlapping mixture of Americans who get the reference and die-hard fans who wouldn't let him get away without referencing the snack that's made his career. Though after more than 12 years, even he must tire of repeating sarcastic variants on the Hot Pockets jingle – even if the crowd lap it up.
Still, the time-tested material feeds into his self-perpetuating image as a pasty, overweight schlub, hen-pecked by his wife, unable to even be the master of his own remote control. Gaffigan - who's been the face of KFC in the States – knows he shouldn't eat such junk food, but he's a weak man.
He gives the air that stage is where he comes to complain, away from everyday life, and his five kids. He whining about the ill-prepared idiot ahead of him in the airport security queue, the ridiculous facade of saunas, or why his wife wears high heels so uncomfortable she needs to carry a spare pair of sensible shoes too. He may be increasingly a star, with a new stand-up special just out on Netflix and a role in the next series of Fargo, bit he's a man of very simple tastes. Even eating fish feels icky to him, when he could be having steak. 
It means his 'what's the deal with…?' grumbles are all very identifiable, and the routines pretty straightforward, as he points out the stupidity of the everyday with a weariness or a conspiratorial whisper. Unlike some of his best routines, this show features few 'I never thought of it like that!' revelations for the audience, although sometimes his thoughts take him down amusingly semi-surreal paths.
 A lot of it, though, is as expected: when he talks about patron saints of less glamorous causes, there's inevitably a mini-sketch about one newly canonised angel discovering the undesirable part of life he's now responsible for. When he notes that he gets gifts of doughnuts because he jokes about them on stage, he suggests he should start doing gags about private jets. 
Gaffigan's is a simple world where gays are good at design and fashion, women are unknowable other beings, and seeing the name 'Tom Raper' on a shop makes him wonder how that surname came to be. This is probably not the routine this proudly clean comic did when he opened for the Pope last year.
That booking is a mark of his mainstream appeal, although the material is often rather too quotidian, echoing thoughts many will have had. Wrapping them up in the appealingly hypnotic rhythms of his conspiratorial stage whispers can't quite hide that.
Read More
Published: 14 Jan 2017
He's made more out of a single foodstuff than any…
24/07/2012
American comedian Jim Gaffigan may only be vaguely…
22/03/2010
An assured, accomplished comic, America's Jim Gaffigan…
10/07/2004
Agent
We do not currently hold contact details for Jim Gaffigan's agent. If you are a comic or agent wanting your details to appear on Chortle, click here.