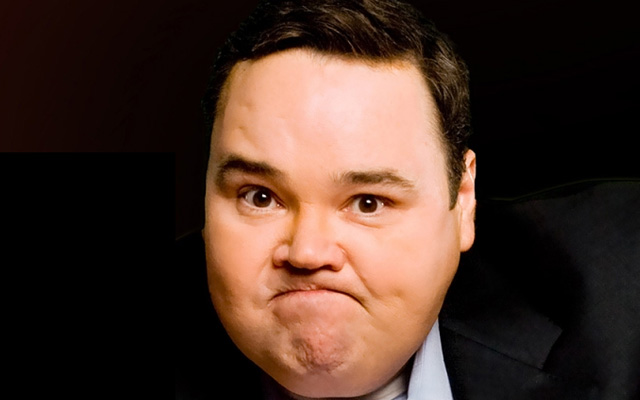 John Pinette
Date of birth: 23-03-1964
Date of death: 05-04-2014

John Pinette: Making Light Of Myself
Note: This review is from 2006
Sometimes you just have to put your hands up and admit you just don't 'get' a comic. So it is with me and
John Pinette
.
He's a festival favourite here. This is his fifth year, and he's playing seven sold-out nights in a sizeable theatre. His 2004 show ws the most successful one-man show in Just For Laughs history. Tonight, he received a near-unanimous standing ovation. Yet in 105 minutes I laughed maybe twice.
Pinette, though apparently slimmed down, is still a big man; a salad phobic, a gym dodger, a pieaholic, a doughnut short of his own ZIP code. In short, fat. And that one fact comprises about two-thirds of his routine.
Though it's essentially self-deprecating, the formula he relentlessly applies is that he retells tales in which someone suggests something to him: be it a diet, an exercise or some other activity to which his lumbering hulk would obviously be ill suited: skiing, camping, water-skiing, whatever. He then barks out indignant reasons why that would be a bad idea, sometime backed up with anecdotal evidence why it was a bad idea.
While any set-up is going to sound unfunny described coldly out of context like that, it's the way he repeatedly falls back on the same structure that becomes very wearying, very quickly. So, as he tries to shed pounds, he gets angry with his gym trainer, then his yoga teacher, then his tennis coach, then his dietary advisor…
And the writing's generally sub-par, too. Examples: 'I could quit the gym cold turkey. And then eat the cold turkey!' or 'KFC – that's the nutritional equivalent of smoking crack!' Both lines, depressingly, get huge laughs, as do almost all of his gags. He's got 20 years' experience as a road comic, as he likes to remind us, but to me this sounds like beginner's stuff, albeit told convincingly.
The repetition in his material extends to the parts of his acts that aren't about his bulk, too. He gets irate and frustrated queuing behind dithering idiots who can't make their mind up in Starbucks. Then gets irate and frustrated a similar situation in Subway. Then the supermarket. Then the milkshake stall. Enough already, we get it.
He owns the stage, that's in his favour. He's just come back to stand-up from a stint in Hairspray on Broadway, and he's got plenty of performance skills in his armoury. Which means he can get a laugh simply by putting on a comedy Japanese accent and saying 'Free Willy' to describe his water-borne pursuits. You see – the Ls sound like Rs!
Seems to go down a storm, even though it seems dated, racist and unfunny to my ears.
But what does he care? He can sell out theatres. His albums get five-star reviews from loyal fans on Amazon. He gets booked to play Broadway and storm one of the world's most esteemed comedy festivals. But give me something more ambitious any day.
Read More
Published: 1 Jan 2006
Even by America's gargantuan standards, John Pinette…
28/02/2004
Agent
We do not currently hold contact details for John Pinette's agent. If you are a comic or agent wanting your details to appear on Chortle, click here.