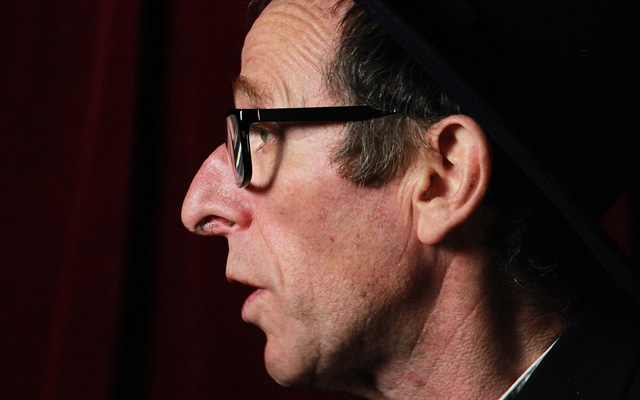 Ivor Dembina
Ivor Dembina: This Is Not A Subject For Comedy
Say what you like about making a comedy show about the intractable Arab-Israeli conflict, but you can't deny it's got longevity. Ivor Dembina started writing this show in 2005 and last performed it in Edinburgh more than a decade ago – but sadly it's as pertinent as ever.
Indeed, one line rings out louder than before. When he recalls being hesitant in attending a pro-Palestinian rally as a student, one of his radical comrades-in-arms demands to know: 'What are you? A Socialist or a Jew?' As Labour's recent woes show, that notion you can't be both endures.
This reflective show is about how Dembina eventually came to challenge the views instilled in him by his traditional suburban Jewish upbringing – to the point he became a peace volunteer in the Occupied Territories.
Now 70, he was raised Zionist: to see Israel as the Promised Land and hate the Arabs who wanted to deny Jews their right to it. The Six-Day War came at a formative time and cemented those opinions, but they would eventually be eroded as he widened his social circle.
His story is bookended by trips to the region where he had two very different responses to being in the hills that overlook Jerusalem's sacred Temple Mount. In between, his tales incorporates a run-in with the Israeli Army, hate-mail accusing him of being a traitor to his people, a visit to Auschwitz and a terrifying incident in a Jenin refugee camp.
Is this a subject for comedy? Well, Dembina opines Early Doors that: 'Jews, we're funny!' and includes a volley of brisk, frequently self-deprecatory one-liners in his opening segments to prove it.
But as the show progresses, the focus shifts. Anecdotes take on a more sombre tone and his self-analysis gets knottier. His attempts to leaven the mood with a quip become less frequent and strike an increasingly doleful note. But much of the show isn't comedic at all, and doesn't aspire to be, seeking to be contemplative instead.
Needless to say, a comedian doesn't have the answers. But, like previous offerings from Mark Thomas and the late Jeremy Hardy based on their trips to the region, Dembina's show offers a human perspective to a conflict that is so often seen as distant and impersonal. It's not stand-up comedy, it's stand-up context offering plenty of kosher food for thought.
• This Is Not A Subject For Comedy - Edinburgh Fringe 2008 at Chortle.co.uk">Ivor Dembina: This Is Not A Subject For Comedy is on at Laughing Horse @ The Counting House at 12:30pm tomorrow, then at Bar 50 at 12.45pm on August 19 and 20.
Read More
Published: 17 Aug 2021
Ivor Dembina has spent half a lifetime on the alternative…
13/02/2014
There's a community feel to the Brixton Comedy Club.…
7/12/2012
Every comic of any standing deserves their own memorial…
28/01/2007
Ivor Dembina is probably best known to London comedy-goers…
4/08/2000
Past Shows
Agent
We do not currently hold contact details for Ivor Dembina's agent. If you are a comic or agent wanting your details to appear on Chortle, click here.