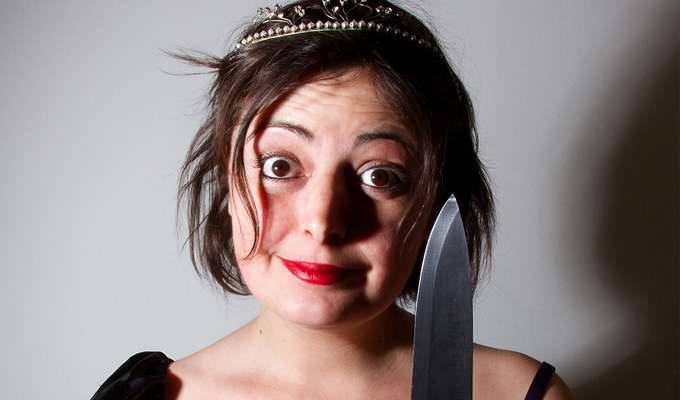 Giada Garofalo
Finalist in the 2009 Funny Women awards
Read More
Giacinto Palmieri and Giada Garofalo at the 2010 Brighton Fringe
Note: This review is from 2010
With tongue firmly in 'guancia', Giacinto Palmieri says the basis of his comedy is that 'foreigners are funny'. While there may be some truth in that oversimplification, this double-bill of Italian stand-ups demonstrates that it actually works so much better when it's foreigners pointing out how strange the British are.
Opening act Giada Garofalo, for examples, does a few stock, self-deprecating lines about her nationality – but has far more fun with what it says about our national psyche that our bedtime wish to our children is not the hopeful 'sweet dreams' but the miserable warning 'don't let the bed bugs bite'.
With her endearing accent and sing-song tones, Garofalo sounds like she could be the voice of some sweetly innocent CBeebies cartoon character. But that only gives her the element of surprise when it turns out that she wants to talk politics.
Silvio Berlusconi should almost be credited as her co-writer; his real-life shenanigans of giving his lovers Cabinet jobs or calling Barack Obama 'suntanned' outdoes anything the most imaginative satirist could come up with. Still, she mines this rich seam effectively.
Though she gets of to a flying start, her shortish set does run out of steam as she moves on to British issues, with a convoluted commentary on Joanna Lumley's thoughts on knife crime, which requires they be read out of the newspaper. It's a lot of set-up for one gag on a peripheral interview few would have been aware of, at a point where Garofalo needs to build momentum. But there's some promise here.
Perhaps to explain their strong accents, both she and headliner Palmieri, performing a 40-minute show, feel the need to remind the audience they are not character acts. In fact, Palmieri's set revolves around who he is, and whether he's defined by being Italian – whatever that means in a nation of so many internal rivalries.
Though it's a laudable hypothesis, the upshot often sounds a little more like a sociological lecture than comedy show, with plenty of thoughts that elicit a wry smile or small chuckle, but nothing more hearty. And he never convinces us to make any emotional investment into his navel-gazing – so for his lofty aims, the show is much funnier when he takes the more simple route of exposing British idioms for the nonsensical turns of phrase they are, as well highlighting Italian linguistic quirks.
Incidentally, for someone keen to explode lazy pigeonholing, he makes the same joke about Brighton being full of gay people at least three times, to not much reaction from an audience who'll have heard it a million times. The show's normally smarter than this, even if it speaks to the head rather than the heart… going against at least one Italian stereotype of a nation ruled by blind Latin passion.
Read More
Published: 3 May 2010
Italian Giada Garofalo promises some unique material…
22/09/2009
Agent
We do not currently hold contact details for Giada Garofalo's agent. If you are a comic or agent wanting your details to appear on Chortle, click here.