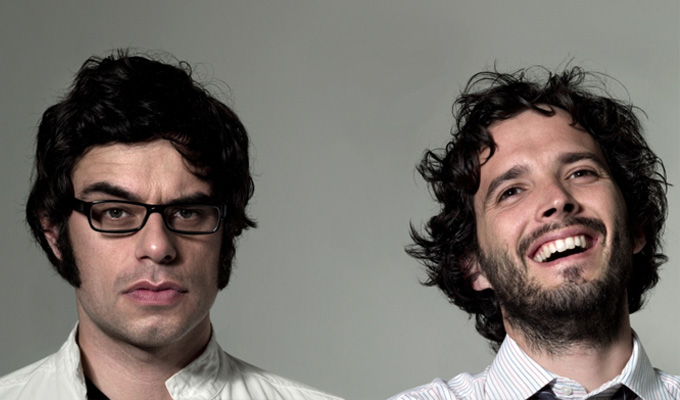 Flight Of The Conchords
Flight of The Conchords Sing Flight Of The Conchords
Note: This review is from 2018
Early in their first UK tour for seven years, Bret McKenzie and Jermaine Clements apologise for ageing. Of course they do. 'Apologetic' is what they have where most bands have a rock-and-roll swagger.
Yet middle-age rather suits them. When they first burst on to the scene, they played on their guileless, earnest ambition at odds with their very modest place in the music world. Now they are bone fide arena-filling musicians, the stance has shifted subtly, and they can celebrate – quietly, of course – a humble, contented, suburban life at odds with the lifestyle usually projected by the bands they idolise.
Where once their party songs spoke with a witty lack of conviction about shaking booties and boobies; now they tell of turning he music down to enjoy a conversation and making sure all the nibbles are in order. Authenticity is all.
Kicking off at the Portsmouth Guildhall last night, their UK tour, for which the overused epithet 'long-awaited' is for once apt, is an easy, joyful mix from their evolving career, with plenty for fans old and new (although a heckler's call for their biggest hit, Business Time, fell on deaf ears). Each of their songs displays a strong musicality – no wonder Clements is now a proper Hollywood composer – and a keen ear for stylistic parody across many genres.
And to match the grandeur of the venues they are playing now, for this show they are joined by the New Zealand Symphony Orchestra. Otherwise known as a bloke called Nigel with a double bass.
The first night of their tour, later to be filmed for HBO, still had a few rough edges technically, and a few memory lapses from the duo, but no one minds. The Conchords are so relaxed in each other's company, the gentle riffing on the minor snafus are as enjoyable as the rest of their droll, low-key, twixt-song banter.
Here Jermaine sardonically insists he's called Mr Fun and has 'something of a reputation with the other members of the band', revealed through a hedonistic tale of overindulgence… involving a free hotel muffin.
They won't seek a cheap cheer with a rock star holler of 'how you doin' Portsmouth?' Instead, comments at the end of a track include the more down-to-earth 'We made it through to the end of that one' or 'everyone's kind of culpable there…' For we are all in this mild-mannered but loving tribute to musical nerdery together.
Here is the set list:
Father and Son
This folky song premiered on their US comeback dates in 2016 and offers an easy lead-in to their work. Apparently a tender exchange between father and son, it gradually becomes clear that dad's life has come off the tracks, a new revelation exposed with each line.
Deana And Ian (maybe)
It's not 100 per cent clear what the title of this new faux-raunchy number is, but it tells of a torrid office romance between Deana in HR and Ian in accounts, rich with amusing, minute detail and smartly funny rhymes, such as coupling 'spreadsheet' with 'bedsheet', which raises a good laugh.
Carol Brown
The old favourite that owes an (acknowledged) debt to Paul Simon's 50 Ways To Leave Your Lover as Jermaine details the breakdown of all his previous relationships, and Brett takes on the role of the choir of women who spurned him. It's that rare beast - though not for the Conchords – a comedy song that's at least as good as the track that inspired it.
The Ballard Of Stana
This is the Conchords' new take on the Big-Bad-John style of old storytelling country songs, and they relish the chance to stretch out their saga of a Wild West villain to great lengths, including adding an existential coda. If you can have a shaggy-dog story; this is a shaggy-dog song.
Seagull
A different way of mocking those who take their music seriously, Brett sings this Freebird-inspired track as Jermaine earnestly intones a contextual analysis of the metaphorical imagery involved: the musician wishing to fly free and perch on a rock of a solid relationship. Until it becomes clear it's just a song about an actual seagull, and then things get very silly indeed.
Foux Du Fa Fa
As featured in their TV series, this is their take on 1960s French talking/singing songs, limited only by their very rudimentary schoolboy knowledge of the language. It's basically an old joke, but takes on a life of its own in this mock-elegant track.
The Summer of 1353
Medieval madrigal is the next genre to get the FOTC treatment. Our hero goes a-wooing, while dogged with modern concerns such as whether his pageboy haircut makes him look effeminate. And the lyrics are delightfully under-researched: why let the fact that the word for 'joust' escapes you be any bar to including it in the story? The song ends with the perfect Conchords moment: a 'battle' between the pair playing recorders…
Chips and Dips
Part two starts with more peak Conchords; an infectious funk beat driving a real shoulder-swayer about the actual mundane practicalities of a house party, far from the VIP club life portrayed most dance music. It teed up a second half that focussed on some of their greatest hits:
Hurt Feelings (Tears Of A Rapper)
Another subversion of hip-hop's braggadocio, using the genre to demonstrate a tender vulnerability.
Inner City Pressure
A Pet Shop Boys homage so accurate it could have come from the stone-face dance duo themselves, and performed so deadpan it makes Neil Tennant and Chris Lowe look animated.
Bus Driver's Song
In which a small-town tour guide becomes wistful for the life he could have had…
Mutha'uckas
The only rap song that's its own radio edit.
Bowie's In Space
Their most accurate stylistic spoof, now given extra poignancy after the death of its inspiration. 'Poignancy' isn't usually a word associated with parody songs, but the Conchords always treat their subjects with reverence, even love in this case, which is just one reason why they so often stand as great tracks in their own right. And this one is the perfect freaky homage, antennae nipple and all.
Back On The Road
A new track that neatly ties up the idea of their mundane touring schedule, but with a more traditional comic twist as a previously untold story of some 'actual' on-the-road wild living comes out, if only for the ample opportunities for cheeky wordplay the fish story offers.
ENCORE: Shady Rachel
Smokey late-night jazz gets the Conchords treatment – the giant screens even switch to black and white to capture the noirish vibe – as Brett sings of the dubious reprobates with whom he once associated, so amoral that they would think nothing of stealing a spoon from his house after a soup party. This is the loosest of all their numbers, the story spun out almost as much as Stana's, but allows the pair an opportunity to improvise, their ad-libbed riff adding extra charm to an already delightful night.
ENCORE: The Humans Are Dead
And finally, we bow down to our new robot overlords, the inevitable dystopian future conjured up by 1980s synth pop. Plus there's a great joke for the locals. Once humanity has been erased from the planet, Portsmouth will be renamed. As USB Portsmouth.
• Flight Of The Conchords are on tour in the UK until April 3 (Dates). But good luck getting tickets.
Read More
Published: 6 Mar 2018
This can't be right. Flight Of The Conchords TV series…
11/05/2010
You are going to be sceptical about this - I know I…
1/01/2010
In the world of quickfire comedy, Flight Of The Conchords…
1/01/2010
The modest brilliance of Bret McKenzie and Jermaine…
1/01/2010
Past Shows
Agent
We do not currently hold contact details for Flight Of The Conchords's agent. If you are a comic or agent wanting your details to appear on Chortle, click here.