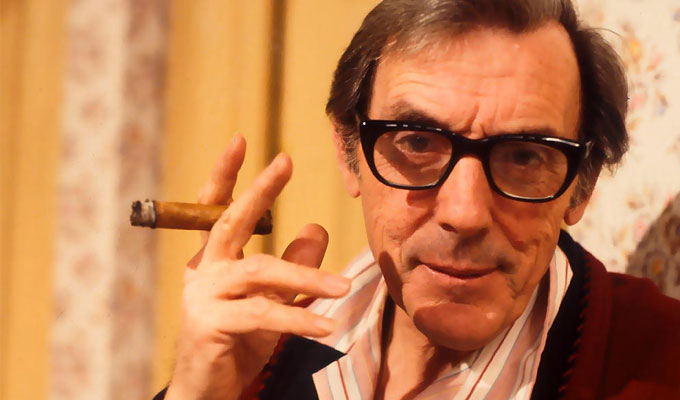 Eric Sykes
Date of birth:
04-05-1923
Date of death:
04-07-2012
Like many comics of his generation Sykes was introduced to showbusiness while in the RAF.
On demob, he tried to forge a career in comedy - but found very litttle work. Until, by luck, he met Flight Lieutenant Bill Fraser, a friend from his National Service days who was enjoying some success on the London stage.
Bill asked Eric if he would write for him, and he quickly found himself in demand behind the typewriter, producing scripts for Fraser and Frankie Howerd.
He was soon writing for hit BBC radio shows such as Educating Archie and Variety Bandbox. In 1948 he began working for TV, one of the fledgling medium's first scriptwriters.
Sykes appeared in a number of variety shows on TVs, including the 1955 spoof pantomime Pantomania, while still writing for other acts, including Peter Sellers and Stanley Unwin..
It was in these early days that Eric developed hearing problems, which would eventually make him almost totally deaf.
His fame shot up, though, in 1960, when he created, with Alf Garnett writer Johnny Speight, the first series of his sitcoms, playing a bumbling proud but character Eric who lived with his formidable 'sister' Hattie Jacques. The show would last two decades, (and two titles) except for a seven-year break from 1965, and produce 128 episodes until Hattie's death in 1980.
During the run of the sitcom, Sykes was involved in a number of other projects, including the now controversial Curry and Chips opposite a blacked-up Spike Milligan.
Most famous of these other projects was the 1967 silent The Plank, revolving entirely around the mishaps caused by a man carrying a large plank - an idea that originally germinated in an episode of Sykes.
His humour was always gentle and warm-hearted, and he had little time for later generations.
Skyes continued working, well into his eighties, starring in the acclaimed Nicole Kidman movie The Others, Harry Potter And The Goblet Of Fire and in the West End farce Caught In The Net.
Read More