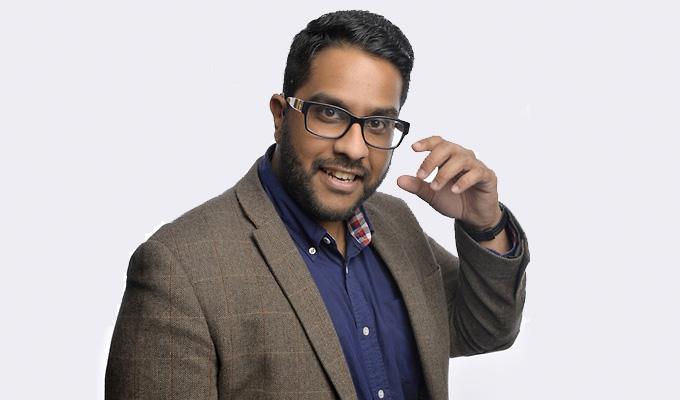 Eshaan Akbar
Piccadilly Comedy Club Comedian of the Year 2016 and Finalist in So You Think You're Funny 2014.
Read More
Eshaan Akbar: Infidel-ity
This is an hour of ultimately lukewarm comedy from an extremely accomplished speaker. Eshaan Akbar smoothly glides the audience over his romantic history with storytelling finesse, but without the gags to match.
Infidel-ity is the story of Akbar's family's partly-successful attempt to make him a supremely eligible bachelor. The most revealing moment, however, is when he mentions his previous career: speechwriter to a bank's chief executive. This, in essence, explains his tone and presentation - it's exactly that of a bank CEO.
Because he masterfully communicates with consummate ease, absolute calm confidence and very warm tones. But ultimately the effect is to mask much of the humour and personality, simply demonstrating that the punchlines don't meet the same impressive level.
His measured delivery and control is worthy of note, but too many jokes just don't land. Because if comedy is this smooth, the punchlines must be more surprising.
Admittedly, there are moments of humour, as glimmers of truth and surprise shine through, via some dreadful dating stories, discussing Pakistani mothers-in-law and referencing the death of his mother, pausing to compare her to Luis Suarez along the way. But moments like this are just too rare.
There is an element of this being Tuesday afternoon that softens material which, it's plain to see, was honed on Friday and Saturday nights.
Akbar's throwaway faux sexism is nicely done - his throwaway quips in general, in fact. Although his ultra-smoothness means he must occasionally telegraph the more subtle lines to ensure they land, which takes the edge off. However, the one time he doesn't do so, the gag doesn't connect, so perhaps, for now, he's right to be more blatant.
The pace picks up in the final third, with an entertaining section on HR managers, box-ticking, and being a Muslim with titanium ear implants trying to get through airport security. Akbar delivers a faster pace, a higher gag rate, and earns a much greater audience response as a result.
Ultimately, this show contains so many hints to the wonderful, profound vulnerability that has clearly been a recurring theme in Akbar's life. However, his surface-skimming performance is too smooth, meaning these vulnerabilities aren't as comically mined as they might be, and therefore hang unresolved at the end.
Read More
Published: 14 Aug 2019
Seeking to mock Islam and stir up some controversy,…
12/08/2018
Eshaan Akbar is a solid new act, with a few unexpected…
5/08/2017
2014 is turning out to be quite the vintage year for…
22/08/2014
Past Shows
Agent
We do not currently hold contact details for Eshaan Akbar's agent. If you are a comic or agent wanting your details to appear on Chortle, click here.