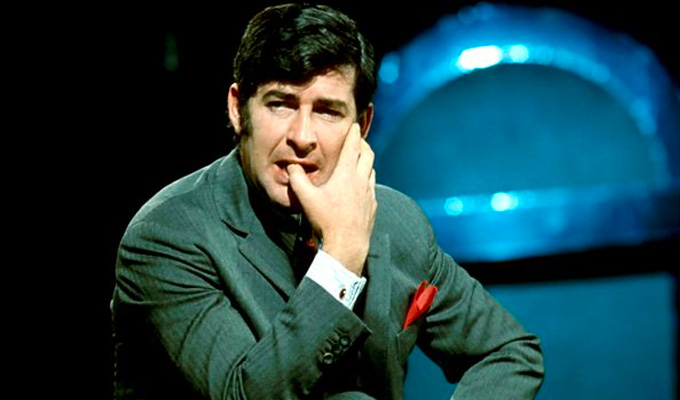 Dave Allen
Date of birth:
06-07-1936
Date of death:
10-03-2005
Allen was born David Tynan O'Mahoney on the outskirts of Dublin. After school in the Irish capital he went into journalism, like many of his relatives, starting on the Irish Independent.
At the age of 20, he came to London to try to find work on Fleet Street, but couldn't – so entered Butlins in Skegness as a redcoat instead. It was there he changed his name to Allen to ensure top billing on the alphabetical list.
He got his first break on a BBC talent show in 1959, and in 1961 he toured his stand-up routine around England and France with a then unknown band called The Beatles.
His fame first grew in Australia, in 1963, where he hosted a live TV chat show. Back in Britain, it was  guest spots on the Val Doonican Show that made his name.
It led to various series of his own, on both the BBC and ITV, running from 1967 to 1994 and mixing his sit-down stand-up with sketches.  The strong language he used often caused controversy, and a four-letter word he uttered on TV in January 1990 was raised in the House of Commons.
Smoking was a trademark part of his routine, but Allen quit his 60-a-day habit in the Eighties, explaining: "I was fed up with paying people to kill me."
He was also famous for missing the tip of one of his fingers, and he invented various tall tales as to how it happened. And when he was asked, "Are you the Irish comedian with half a finger?" he replied, "No, I'm the Irish comedian with nine and a half fingers."
Allen retired from performing in 1999, ending his broadcast career with a rare interview for BBC Radio 4, but still received offers and was reportedly considering a project at the time of his death.
He once said that he wanted his gravestone to read: "Don't mourn for me now, don't mourn for me never - I'm going to do nothing for ever and ever."
Read More