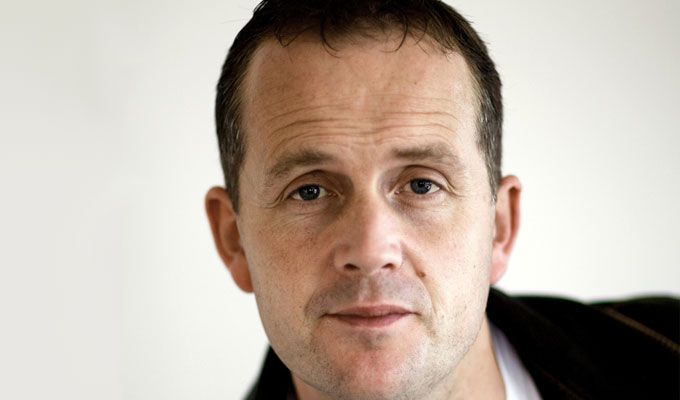 Dougie Dunlop
Glasgow Comedy Festival 2013 Launch Show
Note: This review is from 2013
The traditions of Burns Night are well-established: haggis, poetry, enough single-malt to float a battleship, and then, O what a glorious sight, the London launch of the Glasgow Comedy Festival.
Vying with Leicester for the title of Europe's biggest event of its type, the packed programme boasts more than 400 shows – and this taster is designed to woo tourists north of the border this March... although there's a notable reluctance to commit to that trip from the audience tonight.
Still, this line-up – hosted by self-confessed 'needy poof' Bruce Devlin –  offers a perfectly succulent taster. Devlin's fast-talking patter blends smut, catty audience insults and honest if unedifying personal titbits that, in a full set, might become draining. But in the compere's role he shovels the night along, getting himself – and by extension the rest of the room – energised by his near-the-knuckle banter with the front rows.
The festival is proud to be a natural product of Glasgow, rather than simply being located there, but it took two outsiders to offer the best take on Scottishness, going beyond the stereotypes of battering both food and people. The first came courtesy of Henning Wehn, who found little appetite for Scottish independence in the room (though a later comic suggesting England be submersed got a big cheer).
The football-loving German cheekily suggested that sectarian chanting was the only thing that made the Scottish game worth following; though proceeded to dissect the lyrics of one Loyalist anthem with the usual ruthless Teutonic efficiency. (What was that I was saying about stereotypes?) Wehn sometimes needs a little time to set out his theories, but there are plenty of wry lines and astute insight in his set.
Tiffany Stevenson appears to have ambitions to be a Middlesex Sarah Silverman with her bad-taste one-liners... although she doesn't quite commit to the nastiness, de-clawing each punchline with a deliberate smile to let the audience know it's only a joke. Some of these lines pack a punch, but when she moves on to topics of middle age, middle class 'yummy mummies' and what she considers the real seven signs of aging, the sneer is a little safer.
Richard Herring delivered the opening few minutes of his 'male answer to the Vagina Monologues', Talking Cock, which can't really fail. The legion of Profanisaurus-type euphemisms for the 'Kojak piggy-bank' might not be sophisticated, but they are funny - especially when Herring revels so much in their childishness. The responses to his survey about where men put their 'porridge guns' for pleasure is as eye-watering as it is eye-opening, and proves that embarrassing comedy about penises is timeless indeed.
A change of style for Jen Brister, who returned to the theme of entering middle age (she's a youthful 38) yet still wanting the lifestyle of a twentysomething – from Top Shop chic to pill-popping nights out. The subject is bread-and-butter for stand-up, but Brister makes it her own through expertly-performed set pieces: hilariously evocative character sketches that display a flair for cartoonish exaggeration and a mastery of both physical comedy and timing. She's long-overdue a more high-profile vehicle for these talents.
Mitch Benn's place in the comedy universe is more well-established, with his quick-turnaround topical-inspired songs, accurately capturing a musical genre. After a fair bit of set-up to evoke the Olympics, his feelgood bounce-along number inspired by the opening ceremony's inflatable Stonehenge is properly catchy. And the cod rock opera, inspired by children's literature is nicely done. I could do without the hack Yoda and wookie impressions, though, however good he is at them.
The second half of the showcase rounded up some London-based Scottish comics as a reminder of the festival's origins. First among them was Dougie Dunlop, a no-frills stand-up who lets his material as a downtrodden everyman speak for itself. It's something of a mixed bag, with a few pedestrian moments mixed with some great lines and unexpected switcheroos... but there's a warmth to his dour observations, and an efficiency of delivery that keeps the punchlines coming.
Robert Mugabe-obsessed Matt Winning is a man who forever looks as if he's just that moment regretted opening his mouth. Whether it's his tortured puns about the Zimbabwean dictator, or tortured puns about something else, it's his embarrassment in his own 'dad gags' that carries the set. To be fair, some of the wordplay is quite inspired. But some is 'fucking awful', to use his own words. Either way, with his odd fixations and deliberate phrasing in his delivery, this Scot is certainly memorable.
A quick transatlantic trip, next, for sassy Yank David Mills, whose sharp comments likening devolution to divorce really hit the spot – and made him the second outsider to successfully nail the Scottish psyche.
Mills is arch and mean, which can be refreshing but sometimes seems misplaced: I don't think you have to be a super-leftie liberal to think his attacks on the homeless are aimlessly cruel more than ironic, while he sometimes seems to enjoy the sound of his own voice a bit too much, and talks fuzzily around the subject. That said, he cuts a distinctive and stylish figure, with an enjoyably elevated persona and some tart, acerbic putdowns.
Wendy Wason also can't help but get caught up in digressions 'I was going to tell you something, but I'm chatting here...' she chirpily confesses at one point – and it's futile to hope that this engaging gossip will fully focus. For the first half of her set you wonder if she's going to get anywhere, but eventually reveals some delightfully catty comments aimed at her own offspring – she's an ultra-competitive mum in that respect – while her story about saying the wrong thing to a friend heading out to Thailand is a brilliant anecdote.
A real treat of a headliner came in the form of Mark Thomas who, inspired by his bilious contempt for the romantic novel One Day, revealed his new favourite pastime: heckling books. You'll all be doing it soon.
You might think that a rather trivial topic for a political comedian, but his whole ethos is to encourage direct acts of rebellion – executed with a disarming wit that always makes his targets look silly. He's currently reviving his Manifesto show, which encourages audiences to make suggestions for policies that would make Britain better – and it's testament to the humour, imagination and sense of justice among his fans that he's collected such a hilarious set of pronouncements, every one of which should probably be enacted straight away.
Read More
Published: 27 Jan 2013
Dougie Dunlop is the Ronseal of stand-up comedians,…
1/01/2007
An affable Scot, Dunlop regales audiences with reliably…
25/10/2002
Past Shows
Edinburgh Fringe 2002
Edinburgh Fringe 2003
Edinburgh Fringe 2007
Agent
We do not currently hold contact details for Dougie Dunlop's agent. If you are a comic or agent wanting your details to appear on Chortle, click here.