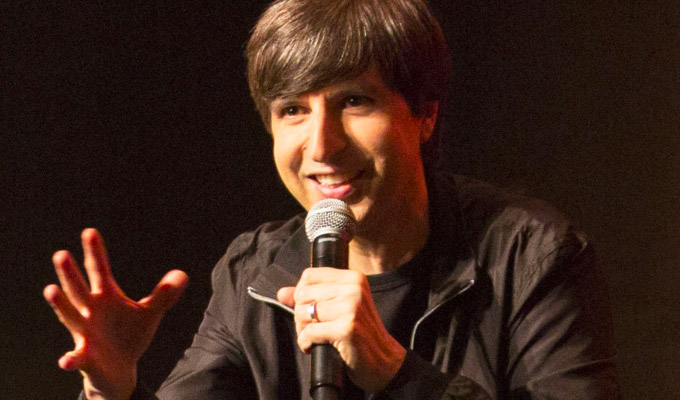 Demetri Martin
Date of birth: 25-05-1975

Demetri Martin: Dr. Earnest Parrot Presents Demetri Martin
Note: This review is from 2007
If you want to irritate a comedian, one sure way is to ask them: 'So, where do you get your ideas from.' But
Demetri Martin
has the answer to that most trite of questions. They come from the Premise Pixies in the Forest Of Jokes on the invisible brain nook that floats about two feet in front of his head.
Yes, the softly spoken New Yorker is in typically whimsical mood with his new show, which offers an elaborately constructed and delightfully fanciful way of showcasing his delicate, intelligent humour.
The ornate conceit is that Martin has a condition that means he escapes into this brain nook, a universe he can control without the messy interactions the real world demands. His midget therapist, Dr Earnest Parrot, wants to encourage him out of this dislocation by forcing him to relive a series of small but memorable moments from his life in front of an audience. It's a lot more complicated than that, but that's the essence of it.
This is all just a way of giving form to his jokes, beautifully constructed creations that combine the abstract with the everyday into supercondensed nuggets of superbly observed one-liners. But a relentless hour of these, however good, would prove draining – hence this multilayered structure.
The complex set-up also allows the prodigious polymath Martin to demonstrate his vast range of talents: accompanying some jokes on piano or guitar, providing quirky animated linking segments, showing off his unrivalled talent for creating palindromes or his brilliance as a single-frame cartoonist.
This show really does have everything, from embarrassing childhood photographs to pensive theories on the meaning of life, from shadow puppets to a brilliant catalogue of made-up mythical characters that, if made into a children's book, would easily outshine Ricky Gervais's Flanimals.
Martin's brain nook is a seductive world you quickly become immersed in. Even when his musings become more fascinating than funny, you are so absorbed in what he has to say and the enchanting way he says it, that the comic let-up is of no importance.
This is one of the richest comedy shows you could hope to see – or rather, experience - with so many brilliant jokes, subtle observations and minute details that one viewing seems barely enough to do it justice. To not see it at all would be a tragedy.
Reviewed by: Steve Bennett
May 2006
Read More
Published: 1 Jan 2007
Agent
We do not currently hold contact details for Demetri Martin's agent. If you are a comic or agent wanting your details to appear on Chortle, click here.