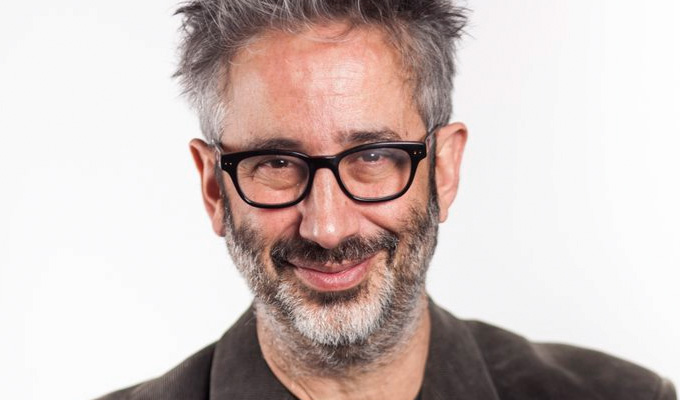 David Baddiel
Date of birth:
28-05-1964
David Baddiel's first brush with comedy was in 1982 when he wrote and performed in the Sixth Form revue at The Haberdashers Aske School, Elsetree, before developing his talents while a student at King's College, Cambridge. As well as graduating with a double-first in English Literature, he was vice president of the Footlights.
On leaving, he performed stand-up on the London circuit, while working on a PhD entitled Seductive Innocence: The Little Girl In Victorian Sexuality. There he met Robert Newman [then called Rob] and they started writing sketches for the Radio 4 show WeekEnding, which solicited work from any writers who wanted to contribute.
They were subsequently paired up with Steve Punt and Hugh Dennis for the Radio 1 comedy show The Mary Whitehouse Experience, which began in 1989. Two years later it transferred to BBC Two for two series.
Baddiel continued to work with Newman for the 1993 series Newman and Baddiel in Pieces –and later that year became the first comedians to play Wembley Arena, prompting the now clichéd saying that 'comedy is the new rock and roll'. However, the duo's relationship was under huge pressure at the time, and they subsequently split with some acrimony.
Baddiel then formed a partnership with Frank Skinner, who at the time was lodging at his London flat, recreating their living-room banter in both Fantasy Football League – which ran on BBC Two from 1994 to 1996, returning on ITV for the 1998 World Cup and 2004 European Championship ¬– and Unplanned, which started life as an Edinburgh Fringe show in 2000 before transferring to the West End and, eventually, TV.
In 1996, the pair teamed up with the Lightning Seeds' Ian Broudie to record the England football anthem Three Lions, which has been a terrace favourite ever since.
Outside of these comic partnerships, Baddiel created the 2001 Sky One sitcom Baddiel's Syndrome and devised the Radio 4 panel show Heresy, which attempts to challenge received opinion. In 2009 he appeared in the 3rd series of Skins, alongside his real-life partner.
He has written three novels : Time For Bed, Whatever Love Means and The Secret Purposes and writes a regular literary column for The Times. He also wrote the 2010 comedy film The Infidel, starring Omid Djalili as a Muslim who discovers his parents were actually Jewish.
Read More