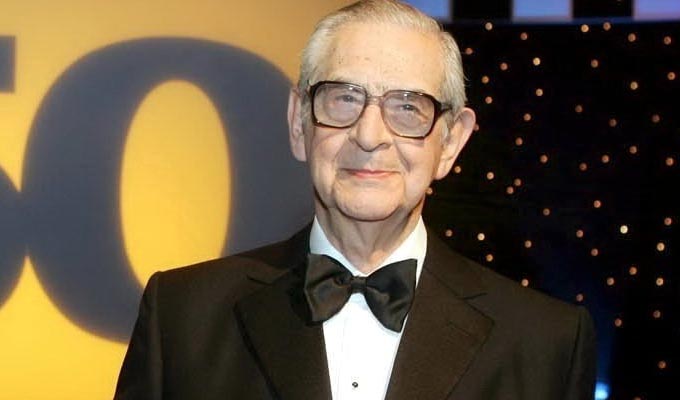 Denis Norden
Date of birth:
06-02-1922
In the public eye, Denis Norden is known as little more than the avuncular presenter of gaffes on It'll Be Alright On The Night, but that image does a disservice to his contribution to comedy.
As a scriptwriter, Norden and his long-time professional partner Frank Muir, helped drag post-war British comedy out its cosy rut, injecting both realism and American-style revue spirit into their radio shows.
Bitten by the showbiz bug at age 11, when he went on a theatre outing to see the Crazy Gang, Norden worked as a variety theatre manager for three years before joining the RAF in 1942.
There he shared a tent with Eric Sykes, who encouraged his first scriptwriting attempts for troop shows
On demob, Norden set up a variety agency and wrote material for up to 160 acts, including Dick Bentley and Jimmy Edwards
Two years later, in 1947, he began his long comedy writing partnership with Frank Muir.
Their first joint venture was the radio sketch show Take It From Here, writing more than 300 programmes over 12 years.  Its most famous creations were The Glums – the boorish Pa (Jimmy Edwards), the stupid Ron (Dick Bentley) and his dowdy fiancée Eth (June Whitfield). The scripts were adapted for TV in 1979.
Muir and Norden known as something of a double act, and were regular participants in radio panel shows My Word! And it companion show My Music. Highlights of the show were the shaggy-dog stories which they invented as implausible origins for well-known phrases.
They went their separate ways in 1964, when Muir was made a BBC light entertainment executive,
In 1977, Denis had the idea of a programme made up of television outtakes. Although originally planned as a one-off, there are now 16 instalments and four specials.In 1980, he and Frank Muir were given the CBE. The pair shared the Screenwriters Guild Award for Best Contribution To Light Entertainment in  1961, the Variety Club Of Great Britain Award for Best Radio Personality in 1978 and the Writers' Guild lifetime achievement at the British Comedy Awards in 1998.
Read More