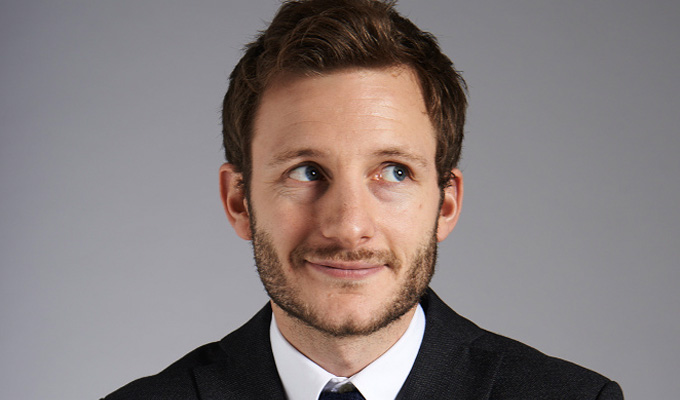 Chris Martin
Chris Martin: Passionate About the Pointless
Note: This review is from 2013
Don't call it that!  Don't write the review for me!  The title is a brusque description easily leveled at the 20-something skinny boys in skinny jeans with good hair, ironic cardigans and limited life experience who seem to have been be hatching across the comedy scene for  the longest time to the extent that they are now a recognisable stereotype.  
They get worked up about nothing, like obsessed adolescents, and expect an audience to give a monkey's about their hyperbolically expressed opinions on minutiae. But it's not enough to be vehement about every damn thing and think that's a show, when there's no sparkling eloquence, no point of view or even a celebration of silliness.
Chris Martin has plenty of aplomb and he handled a feisty crowd well, he shouldn't have had to deal with a works outing of people (from the Pleasance apparently) who were a bit too determined to be part of the action. His circuit skills were to the fore as they traipsed in and out, piped up randomly and wanted attention.  
He does have topics that diverge from the mundane, fear of dogs, a phobia about dying (is anybody completely relaxed about it?) and he's not bogged down with the bleedin' obvious, but there's nothing that grabs your attention or tickles a funny bone, it's all alarmingly forgettable to the extent that even looking at notes I've still got not much idea of what went on.   
An anecdote about fainting, a trip to Morocco and the British reluctance to haggle, a recurring theme on how to kill a dog if you have to.  In fairness, the audience seemed quite rapt with him and maybe I expected more because he's young but not so new, and there is some buzz about him, as he gets nice tour support slots.  
At best he's a young man still establishing himself and this is a work in progress in the greater scheme of things. But really, the pressure shouldn't be to come Edinburgh every year if you've nothing particular to say.  The festival shouldn't be used simply as a workshop for comedians, building up loyalty points in venues. In my head a festival is to show off the culmination of much work and striving for excellence, and real people pay money and come out looking to be entertained and so much of this, and so many other shows, is  just a one sided conversation; the 'show' and 'performance' seem to be secondary to just turning up.
Read More
Published: 13 Aug 2013
Chris Martin comes out on stage to a riff that puts…
23/08/2011
A newcomer who's cutting his teeth hosting a regular…
1/06/2008
Description Three rising stars of the…
1/01/2006
Past Shows
Agent
We do not currently hold contact details for Chris Martin's agent. If you are a comic or agent wanting your details to appear on Chortle, click here.