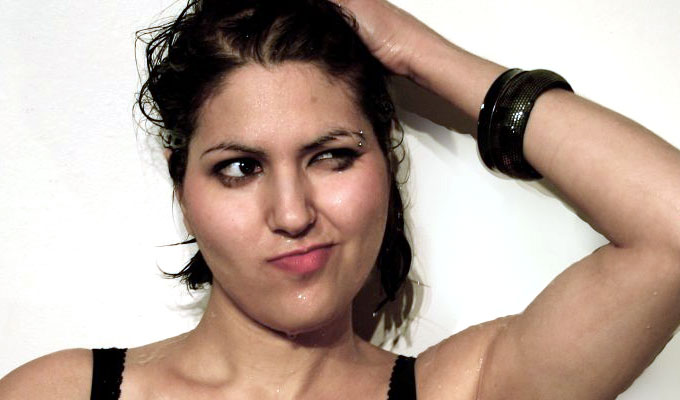 Carmen Ali
Comedy Bloomer's LGBTQ+ New Comedian Of The Year
It could be an intimidating prospect for any aspiring comedian in a new act final, facing a panel of judges lined up, Britain's Got Talent-style, to give instant feedback.
But thankfully for the contestants in Comedy Bloomer's LGBTQ+ New Comedian Of The Year final last night, Helen Lederer, David Morgan and Jordan Gray were all far to supportive to go full Cowell on anyone.
The winner was not entirely in their hands, either, as the victor was chosen via an opaque system involving a combination of expert opinion and audience votes, that cynical old ticket-selling trick.
Yet however the result was achieved, it was a wise one, with the spoils – a whole £250 – going to Charlie George, a personable and witty comic who seems to have come a long way in the five short months since an unremarkable performance the Leicester Square new comedian final.
She is a mass of contradictions, apparently being a middle-class white woman in a brown body, living her life through mindfulness and affirmations but jaundiced enough to think it might all be bullshit.
Another contradiction is that she's unshowily confident on stage but unsure about feminism's mantra that all women are a strong, powerful force. 'What about the weak-willed and tired?' she asks, with a couple of self-effacing stories of embarrassing situations to back up her point.
Being raised as a Jehovah's Witness gives her another fruitful seam she barely scratches here, and she also has a playful, naughty streak. There are, indeed, a lot of aspects to her, but George presents them as all true to her personality, and relayed with an ear for a strong gag which made her a worthy winner.
The evening had started with Turkish-Geordie Louise Young, who describes herself as a 'crackhead Cheryl Cole', and finds plenty of reasons to celebrate the scuzzier side of life.
Her routine might benefit from a little more texture and surprise, but she has a quiver full of decent jokes and an engaging way of telling them, while painting a vivid picture of her unwholesome life. By her own telling, the only thing not typically working class is her drama degree – and it's surely that which gives her a relaxed, honest confidence that adds to the enjoyment of the set.
Next up, Carmen Ali delivered a proudly sex-positive set that surely opened some eyes about the kinks she enjoys so much. But she also hinted a bit of social politics behind her unabashed bluntness as she asks why it's considered OK to visit a strip club but not work in one.
While her story is interesting and new, a fair bit of the material around it still feels underdeveloped, with predicable punchline. But the subject matter is definitely her own, even if she doesn't yet dominate it like she does her one BDSM slave.
Camp 19-year-old Sam Serrano - the only bloke on tonight's bill - started a little unsteadily, quipping sarcastically about his 'toxic masculinity', abandonment issues and familiar comebacks to his Nan's 'back in my day' reminiscences.
But a couple of minutes in and the finds his feet, starting with the mention of his learning difficulty - topped by some priceless lines to own the situation and defuse any potential discomfort – even though that was always going to unlikely given how charming he is. He's self-aware beyond his years, has a handful of killer lines, and charming winsome in his cheerful delivery.
That adds up to a lot going for him, so expect to see more.
Darcie Silver admits a lack of confidence on stage, and though she tries to laugh it off there's a disconnect between her personality and her material. She's skittish and uncertain, yet the material is aggressive and base, often desperately punched up with f-bombs that feel out of place.
Of course the butter-wouldn't-melt comic delivering brutal punchlines is an established trope, given the juxtaposition, but in Silver's case, it seems born out of nervousness, not faux-innocence. And the writing lacks nuance, with corny puns and cheap jokes about being trans. It doesn't feel as if she has figured out who she is as a comedian yet, and that's fatal.
Finally Katie Price – of course, not that one – who has a to-die-for opening gag about being both Jewish and bisexual. In fact, she's got quite a few good lines, even if the set suffers from a lack of variety.
Much of it is based on her heritage, and the fact she has a Catholic Northern Irish boyfriend, but her repeated sardonic mentions of the Jews running the banks and the media are a little tired. While her other strand, about being diabetic, offers little more than a comparison between blood sugar emergency and sex.
Price does more than enough to prove she can write a good gag, although there are a few duds, and more crucially the set needs more depth to make us want to hear more.
In a bizarre postscript, compere Kuan-wen Huang reminded the audience of who they'd seen by repeating a few of their jokes in an uninterested monotone, draining them of life.
That probably wasn't his decision, but nor does he make for a great MC: he's self-centred and socially awkward – as his dead-end engagements with the audience proved – which he covers by being loud and abrasive. And he has little material, deploying camp shrieking in place of punchlines.
Luckily the night wasn't about him – though he surely wished it was – but giving some promising comedians a good showcase.
Read More
Published: 23 May 2019
Past Shows
Edinburgh Fringe 2014
Edinburgh Fringe 2015
Agent
We do not currently hold contact details for Carmen Ali's agent. If you are a comic or agent wanting your details to appear on Chortle, click here.