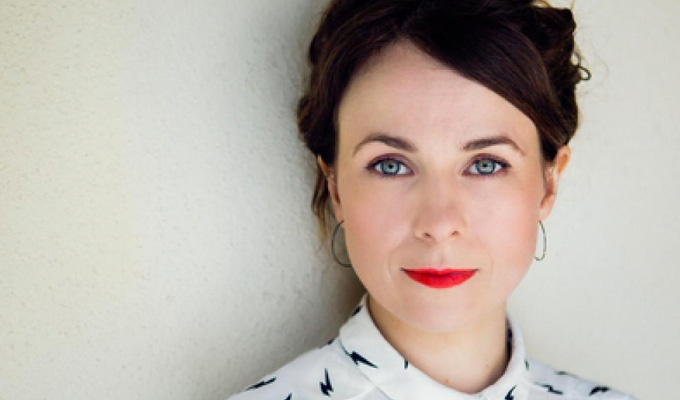 Cariad Lloyd
Cariad Lloyd and Louise Ford at Latitude 2014
Note: This review is from 2014
There are some splendidly inventive ideas in Cariad Lloyd and Louise Ford's character show, getting a 40-minute run-through at Latitude before the polished version hits Edinburgh in a few days' time.
The pair favour long-form sketches that thoroughly explore and build on the draft idea at their core, whether it be Alan Lantern, Britain's No 1 Jesus impersonator, or the bewilderingly fashionable model t Cara Delevingne. Characters like these are played straight enough to be convincing, not matter what their huge, odd idiosyncrasies, with the pair getting laughs from surreal details or skilfully judged non-sequiturs.
The persona of Olga, a Swedish personal fashion advisor and her timid, goggle-wearing assistant Yona is a more obvious grotesque, even boasting (and that's definitely the right word for this raging egotist) her own catchphrase. Yet even she is strangely credible; perhaps the foreign accent explains the strangeness.
Taking turns to be centre-stage, with the other in support, Lloyd and Ford are great performers, occupying their oddball alter-egos with conviction, but also loose enough to entertain improvised audience banter and playful in-jokes about the artifice of what they are doing or occasional lapse in slickness.
Though it's not without jokes, the show's not gag-gag-gag. Instead, it's enjoyable to meet these characters and revel in their extreme quirks. Writing endings often eludes Lloyd and Ford, however, and several of the sketches seem to just fade out, giving way to the little dance routines that neatly punctuate the scenes.
Read More
Published: 20 Jul 2014
Apparently when Cariad Lloyd and Paul Foxcroft performed…
19/10/2013
After two weeks of shows in caves and Portakabins,…
14/08/2013
Such is the enduring appeal of Jane Austen, that his…
17/08/2012
In her 'difficult second show', 2011 best newcomer…
15/08/2012
Hand-in-glove with the boom in stand-up has come a…
27/04/2012
Best newcomer nominee Cariad Lloyd has clearly put…
26/08/2011
Typical. You spend all year crafting your sketch show,…
6/08/2011
It was set up as a celebration of female comedy. But…
14/07/2011