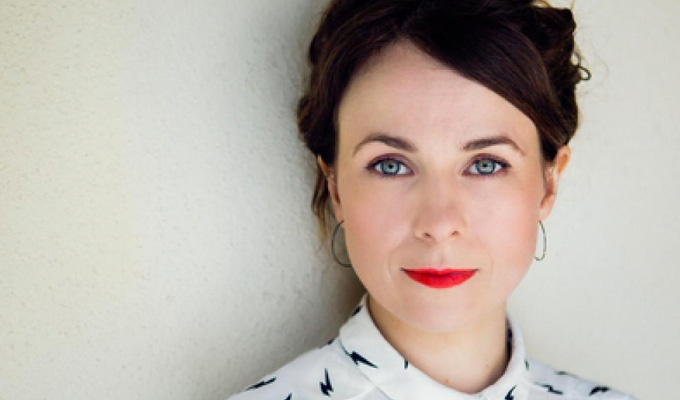 Cariad Lloyd
Out Of Her Mind
As opening lines go, 'My name is Sara Pascoe and I'm going to destroy your faith in love' is as bold and unambiguous a statement of intent as you can get. And hardly the usual manifesto for what's ostensibly a sitcom about relationships.
The word 'ostensibly' is doing quite some lifting here, because the comedian, who also wrote Out Of Her Mind, has an uncompromisingly original approach to the form. Her main trick of breaking the fourth wall might have precedent in everything from It's Garry Shandling's Show to Mrs Brown's Boys – but those shows never cut away to their star roller-skating in a spangly spandex leotard to explain some brain biochemistry.
This is Sara Pascoe the character (her inventiveness might have run out before it came to giving her screen alter-ego a name) debunking the notion of love, dismissing it as merely a hormonal response triggered as an evolutionary trick to encourage pair-bonding.
And while such arguments might be familiar to readers of Pascoe the comedian's hit books, that's not what her newly engaged sister Lucy (Fiona Button, showing all the hallmarks of being a bridezilla) or her long-suffering, newly pregnant best friend Scoopy (Cariad Lloyd) really want to hear. Pascoe's mum, a wonderful Juliet Stevenson, is the only one who might be sympathetic, given her festering bitterness for the husband who left her.
It's a chicken-and-egg question whether screen Sara's cynicism is down to being alone -– especially after being left heartbroken by a long-ago dumping – or her loneliness is down to her cynicism. Because elsewhere she's almost child-like in her conception of the world.
That she may be a secret romantic at heart is just one of the intriguing contradictions in the show: her chaotic character's egocentric and unselfaware, but still charmingly likeable (despite her protestations to the contrary); the programme is bitty but still speaks with a coherent voice; and the semblance of traditional narrative's freely undermined by the cutaways to what's going on inside her mind, not to mention countless meta-comments deconstructing the artifice of TV altogether.
This is where some of the more clear-cut jokes and pointed comments go, such as Luna, the black fast-food worker played by Cash Holland, complaining about being a tokenistic, two-dimensional secondary character in a white woman's story. That said, Sara sitting on the takeaway counter to unload her thoughts is a particularly funny moment…
The result of an approach that's simultaneous scatty and purposeful is an unpredictable, unconventional and slightly surreal half-hour. It may be smartly witty rather than raucously laugh-out-loud (though there are a couple of notable exceptions) but it has 'cult favourite' written all over it in gold glitter, and will leave those on the same wavelength keen to find out what else is going on inside Pascoe's hyperactive mind.
• Out Of Her Mind is on BBC Two at 10pm tonight
Read More
Published: 20 Oct 2020
There are some splendidly inventive ideas in Cariad…
20/07/2014
Apparently when Cariad Lloyd and Paul Foxcroft performed…
19/10/2013
After two weeks of shows in caves and Portakabins,…
14/08/2013
Such is the enduring appeal of Jane Austen, that his…
17/08/2012
In her 'difficult second show', 2011 best newcomer…
15/08/2012
Hand-in-glove with the boom in stand-up has come a…
27/04/2012
Best newcomer nominee Cariad Lloyd has clearly put…
26/08/2011
Typical. You spend all year crafting your sketch show,…
6/08/2011
It was set up as a celebration of female comedy. But…
14/07/2011