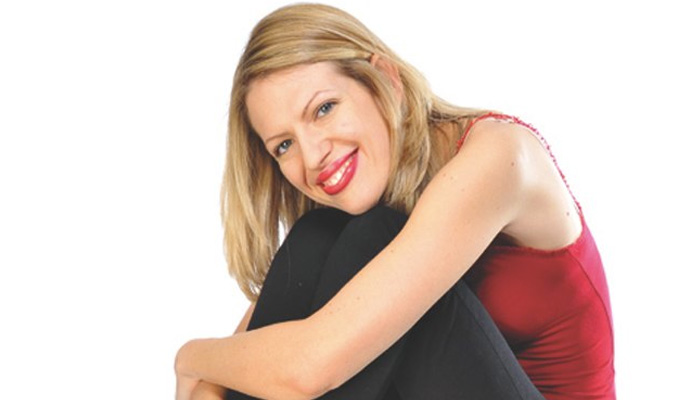 Catie Wilkins
Catie Wilkins: Fringe 2012
Note: This review is from 2012
It's always awkward watching a nervous performer. New act nights or competitions can be excruciating for that very reason. It's important for comics to put their audience at ease – or at least convince them who's in control – and that usually comes with time and experience.
Wilkins is halfway through her second run at the Fringe so it's surprising to find her so jittery. Perhaps she's having a bad day but it's an element of the performance that needs addressing.
Though she acknowledges her shyness in the opening moments of the show, her nervy demeanour  derails much of her material. You can't help but feel that this review is only going to compound those nerves but her hesitant, quiet delivery and constant drinking from her cup of water when halfway through a sentence rather than waiting until she's delivered a punchline make it uncomfortable for the crowd. In addition it's a packed and very warm room and Wilkins never really brings the energy level up.
Her material is well thought-through and intelligent. Even if she's not producing constant belly laughs, there is still plenty here of material that she can move forward with.
Her show is concerned with identity, specifically in relation to names and to gender.  Wilkins' middle name really is Joy, a fact she considers  ironic as she's the least joyful person she knows. She moves on to consider how your name defines you and despite her feminist values and elsewhere referring to marriage as a patriarchal institution, confesses to having changed her name to her husband's (at least outside of comedy) – saying her choice was mainly due to the  raw deal she gets with Wilkins being so far down the alphabet.
Halfway through the show she changes tack slightly,  highlighting blatantly patronising marketing towards women - the Miss Army Knife (a genuine product) being a prime example. But she assures, it's better than it was producing those familiar yet still shocking Fifties ads that just fall short of condoning domestic violence never mind their advocation of female subservience.
There are some big laughs to be had here such as when Wilkins suggests how unpopular tasks, such as hoovering and cunnilingus could be marketed to men. The show has great potential but Wilkins' lack of conviction in her own material fails to sell it to us.
Read More
Published: 20 Aug 2012
I hope Catie Wilkins' mum never gets to watch her…
15/08/2011
'So this family walks into a talent agency: a father,…
24/12/2010
Dry-as-dust newcomer Catie Wilkins exudes a miserable,…
6/05/2009
Past Shows
Edinburgh Fringe 2009
Agent
We do not currently hold contact details for Catie Wilkins's agent. If you are a comic or agent wanting your details to appear on Chortle, click here.