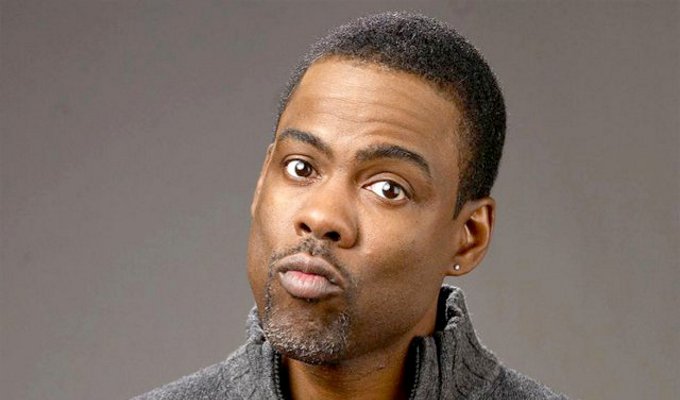 Chris Rock
Date of birth:
07-02-1966
Born in South Carolina, but raised in Brooklyn, Chris Rockstarted hanging out on the New York comedy club circuit when he was still an adolescent.
He was performing at the New York Comedy Strip in about 1984, when Eddie Murphy caught his act and identified him as an rising star, even though he was still a teenager. Murphy cast Rock in Beverly Hills Cop II, in a small role as a parking valet, but it helped him land a couple more minor supporting roles, and eventually a spot on NBC's Saturday Night Live, which he was on from 1990 to 1993. During his SNL stint, Rock also sometimes guest-starred in Keenan Ivory Wayans' sketch series In Living Color.
In 1991, Rock landed his first dramatic screen role, as a naive crack addict-cum-informant in Mario Van Peebles' New Jack City. Other early film roles have included a hot-headed law enforcement agent in 1998's Lethal Weapon 4 , a bitter an apostle of Jesus in Kevin Smith's 1999 film Dogma, and an obnoxious foul-mouthed hitman in Neil La Bute's controversial black comedy Nurse Betty in 2000.
Rock recorded his first HBO special, Big Ass Jokes, in 1996. But he established himself as a major stand-up force with his second special Bring the Pain in 1996, which earned him two Emmy awards and substantially widened his appeal. The same year, he received a third Emmy for his work as a writer and correspondent for Comedy Central's Politically Incorrect with Bill Maher.
In 1997, HBO signed Rock for an edgy sketch series, The Chris Rock Show, that ran until 2000. During that run, Rock published his autobiography Rock This! (in 1998) and recorded his third HBO special, Bigger & Blacker (in 1999). His four special, Never Scared, debuted in 2004.
In 2001, Rock wrote and starred in the film Down to Earth, a remake of 1941's Here Comes Mr. Jordan, and again in Pootie Tang, a spin-off from The Chris Rock Show. He also directed, co-wrote and starred in 2003's Head of State as an unlikely presidential candidate for the Democratic party. In 2007, Rock added producer to the credits as he wrote, directed and starred in the sex comedy I Think I Love My Wife, a remake of Eric Rohmer's Chloe in the Afternoon!. Rock has also lent his voice to one of the characters in Steven Spielberg's A.I.: Artificial Intelligence, and Marty the Zebra in Madagascar (2005) and its 2008 sequel.
Although his film outings have never really matched his stand-up for success and critical acclaim, his TV profile was boosted by the semi-autobiographical sitcom, Everybody Hates Chris, that debuted in September 2005. Written and produced by Rock, who also provides a voiceover, Tyler James Williams plays a younger version of the comedian, during his schooldays in the early Eighties.
Read More