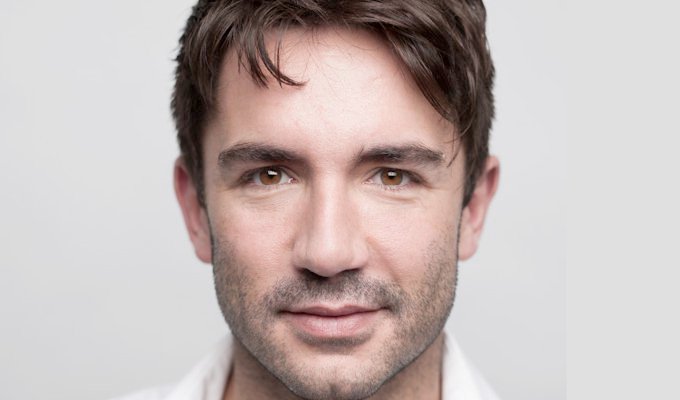 Chris Fitchew
Chris Fitchew: Just Jack
Note: This review is from 2013
Chris Fitchew is a passionate, larger-than-life, full-on entertainer who brings infectious exuberance and bold ambition to his creations. So even though this show can't quite avoid the 'hit-and-miss' curse of sketch and character comedy, his supercharged performance and celebratory spirit makes the hour a joy.
It kicks off with typical fun, as he introduces us to his uber-camp wedding planner, Tarquin. There are bonus jokes if his audience has seen Channel 4's Wedding House and knew this to be Fitchew's real 'day job' – but it's not crucial. The segment is just silly, as he dresses unlikely blokes in matrimonial frocks, in the sort of stunt that might be a staple stunt of broad Saturday-night family entertainment. But Fitchew charms, chivvies and jokes with warmth and skill – so if they ever do bring back The Generation Game, they could do a lot worse than draft him in as host.
The bigger and dafter he goes, the more successful the characters. Mr Colours, a surreal creation who only likes his primary hues, is as fun as he is odd; and his Hilary Deveny is an expertly warped grotesque version of the already odd Dragon's Den entrepreneur. And you can't get bigger or dafter than the Hollywood star so delightfully, unexpectedly and skewered in another scene.
His TOWIE wannabe is more straightforward, although Fitchew reveals an original twist to elevate it above the everyday. The preening metrosexual gym nut is a little predictable on the screens, as Fitchew executes his flamboyant costume changes, but comes to life in the sweaty, tanned and waxed flesh. The only pedestrian scene is the rather conventional semi-surreal sketch, in which he goes on a date with the Siri helper on his iPhone, and even that has a couple of decent lines.
For although Just Jack depends more on Fitchew's boundless energy and strange invention than it does on sharp jokes, he hasn't shirked that duty, and the script has plenty of laugh-out-loud moments. But its the compelling performance that you'll remember.
Read More
Published: 17 May 2013
Past Shows
Agent
We do not currently hold contact details for Chris Fitchew's agent. If you are a comic or agent wanting your details to appear on Chortle, click here.