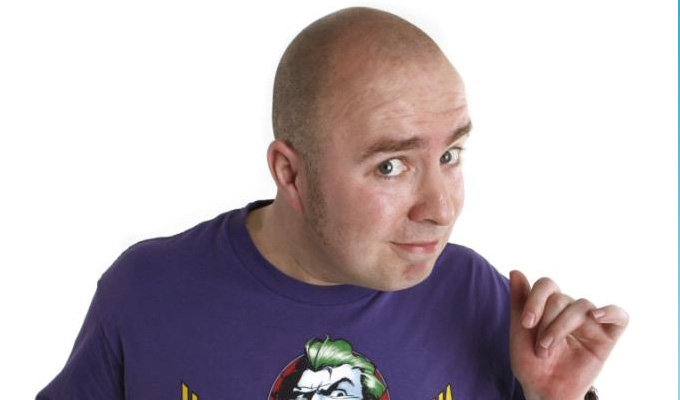 Chris Cairns
XS Malarkey, Nov 1, 2011
Note: This review is from 2011
XS Malarkey, by overwhelming consensus Manchester's best independent comedy club, has not long settled into its new home in a disused chapel in the studenty Fallowfields part of town.
It feels like an appropriate site, with a quirky, homespun 'knit-your-own-organic-teabag' atmosphere, but with enough professionalism to ensure sound, light and audience comfort is all just right.
The main thing that makes the night, though, is resident compere Toby Hadoke, who treats the paying punters like friends popping round his house for a chat – trying out new material with varying shades of success, but primarily creating at ambiance of relaxed, respectful bonhomie that has defined the club over the years.
He plays up the attitude of a mildly irascible middle-aged man, but he's someone who just knows what he likes rather than being overtly angry at the world. He stresses the differences between XS and more corporate clubs, berating himself for the odd double entendre, though, of course, not holding back from doing them.
It builds up a supportive clique, and never more so than the section where he reluctantly handed out cheap prizes. By refusing to play along to the cheesiness of the idea, it becomes hilarious in its casualness.
Opening act was Javier Jarquin, a half-Latino, half-Chinese Kiwi. Cue predictable racist stereotypes about each half of his heritage and how they might conflict – a predictable, by-the-book approach he never really got beyond.
He can sometimes wring good jokes out of the over-used formula, though, as his bit about British store names attests, and he's a robust, confident performer – perhaps learned in his other professional life as a magician. It all made for a solid, if uninspiring, set.
Andrew McGowan is a Robbie Williams impersonator in the Rochdale area, clearly taking advantage of XS's genuinely open 'open mic' policy to make his first moves into comedy.
But he has a very restricted outlook of what modern stand-up entails. Generic jokes about Josef Fritzl and Fred West abound, with fast-decreasing returns, and when he told a gag about Jedward being 'less popular than a gypsy' you could hear a pin drop, as the last vestiges of support evaporated. Add flabby set-ups and old pub gags into the mix, and you have someone who's still got a lot to learn about the comedy basics.
Ruth E Cockburn is an intriguing personality, adept and in control on stage but apparently racked by self-doubt and klutziness in real life. Her embarrassing stories have the ring of truth to them that makes the self-deprecation really work, and there are a good number of solid jokes here.
She's not yet the finished article, as the different elements of her comedy and personality don't always fit well together, but she's eminently watchable, sympathetically flawed and quirky enough to be interesting. However, the closing song – 'You're Girlfriend's A Minger' – is old-fashioned and, frankly, a little dull. The rest of the set suggests she is better than this, and certainly has the potential to be a lot better.
Finally, late-booking headliner Chris Cairns, a large friendly Scouser who has so many years of experience in the business that he knows how to hold the room in rapt attention. He needs to, as well, as his pace is incredibly slow, and he spends a lot of time talking around a subject before settling on its punchline. The payoffs are usually strong, but not really worth the wait, which adds nothing to the tension.
The occasional turn of phrase nicely highlights the precise mundanity of his middle-aged, lazy life, but again he doesn't exploit them particularly well, meandering around the subject with little concern where the next punchline might be. There's definitely the feeling that he's a comic who's found his place on the circuit and is now doing the least he needs to do to get by. But with so many hungrier comedians coming up behind, such complacency doesn't seem nearly enough.
Read More
Published: 2 Nov 2011
A bit of a charismatic black hole, Cairns's set is…
1/02/2002
Agent
We do not currently hold contact details for Chris Cairns's agent. If you are a comic or agent wanting your details to appear on Chortle, click here.