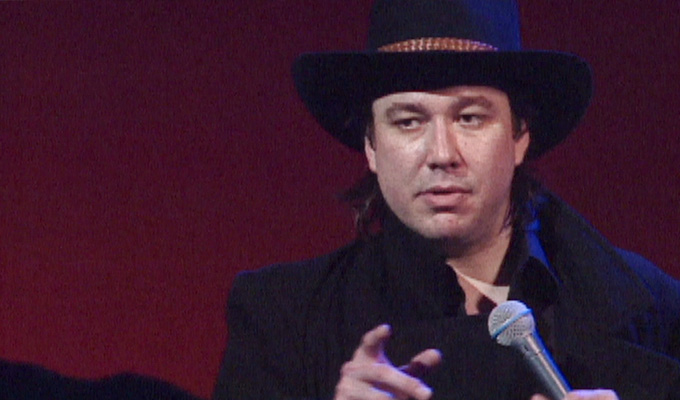 Bill Hicks
Date of birth:
16-12-1961
Date of death:
26-02-1994
Widely regarded as the template for modern stand-up,
Bill Hicks
combined a uniquely passionate delivery and a gift for sharp, incisive and above all funny writing to reinvigorate the sometimes moribund art of live stand-up. His uncompromising attitude and the tragedy of his early death have combined to give him an iconic status, a black-clad preacher for a disillusioned generation. If Lenny Bruce was the comic borne of the jazz generation, Hicks can lay claim to being he first rock and roll comic. But behind the image, Hicks was, above all, a hugely talented comedian. He started performing in clubs in Austin, Texas, while still at school – and at 14, far too young to even enter the bars he was playing. He performed a double act with
Dwight Slade
, ripping off jokes from Woody Allen albums and the like, despite being grounded when his parents found out. Once he graduated, at the age of 18, he moved immediately to Los Angeles to follow his dream. There Comedy Store owner Mitzi Shore took a liking to him and he started playing the circuit there. He wasn't yet distinctive in his material, but he was an accomplished performer. His plans to make it never came to fruition first time around, so he returned to Austin where he fell in with a hard-living bunch of stand-ups who styled themselves the Outlaw Comics, including Sam Kinison and Kevin Booth. He found drugs, he found drink and started to become more experimental in his act – sometimes with disastrous consequences, sometimes amazing ones. He took his inspirations from any faddish spirituality that came along, and was an advocate of taking magic mushrooms to expand the consciousness. But, as a hardcore Elvis fan, he had the showmanship sensibilities of a rock star, a petulant reaction to authority – not least the first Bush government – and a passionate hatred of hypocrisy and mediocrity. It was this that informed his comedy. From here, he became a road comic, gruellingly touring the country, notching up small victories – such as appearances on the Dave Letterman show, or recording a couple of albums – along the way. Eventually he even cleared his drink and drug addictions. His biggest breaks came at Montreal's Just For Laughs festival. In 1990, he picked up a special from HBO and the following year, when he was given a solo show, Britain's Tiger Aspect production house spotted him, and was so impressed they recorded the entire show. Channel 4 was equally convinced, and allowed it to air as an hour-long special, and when Hicks played the Edinburgh fringe that year, he was the toast of the Festival. In 1993, he was beginning to be noticed in his homeland, too, with Rolling Stone magazine naming him Hot Comic Of The Year. But in the same year this success came, he was diagnosed with pancreatic cancer. Determined not to let it beat him, Hicks worked harder than ever. But the thing he was to become most famous for was something he didn't do. He didn't appear on Letterman. He taped a routine for the show taking pops at pro-lifers – and a couple of more innocuous references to homosexuality and the Bible. Yet it was dropped from that night's broadcast. The show blamed the CBS network – though it later emerged that it was Letterman and his team that had taken the decision, muck to Hicks' well-publicised disgust. He later performed the routine uncut on rival Jay Leno's more conservative Tonight Show – even though Hicks considered Leno a sell-out – further fuelling the controversy. Nonetheless, he continued to tour until the ravages of his cancer made him too weak to continue. In the end, he returned to his parents' house in Little Rock, Arkansas where he died on February 26, 1994. He was 32 years old.
Read More