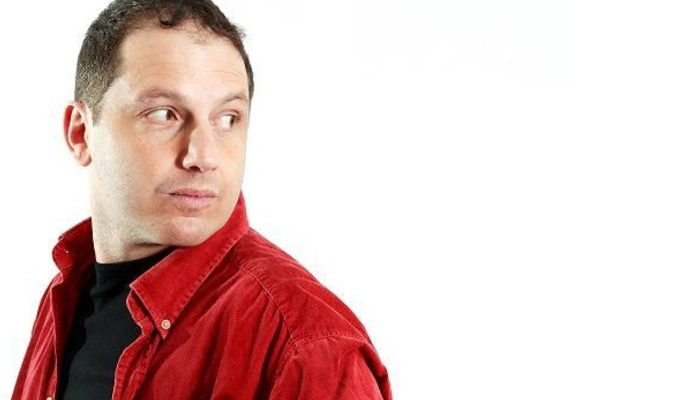 Bennett Arron
Colin Cole, Martin Coyote, MC Bennett Arron
Note: This review is from 2010
Glorious weather, light evening and World Cup football have devastated stand-up audiences across the board – and this night in St Albans' Havana nightclub is no exception. This big room is clearly used to sizeable crowds – you can tell by the fact they use Robbie Williams's Let Me Entertain You as the pre-show music.
The comics on the bill are likewise more used to the raucous Jongleurs/Highlight style crowds. Yet tonight the audience in this elegant room numbers fewer than 40, and all here to listen. The comedians' mob-control techniques won't be needed tonight.
Compere Bennett Arron's traditional warm-up banter certainly struggles. As he asks around for people's names and occupations in a series of comedic cul-de-sacs, the effect is like listening in to dull party chit-chat between people you don't know, struggling to find common ground. It's accepted practice that this is how you warm up a gig, but when it's such hard work for everyone – and Arron landed very few comic hits – you have to wonder if it's really the best way.
When he eventually moved on to prepared material, the results were more rewarding, largely due to his exaggerated vulnerability. With his soft Welsh accent, 'poor me' demeanour and tales of being picked on from school onwards, he certainly engenders sympathy. His material is a mix of whimsy and wordplay, occasionally slightly cheesy, and relies on a certain glint in the eye to pull off. It's affable stuff, rather than killer gags – though in this environment, many acts would struggle.
Certainly Martin Coyote did; but then his unambitious set holds very little interest for those seeking more than reinforcement of gags they already probably know, whether consciously or not. The jokes flow, but they're all very easy: about the irony of Tony Blair being a peace envoy, about late-night kebabs, about rough areas of East London. It's a bland amalgam of the most common opinions on the circuit. Most people, for instance, probably pay little concern to the existence of Victoria Beckham in their day-to-day lives, but since she's somehow become a reflex comedy reference, she gets a couple of familiar jokes at her expense here.
A regular compere and member of the Comedy Store's Cutting Edge team, the veteran Coyote is a technically adept act, and delivers the material with relaxed detachment that might draw a more raucous crowd in. But here, it seems flat, like he's going through the motions, not engaging the audience. He gets only one decent laugh, and that's for a pull-back-and-reveal dick joke (of the 'and then I got off the bus…' variety) – the oldest technique in the book.
Headliner Colin Cole had a lot more stage presence, as you might expect from a 6ft 9in Australian ex-wrestler. He grabs the room with his energy and bonhomie, with a compellingly foreceful delivery and a strong sense of timing.
It's a gag-driven set; some good, some bad, but all told with such conviction that he propels the audience with him. However, there are some less edifying aspects of his material, especially in the barbs directed at air stewards that rely on tired, unappealing anti-gay insults. His attitude to 'poofs' isn't not the only dated thing about his set either, with jokes about Blind Date, Steve Irwin – and even a recycled practical joke his countryman Barry Humphries used to play on planes when a student, which he claims as his own.
Yet there are some great gags in there too, which told with that impeccable, no-nonsense delivery, prove irresistible. If only he gave his act a vigorous spring-clean, he could be unstoppable – but since his routine changes little over the years, that's unlikely to happen now.
Read More
Published: 4 Jul 2010
A lovely touch at the very beginning of Bennett Arron's…
7/03/2010
Mild-mannered Arron is one of the most innocuous comedians…
8/10/2009
Bennett Arron, probably the only Welsh-Jewish comedian…
1/03/2001
Past Shows
Edinburgh Fringe 2011
Agent
We do not currently hold contact details for Bennett Arron's agent. If you are a comic or agent wanting your details to appear on Chortle, click here.