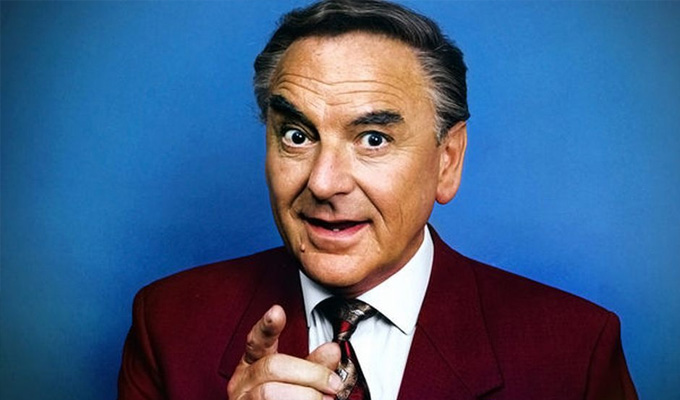 Bob Monkhouse
Date of birth:
01-06-1928
Bob Monkhouse was one of Britain's most enduring performers, with a career spanning more than half a century.
His American-style approach, often derided as smarmy, won him much criticism, but his professionalism, hard work and photographic memory for gags gave him a longevity many would envy.
Heir to a custard empire, he decided he'd rather write comedy than take over the family business, and started off sending strip cartoons to every comic in Britain at the age of 12, while still a pupil at Dulwich College. By the age of 15 was making a regular income from it.
His started his broadcasting career on radio in 1949, and worked as a stand-up comic - but hit the big time as a gag writer with partner, Denis Goodwin.
They wrote jokes for the likes of Bob Hope, Frank Sinatra, Dean Martin and Jerry Lewis - and reportedly sold American comics' lines back to British acts.
In 1952, Monkhouse and Goodwin were given their own TV sketch comedy, Fast And Loose, which only served to show up Goodwin's failings as a performer, and the partnership soon collapsed. Goodwin ended up committing suicide in 1975.
Much of Monkhouse's later fame stemmed from game shows, hosting the likes of The Golden Shot, Celebrity Squares, Family Fortune including The $64,000 Question, Opportunity Knocks and more.
However, his autobiography Crying With Laughter and his televised stand-up show An Audience With revived his reputation as a comic, rather than just an entertainer, in the mid-1990s.
He was also awarded the OBE in 1993, and in 1995 he won a lifetime achievement award at the British Comedy Awards.
Twice married (to Elizabeth from 1949 to 1972, and Jacqueline from 1972 until his death)he outlived two of his three children: his estranged son Simon died of a heroin overdose in a Bangkok hotel in 2001 and Gary, a cerebral palsy sufferer, died in 1992. He also had a daughter, Abigail.
Read More