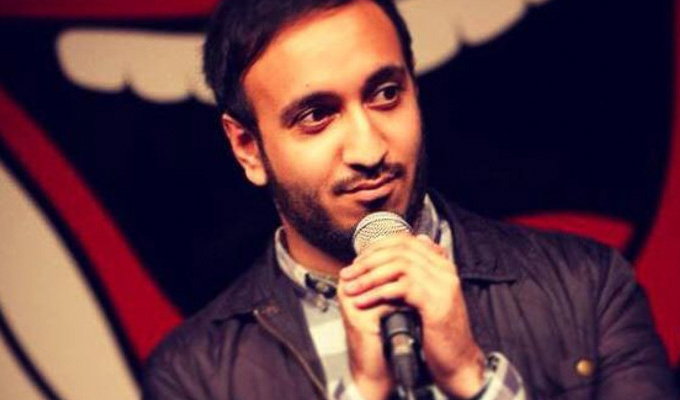 Bilal Zafar
Winner of the NATY New Act Of The Year competition 2016
Read More
Worst gig? Being ignored by millionaires
First gig
In my final year of my media degree, aged 21, I realised that no one was going to let me be the Armando Iannucci creative type person I wanted to be and I'd have to make my own opportunities.
I liked the idea of being a performer and considered an acting course but it was too expensive. It suddenly clicked that stand-up comedy might be the perfect thing for me. I googled "open mic comedy" and came across a Facebook page for a gig in South London. I used to bunk drama lessons from fear in secondary school and would dread any type of presentation or public speaking so I honestly have no idea how I managed to force myself to do an open mic gig. 
I wrote what I thought was five minutes of material, practised it and turned up to the gig. It was a small Mexican themed bar and the audience was almost only comics. I thought I was ready, I had written some bullet points on my wrist which is what I imagined a proper comedian did. I sat and watched a few of the open mic-ers do their stuff, I love that we were all different colours, sizes, personalities etc.
When it was my turn to go on. I felt like my whole body was shaking, I spoke into the microphone and felt shocked at hearing my own weird voice back. It was the first time I had spoken into a microphone. I'm not from a drama or presenting background at all so I didn't know how to learn lines and I went completely blank for what seemed like an entire minute (it was probably 10 seconds).
Luckily, the audience at this gig were very supportive, not at all like a 'gong show' where the audience is encouraged to be mean. I looked down at my wrist for my little bullet points and they had all smudged from my sweat. I showed this to the audience and got a lovely reaction.
Eventually I slightly got it together and managed to do a little set which wasn't good but I had managed to do a gig! I kept doing it, and now, somehow, I'm about to perform my third hour long Edinburgh show.
Best gig 
In 2016 I got through to the final of the NATYs, formerly known as the Hackney Empire new act of the year competition. I was slightly obsessed with this competition because I was a big fan of Stewart Lee and I remember reading that he had previously won.
This gig in particular was a huge deal for me because I've always been quite low in self-confidence and I was feeling very low in my comedy life at the time. I started when I was at uni near Manchester so did most of my gigs up there, just wasn't getting anywhere and had just moved back to London where I assumed I would just stop trying to be a comedian.  
I felt very lucky to get into that final and even luckier to be on right after the interval which is usually the best time to be on, especially when you're on with so many great comics doing short sets. I did a nice little set and came first (I'm certain I wouldn't have won if I was on at any other time on the night).
I know that a performer shouldn't seek validation through things like reviews and awards but it gave me a confidence boost that I desperately needed.
I had been speaking to a couple of agents beforehand but wasn't getting anywhere with them. However, someone from Avalon was in the audience of the NATYs final and they decided to sign me. I had managed to win the same competition as Stewart Lee and get signed by his old management. (I know he slags them off now whenever he can but I still love them, and him). That period of my life was very important and gave me the confidence to do my first Edinburgh fringe show.            
Worst gig
Being a British Muslim comedian can be quite interesting. Although my focus has always been on mainstream gigs so I can be like my heroes one day (who are mostly white guys), I sometimes get offered Muslim or Asian charity and corporate events. They can be great and they can also be incredibly tricky, especially for someone with a downbeat persona like me. I think when people who have never seen live comedy before see me, they just assume I can't do it. 
A few years ago, I was booked for my first corporate fundraising event within that world. It was the first time I had to dress up smart for a performance so it felt really important. I felt like I was doing quite well at the time, gigs were mostly good, in fact, I went over to this event from another gig which went perfectly and I was only due to do about ten minutes which sounded easy!
I got there and it was a beautiful, fancy event in London, far too posh for me. To give you some idea of what was going on, they raised £300,000 at this event and the organisers weren't even surprised about it.
It was my time to go on stage, I started doing my regular talking and realised no one was listening. Dessert was being served while I was on stage, the sound of cutlery on plates was very loud. People were chatting to each other and completely ignoring me. To rub it in, the lights were up and I could see an England cricketer walking around signing things.
By the end of my set most people had finished eating and i got some laughs but felt humiliated. Before I went on, some millionaires were asking me about my stand-up and were excited to see me. They didn't talk to me after my set. I was paid about four months late for this gig.
Most surprising disruption
Earlier this year, I had a pub gig in a lovely little village. It was just three acts and a compere, I was closing the show. 
The MC was doing an excellent job but he was being interrupted quite a bit by a group of people in the front row. The first act came on and they basically wouldn't let her speak. One of the rowdy audience members was looking a bit threatening so the opening act refused to perform until they left. Lack of security is often a big problem unfortunately.
Eventually the bar staff asked them to leave and as they departed, they shouted and swore at the audience and comedians. The show went ahead and everyone was delighted! 
Opening and middle acts did great and then it was my turn. I started fine and about six minutes into my set, there was a banging noise outside. It sounded like hammering. I pressed on but the noise was getting louder and the audience were clearly getting distracted.
I realised there were flashing lights outside...it turned out to be fireworks. I asked the audience what the hell was going on and they had no idea. This was a small village where it seemed like everyone knew what was happening all the time. We finally finished this weird show and left. 
We found out later on that the disruptive audience members returned to the show and taunted audience members by asking them if they 'enjoyed the fireworks'. These people (who were multi-millionaires who owned the biggest house in the village) were apparently so angry at being kicked out, they let off fireworks near the venue to disrupt the show.
Apart from that, the gig was lovely.
Best gig as a punter
This is difficult to pick because I've been lucky enough to see some really great shows! 
One of my favourite comedians is Maria Bamford (I liked her way before all these comics were talking about her on Facebook groups) She performed at the Leicester Square Theatre for her London debut. Some extra dates were added and I managed to book two tickets, in the second row, right in the middle, perfect seats in an excellent theatre.
I really love seeing a performer who's been doing it for a while at their best. Like 'A Tribe Called Quest's final album or any film actor that's been around for ages putting in a legendary performance.
Seeing Maria Bamford live felt a bit like that because I thought she was incredible and inspirational. I had heard audio of her solo shows before and didn't expect her to be such a physical performer. Being up close made it very intimate. She reminds me that comedy doesn't have to be what everyone says it is and there's always room to be really creative, personal and break conventions.        
• Bilal Zafar: Lovebots, Just the Tonic at The Mash House, 15:45
Read More
Published: 1 Aug 2018
Past Shows
Edinburgh Fringe 2016
Edinburgh Fringe 2017
Edinburgh Fringe 2018
Agent
We do not currently hold contact details for Bilal Zafar's agent. If you are a comic or agent wanting your details to appear on Chortle, click here.