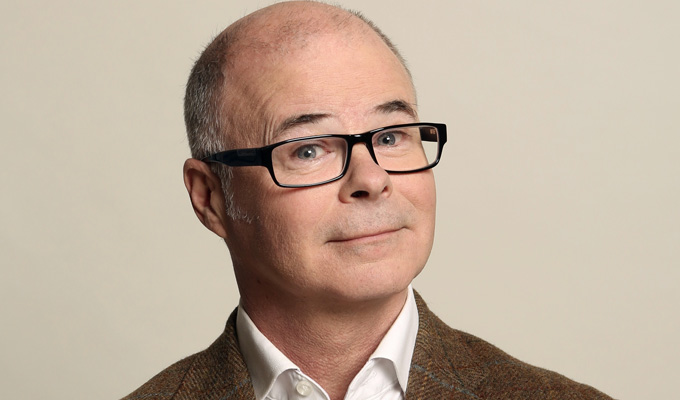 Andy Askins
Teenage Cancer Trust comedy night 2016
Note: This review is from 2016
This year's Teenage Cancer Trust benefit certainly had an eclectic line-up, from alternative comedy pin-ups Stewart Lee and Josie Long to as-mainstream-as-it-gets John Bishop, who hosted.
And the audience didn't always know what to make of it.
Maybe they were drawn from the charity or Royal Albert Hall mailing lists, and weren't quite conversant with the rhythms of stand-up. Even a relatively straightforward gag from Seann Walsh took so long for the penny to drop you'd think that the coin had a parachute.
Or maybe the emotional gear shift between the poignant and the puerile was too much, as heartfelt appeals juddered into knob gags. Whatever the reason, responses were way more muted than you'd expect from a crowd of 5,000.
Bishop opened by telling us to 'have a laff' despite the night's serious purpose; as well as warning that as comedians, 'we are going to say things we shouldn't say'. Has it come to the point that gigs need explicit disclaimers now?
An opening 'joke, joke' you could tell down the pub quickly broke the ice, though his story about being invited to Downing Street for his Comic Relief work dragged in its set-up. That was followed by a story of a prostate examination – standard fare for any 49-year-old comic – and Bishop didn't add much beyond the 'finger up the bum' sniggers.
But he's the sort of name who sells out venues like this – and with routines like this. So him as figurehead certainly works for the Teenage Cancer Trust's coffers. Plus he has an ability as an everyman compere to navigate the telethon-style obstacle course between entertainment and charity appeal (Text REACH to 70500 to donate £5). Did he mention he does a lot of work for Comic Relief?
His routine that opened the second half was much stronger, about meeting U2 in Boston pre-gig (theirs, not his) – although again an editor might have wanted to accelerate the build-up. But a crowd can never hear too much about Bono acting like a pompous dick.
The first featured act was Romesh Ranganathan, who claimed he wasn't going to bring his A-grade material to a charity night. If the crowd believed that, they should be snapping up tickets to hear his gold on tour, as he garnered some of the best responses of the night. Parents clearly empathise with his brutal portrayal of one of his children as a 'feral prick', with both the youngster's shenanigans and Ranganathan's impotent attempts at taming him striking a cord.
There's delightful disdain, too, for his own mother – whom he accuses of trying to piggyback on his success after her show-stealing appearances on Asian Provocateur – and Iggy Azelia's cultural appropriations. Is there anything he does like? Well, he slyly slips in a line that maybe ISIS does have a point…
Something of a curious booking next, as Andy Askins took to the stage. He's a circuit stalwart, but he has nothing of the profile of the rest of the acts. Meandering to the stage, this mild-mannered middle-aged chap with the demeanour of a long-serving accountant confesses: 'I have no charisma.'
Fittingly low-key material was a mixed bag, from the predictable '…so I was asked to leave the library' pullbacks to wry jokes about One Born Every Minute and a song for 'bitter, spiteful' relationship that had some amusing barbs, but wasn't quite as vicious as promised. A serviceable set, but no 'wow, who is this guy?' factor you might have hoped for.
At least the crowd knew what to make of him, which you couldn't say of Stewart Lee. His whole shtick is playing his intellectual superiority off an audience unworthy of grasping his brilliance. With his own fans, this is theatrical artifice, but here there was genuine confusion.
When he said the migrant crisis 'bought out the best in newspaper columnists', it seemed to be taken at face value. And in another moment, Lee had to highlight the sad echo of 'two people whooping in the Royal Albert Hall' in response to one of his salient points.
However seemed to take masochistic pleasure in the discomfort – apt since one section feigned nostalgia for old-fashioned violent and degrading BDSM sex. He voiced his hope that he could get 'booed off for charity' and laughed at his audacity in indulging in 'metatextual improv' while dusting down a decade-old routine he'd planned on using as an emergency get-out. A few things got laughs, primarily a silly repetitive pantomime of young people pawing at their phones, but a big room of casual comedy-goers shows Lee is still a minority favourite – although he probably wouldn't really want it any other way.
Seann Walsh kicked off the second half with another of the night's stronger sets, despite the initial hesitance. But once he launched into his vigorous attacks on eating fads from veganism to wheat-deniers to quinoa (this latter dismissed with a brilliantly blunt insult), he had the crowd in the palm of his hand. He's a no-nonsense pie-chips-and-beer kinda guy, getting laughs from both his girlfriend's attempts to sophisticate him and his own behaviour as a shambolic man.
The performance was dynamic, too, encroaching on the audience, climbing over the on-stage stool and mounting a monitor speaker, all in the service of expressing his passion – and it hit home expertly.
Josie Long also won over room with the sheer force of her engaging vivacity. You might be hard-pressed to identify a single joke in her set, as she remembered the carefree joys of being 26 (eight years ago), highlighted London's housing crisis or enthused about joining a boxing gym – but the gleeful gusto is infectious and her authenticity palpable. Plus the vital supermarket life hack she shared has to be worth another fiver in the charity's collection buckets.
Alan Carr had apparently been a little nervous about his appearance, feeling his TV work meant he wasn't 'match fit' for stand-up. He needn't have worried, with a spirited run-through of his failings, especially the need to 'man up' and conquer his fear of confrontation, delivering the goods.
The set had it all: jokes, playfulness and a confident, lively performance that brought out the best in his physical comedy talents, from star-jumps to pulling a jumper over his head – all the while channeling the camp comedy delivery of Larry Grayson and Frankie Howard. Never mind about 'match fit', this was sharper and wittier than his last tour, as he rediscovered his gloriously self-effacing mojo.
Read More
Published: 20 Apr 2016
The bill boasted Jack Dee, Jimmy Carr, Paul Merton,…
1/01/2009
Like Billy Connolly and Jasper Carrott before him,…
16/09/2005
Agent
We do not currently hold contact details for Andy Askins's agent. If you are a comic or agent wanting your details to appear on Chortle, click here.