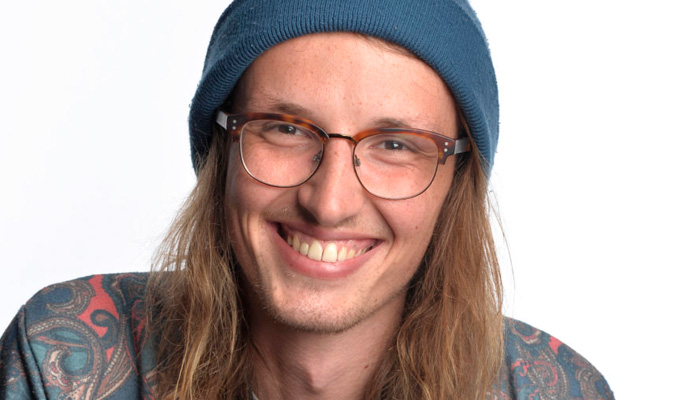 Andy Field
Winner of the Chortle Student Comedy Award 2015
Read More
I went to school dressed as Groucho...
Peep Show
Nothing hits me where it hurts like Peep Show.
It's painfully relatable, from Mark's problems with people to Jeremy's misguided belief that he's a visionary artist to Super Hans' passion for recreational drugs, at some point in seemingly every episode of Peep Show someone will voice a thought that so closely mirrors my own that I become concerned that I live in my own Truman Show and Peep Show was created by psychologists to relate to me as much as possible so they can get more shots of me laughing at the television.
I can't think of another sitcom that has made me laugh out loud quite as consistently, often and hard as Peep Show, it's brilliant. And it's also positively impacted my life, since living by the Big Beat Manifesto (big beats are the best, get high all the time) I've had a lot more time for watching Peep Show and appreciating big beats.
Monty Python And The Holy Grail
I've spent a fair proportion of my life daydreaming about being in Monty Python and I could easily put anything by them here, but the Holy Grail, as the first thing I saw of theirs, has to be my favourite.
I remember being sat down by my dad one rainy weekend when I was about 12, he put on the Holy Grail and proceeded to quote every single line to me which I found deeply annoying. But it totally blew me away, I'd never seen anything so silly and I loved it. The next time we watched it together I quoted every line right along with him.
When Spamalot came out I went with my dad, when Monty Python did a reunion at the O2 I went with my dad, when I think about Monty Python I think about my dad.
Even without that connection I would still love Python but it's addition just makes the love stronger. I look forward to a day in the future when I can carry on my dad's torch and annoy my own children with my inexplicable knowledge of every line in the Holy Grail, maybe he'll be there to double the annoyance, that would be nice.
Jackass 3D
I have never laughed as hard as I did when I went to see Jackass 3D in the cinema. I'd always been a Jackass fan, while my friends growing up weren't as interested in niche stand-up comedy as me, a group of grown men being disgusting and hurting themselves was something we could all get behind.
In my years of watching Jackass I saw them go from a group of weirdos on a tiny MTV show to a group of weirdos who make multi-million dollar movies and the history as much as the scale behind Jackass 3 makes it a truly great comedy film to me.
Scientists talk about the Goldilocks zone where everything is 'just right' for a planet to potentially host life, Jackass 3 is the Goldilocks zone for Jackass, they have the budget, the technology, they're approaching but not quite too old, they've been doing this together for the majority of their adult lives, Steve-O is in rehab but still stunt crazy, Ryan Dunn is alive and well, Dave England can still poop on demand, they know what they're doing and they love doing it.
I often watch stand-up and find myself nodding and thinking 'that's a great joke' instead of laughing and enjoying myself like a normal person, that's not a problem when I watch Jackass, it's an entirely different type of comedy. The humour comes from the connections between a real group of friends, the recklessness, the wilful stupidity, the gleefulness, the shocking yet predictable consequences.
There's nothing in Jackass that makes me think 'I wish I thought of that', they're welcome to that whole niche, I have no interest in being catapulted or getting smashed by a giant hand.
All I feel when I watch Jackass is admiration and joy. Seeing people upset and in pain is not fun, hurting people is not positive but these are men who know full well what they're getting themselves in to, they've been hurt, they've gotten better and you can rest safe in the knowledge that however hurt they get they'll bounce back and be oddly proud of the footage of themselves crumbling.
It's all the fun of seeing people fall over without the pesky undercurrent of concern that scuppers a good laugh.
Brendon Burns: So I Suppose This is Offensive Now?
I've always been fascinated by stand-up comedy but I didn't really know anyone else that liked it as much as me so I used to just take in whatever I could. I think I still have VHSes on which I recorded episodes of late night stand-up shows like Live at Jongleurs so I could watch a tight club set while I ate my breakfast before school.
I found So I Suppose This is Offensive Now? in a CEX in Crawley when I was 17. I used to go in there and buy any stand-up DVD I hadn't seen for under £2, watch them and bring them back. I didn't have high hopes for Brendon but this show blew my tiny mind. Up until I stumbled across this I hadn't really seen stand-up like it before. It was confrontational, rude, loud, brilliant, it was like I discovered a whole other side of the coin.
I'm not going to say it's the funniest show I've ever seen or even the best but at the time I hadn't seen anything like it. I became a fan of Brendon Burns, I looked him up, I discovered this show had won the big prize in Edinburgh which I took as a solid sign that I absolutely had to go to Edinburgh. So I did, I loved it and I haven't missed a year since. I did stand-up for the first time a few weeks after that first Fringe and I haven't stopped doing that yet either.
Brendon Burns was the first stand up I can remember seeing that did things differently, I'd primarily been watching televised club sets and Lee Evans up to that point, then there was Brendon with a tuxedo, handlebar moustache, loud Australian accent and a penchant for calling people cunts.
It wasn't necessarily the path I wanted to take but the fact that it was a path someone had taken gave me a lot of hope for the future, it showed me you can be different, even provoke people and still make something great and funny that people appreciate.
Duck Soup
I love the Marx Brothers, I couldn't have been older than 10 the first time I saw Duck Soup, I remember despairing that the film was in black and white and internally deciding to not like it so I wouldn't have to be shown any more black and white films.
Then I saw Groucho Marx with his huge painted-on moustache and cigar, loping around, talking so quickly I could barely understand him. But the more I listened the more I realised how funny he was being. Everything he said was a joke, and they came out so fast, I wanted to slow the film down so I could listen better but he always kept going and I didn't want to interrupt.
After I watched it the first time I immediately wanted to watch it again to catch all the jokes I'd missed. Then there were the physical scenes, pretending to be a mirror, incessantly putting hats on people that didn't want hats on, it got me every time. It also softened me to black and white movies and led to a love of Charlie Chaplin and Buster Keaton, but the Marx Brothers hold a special place for me.
I remember bringing in my VHS of Duck Soup to primary school a few times when we had the option of watching a video in class. For some reason it never got the vote.
I even dressed as Groucho Marx at my end of primary school fancy dress disco, I must have been 12. No one knew who I was supposed to be, even a lot of the parents were confused. I remember children whispering in my direction and saying Hitler so I think I may have caused some controversy. Of course they'd have known who I was supposed to be if they voted for my video once in a while.
South Park
I wanted to include an animated show because there are so many I think are great, The Simpsons, Bobs Burgers, Adventure Time, Family Guy, Rick and Morty, Looney Tunes, Futurama, it's a long list. But South Park has always stood head and shoulders above the rest for me, I first watched it when I was likely far too young and it instilled in me a love of swearing and silliness that I cherish and nurture to this fucking day.
For a long time the ringtone on my Nokia 3210 was a monophonic version of the song 'Uncle Fucker' from the South Park movie. The fact it was just a series of beeps in tune to the song with no words kept my parents from working out what it was for years, but I knew and I sang it in my head every time like a rebel.
South Park is subversive, crude, outrageous but above all it's consistently funny.
If The Simpsons was as good now as South Park is there's no doubt I'd be writing about them instead, I must have watched every episode of The Simpsons growing up and I was obsessed, I thought it was sheer genius and those episodes I loved are still great, but eventually The Simpsons just stopped making me laugh, it got stale, the improvements in the animation didn't make the show any better.
South Park still gets me, from the early episodes with dodgy animation and little storylines to the newer episodes where earth shattering events are happening constantly alongside state-of-the art animation, whatever era of South Park I watch, however the technology has weathered or developed , it's not stopped being funny.
• The Andy Field Experience, Pleasance Courtyard, 21:45
Read More
Published: 1 Aug 2017
Past Shows
Agent
We do not currently hold contact details for Andy Field's agent. If you are a comic or agent wanting your details to appear on Chortle, click here.