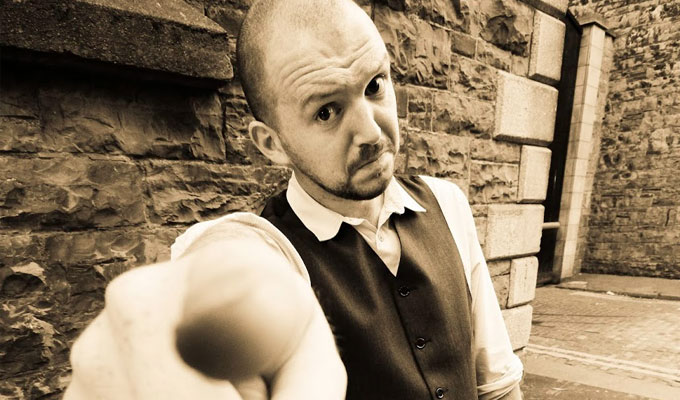 Aidan Strangeman: Horsey
Note: This review is from 2015
It makes a lot of sense that Aidan Strangeman used to be a singer-songwriter. Songs seem to pour out of him, and the phrasing and music click together with such competent ease, it seems he actually knows what he's doing. And then there's his tremulous warble…
For his debut show, the 2014 So You Think You're Funny? winner has chronicled his life in song, from his first sex education lesson, through his early relationships, to his current state of being a family man with daughters of nine and 13.
It's thoroughly charming, and Strangeman (real name Aidan Comerford) is the butt of most of the jokes, casting himself as the singer-songwriter it would be wrong to fall in love with, and the husband whose wife prefers sleep to sex. His children have him in their pocket, too, especially now they're too old to find him funny anymore. The nice angles he finds for his songs and his friendly persona are what carry the hour.
However I wonder whether, being a former singer-songwriter, he almost knows too much. He's used to writing proper, fully formed songs, and that may be a ceiling to how far he can take them. At least when Flight Of The Conchords wrote 'proper' songs, they were genre-hopping, or the music was integral to the comedy. Rich Hall's songs have the hook of being part of a wider parody, or nod towards country and western music.
But Strangeman is armed only with an acoustic guitar and a homing instinct towards poppy/indie songs, which doesn't leave him much room for manoeuvre. His lyrics are doing all the work, and he'll have to make them pretty shit hot or broaden his scope (a la Tim Minchin) to move him up to the next level.
In fact it's a very song-heavy hour (even for a musical comedy show), and having proved he can write a good comedy song, Strangeman might be better off concentrating on improving his stand-up in between them to add another dimension to his appeal.
Nonetheless, Strangeman has an absorbing, sweet-hearted show and we'll see more from him.
Read More
Published: 20 Aug 2015
Michael Redmond has a face that looks like it's…
27/02/2015
The Gingerbeard House is a regular night in Galway,…
23/10/2014
2014 is turning out to be quite the vintage year for…
22/08/2014
Past Shows
Edinburgh Fringe 2015
Agent
We do not currently hold contact details for Aidan Strangeman's agent. If you are a comic or agent wanting your details to appear on Chortle, click here.