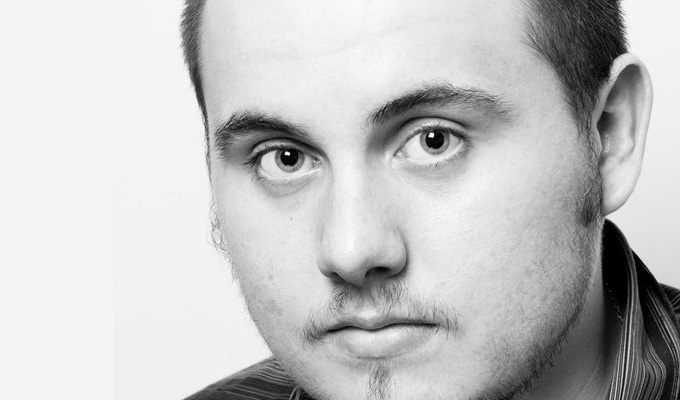 Andy Holloway
'On stage is the only place I feel normal'
Before I start, I need to warn people that this article ends with the biggest cliche imaginable. And so we begin...
I've always been different.
My earliest memory is being fascinated by maps, flags and capital cities. Children are supposed to read comics and books. I used to read encyclopedias and CD album insets. I say 'used to', I'm still doing the exact thing now.
I'm into football. But only because of the structure and order of a League table, rather than the skills on the field.
For the first 15 years of my life, I assumed I was just an 'odd one' and accepted that. But then when people started to tell me that I had Asperger's and dyspraxia.. Everything made sense, for a bit.
It felt like a massive weight off my shoulders, and every little bizarre thing I did throughout my life had now been explained. But more recently, as I've entered adulthood, I've started to feel differently.
Words like 'embarrassed' or 'ashamed' are big, powerful words. And pretty close to how I feel.
It's easy for a 13-year-old to just sweep not being able to tie shoes" under the carpet. But when a 23 year old can't do it, or put a duvet cover on, or use the phone, or look another adult in the eye, it's hard.
I've recently embarked on a stand-up comedy journey. And it's going well. Really well. It's escapism. I get to stand on a stage, talk about nonsense for 15 minutes and get instant gratification – if the gig goes well, that is.
And people say, 'Wow Andy, it must be hard/tough going up on stage in front of all those people.'
No.
I'd rather perform to 3,000 people, than share a backstage green room with four or five strangers.
I hate it.
I'm good at hiding it. Really good. I'm a nice, decent person and I can hold conversation well, but inside I'm screaming.
What makes it worse is the endless paranoia loop in my head when I'm around other comedians. 'Don't be a dick, Andy. Speak more, Andy. No, that's too much, shut up now. And stop moving your hands like that, they can tell you're feeling awkward. Okay, you're waaay too still now. For god's sake, Andy, COME ON MAN...'
I say 'When I'm around comedians...' rather than 'When I'm around people,' because all I ever am is around comedians. My life isn't anything else.
And now, here we go, the big cliche I warned you about at the beginning.
Those 10/15/20 minutes I get on a stage every night...
...That's when I feel normal. Accepted.
I feel like I belong somewhere.
I feel like the 'real me' that I was at school and college that wasn't so concerned with the problems I had.It feels so good.
And then I come offstage.
Someone from the audience comes up to me, grabs me hard by the hand and tells me how great I was.
I look over his shoulder and go, 'Yeah, thanks.' He goes to his friends. And tells them what a cunt I am.
• Andy Holloway + Friends is on at the Canal Cafe Theatre in Little Venice, West London, on Friday August 1 as part of the Camden Fringe.
Read More
Published: 15 Jul 2014
Agent
We do not currently hold contact details for Andy Holloway's agent. If you are a comic or agent wanting your details to appear on Chortle, click here.