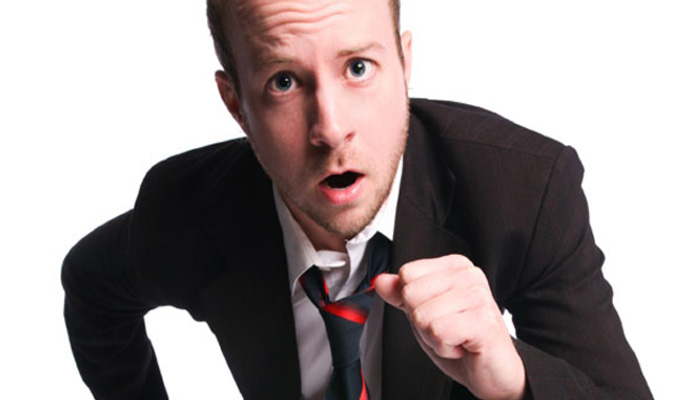 Anthony Menchetti
Anthony Menchetti: Gay Conversion School Drop Out Volume 2
Note: This review is from 2008
When he was 20,
Anthony Menchetti
's hardcore Christian parents sent him to a camp to have his homosexually deprogrammed out of him.
Putting four confused, horny, sex-starved young gay men together in an intense, confined situation in the belief that they would emerge staunchly straight… what could possibly go wrong? Well, obviously something did: Menchetti ended up sleeping with his team leader.
This is that story. Those three paragraphs stretched, rather thinly, over a whole hour. He mentioned the transgression in last year's show, too, which leaves him very little to say in a 55-minute sequel.
In this followup doesn't dwell too much on any of the issues concerning how the church imposes its 1st-Century values on modern youngsters – save for a brief diversion into all the other things the Bible disallows but are somehow now considered OK – and instead is a fairly straightforward account of what happened.
But what happened isn't really that much, and it doesn't make for a compelling yarn. Menchetti also doesn't make us care enough about the other very thinly drawn characters in his group, so their stories, which seem like so much of this show to be empty padding, are even less interesting.
The tale is livened up with a few gimmicks: the odd song, and an entertaining demonstration of the plastic crap his father brings into the country via his import-export business. But really, this is show offers very slim pickings, however likeable a host Menchetti is.

Reviewed by: Steve Bennett

Read More
Published: 4 Apr 2008
This is a lovely little show from an engaging performer…
1/01/2006
Past Shows
Edinburgh Fringe 2006
Agent
We do not currently hold contact details for Anthony Menchetti's agent. If you are a comic or agent wanting your details to appear on Chortle, click here.