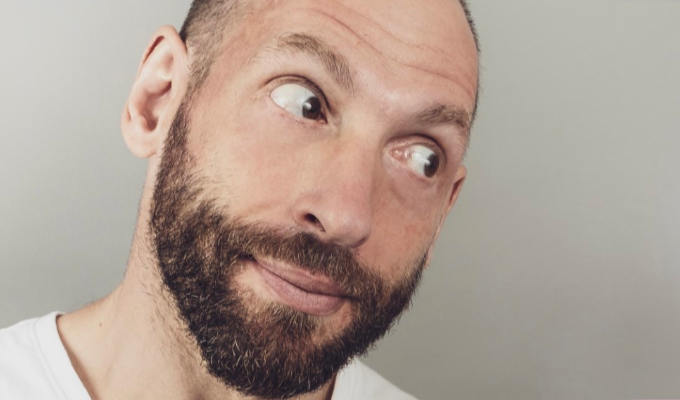 Finding Your Comic Genius
Chances are that when you're watching a comedian in full flow, you won't be thinking about see-saws, balloons, balls and cubes. But those are the kinds of analogies stand-up Adam Bloom deploys the latest contribution to the vast litany of 'how to' books on the topic of comedy.
See-saws are how he believes punchlines should be constructed for most impact, with more syllables one site of a pivotal point that another. A popping balloon is the tension of a joke's build-up suddenly releasing in an explosive moment of laughter. And balls and cubes are too types of gag – a ball rolls freely whatever the circumstances, a cube needs a hefty nudge from a ball to make it move.
Like so many instructional books, the metaphors sometime feel like a stretch, seeking to find patterns in whether a phrase or punchline instinctively sounds right. But whether the specific analogies resonate or not is not, especially, the point.
The bigger picture is how much Bloom wants comics, whether established or new, to forensically examine every line they say to see whether it could be improved. A few words lost to make a gag tighter, an extra tagline or two, a more delightful or specific phrase in place of a more workmanlike one – all these little things add up to make any set significantly stronger.
'But it works,' is the last response Bloom wants to hear from comics reluctant to hear his suggestions about putting their work under the microscope. Perhaps because a good line is so hard to find, messing with something that lands might mess with the alchemy.
But at every turn Finding Your Comic Genius asks 'could it work better?' and suggests ways of putting that to the test. In some ways the title is a misnomer, this is less about finding what makes you funny and more about refining and refining and refining until you can be the funniest version of that which you can be. Though Bloom is also insightful about creating a clear persona, summarised in a few adjectives, perhaps with the occasional surprise.
Storytelling comedians especially might benefit from Bloom's insight – gleaned over an an almost 30-year comedy career, including writing for some big-name comics. It's a genre that allows for a certain airiness in the writing if audiences are caught up in the narrative. But again Bloom is full of suggestions to optimise every aspect, not just in tighter lines but also in the flow of events, and having a B-story.
I couldn't help but thinking of Bloom's advice while watching Mike Birbiglia's current West End show, The Old Man And The Pool, as the American is a stand-up who has thought about every single line in great depth, as Bloom urges, and as a result presents the very best version of his story night after night. By comparison, other comics who don't subject their work to the same professional rigour, feel like they are firing on fewer cylinders
Some personal bugbears (most of which I also share) are also aired in the book, especially moments when comedians constantly remind audiences that they do this job every night, inadvertently reminding people this is not a moment of spontaneous joy that they might otherwise be enjoying. Boom mic moments, Bloom calls them, like when you momentarily see sound equipment in a TV shot, taking you out of the moment and reminding you of the artifice.
Then there's 'virtual comedy' –when something sounds like a joke, but isn't – another sin.
From how much to swear to what clothes you wear on stage are considered. Bloom is a T-shirt and trousers comic, but even then has thought about exactly what sort of T-shirt works with his material.
For those already in a reasonably successful comedy career, the bonus chapter on corporate comedy could save you the cover price dozens of times over if Bloom's advice saves you a dispute over fees. His tips are not just about professionalism, but on covering your backside if these notoriously tricky gigs go awry.
And even if you're new to comedy, this is the fraction of the price of a comedy course and contains as many learnable tricks than you could possibly want.
He oversells some of the points, ramming them home repeatedly. But Finding Your Comic Genius should inspire every comic to try to optimise every word of their material and every aspect of their presentation. If you, as a comedian, aren't doing this, somebody else seeking the same bookings will be…
• Finding Your Comic Genius: An in-depth guide to the art of stand-up comedy by Adam Bloom is available now from Amazon, priced £11.89 in paperback and £6.99 in Kindle
Published: 19 Sep 2023