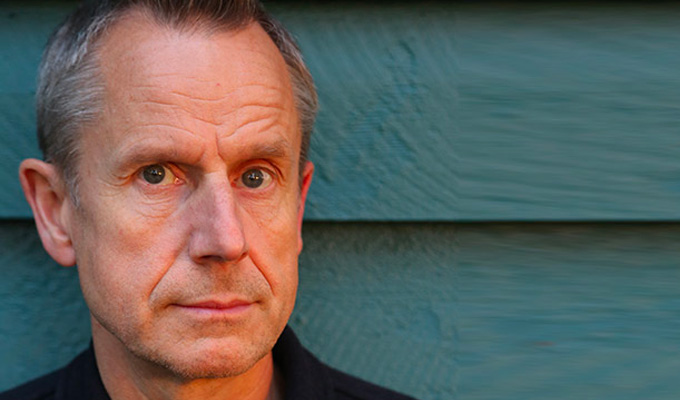 Jeremy Hardy Speaks Volumes
It surely goes without saying that Jeremy Hardy's death last year at the age of 57 was a loss to comedy. But he left a remarkable legacy, which is celebrated in this fine and fitting collection of his writing, which has been compiled by his wife, the film-maker Katie Barlow, and the producer of his radio shows, David Tyler.
Hardy was remarkably prolific over his roughly 35-year comedy career. He created more than 24 hours of stand-up for his Radio 4 series Jeremy Hardy Speaks To The Nation alone, let alone his live work, his column-writing, his other projects and the countless impassioned rants for the many, many episodes of The News Quiz he appeared on.
That passion, though, was tempered by both a keen sense of absurdity and a persona that seemed like a typically British combination of grouchiness, petty grudges and resigned acceptance that life is essentially a bit rubbish, so best get on with it and muddle through.
However, that fogeyish demeanour concealed a steely edge – and he could never be accused of accepting the status quo, campaigning tirelessly for unfashionable causes such as the Birmingham Six, Palestine and refugees, well away from the limelight.
He even made a film about his encounters with the Israeli Army with the International Solidarity Movement, which is how he met his wife. Her afterword here is beautifully poignant, a sad reminder of the real person behind the laughs contained in the other 300-plus pages, a testament to his campaigning zeal, and a reminder that he saw satire's role to be genuinely irritating, not a salve to soften a inequitable system.
Speaks Volumes features other sincere tributes from his friends and colleagues pointing out his brilliance as a comic and and activist – Jack Dee, Rory Bremner, Mark Steel and Sandi Toksvig among them – but this epilogue brings a lump to the throat.
It is, of course, Hardy's own words that make the most convincing case for his talents. Sorted by categories, this anthology is just a small selection of his output, with his distinctively weary voice evident in every sentence.
As well as extracts from those many radio appearances and stand-up shows, Speaks Volumes includes examples of his writing for the Guardian and the left-wing website Red Pepper. In these, his campaigning spirit comes across stronger than his desire to score a laugh, although wit remains his lingua franca. But radical politics and often whimsical comedy are inextricably intertwined throughout his work – except, perhaps, the Uxbridge English Dictionary definitions from I'm Sorry I Haven't A Clue. It's hard to get an agenda into those puns.
But it wasn't just the political where he found the funnies, and Speaks Volumes covers the breadth of his work as well as its depth, as well as highlighting just how many ideas and tropes that have become tropes in comedy had their origins in Hardy's fertile brain.
Here are just a few of his one-liners from the book… although they are, of course, best savoured as part of the long, sometimes digressive, diatribes that crescendo to a wonderfully pithy point.
'You can make an argument that it says it was a bad idea to join the EU, but it is one of those things that once you're in it's probably impossible to get out. It's like it would be a bad idea to get a pacemaker from Wickes but an even worse idea to try and remove it yourself.'
'The Union Jack I'm still squeamish about. I'm not sure I want to reclaim it from the right because they've got muck all over it. But should we blame a flag because it's been flown over some terrible things in the past? I've flown over Swindon but I can't be blamed for that.'
'I believe that patriotism, like religion and flatulence, should be private.'
'Nigel Farage is extraordinary. He keeps coming back. Like Doctor Who but without changing heads.'
'It's true that bombing is rather random. If the programme Ground Force ever transfers to America it will probably be called Airforce and will involve patios being dropped from 5,000ft and hitting the wrong garden.'
'I operate under the principle that meat is murder but fish is justifiable homicide.'
'Islam is no weirder than Christianity. Both are just Judaism with the jokes taken out.
'Don't clap, that means you agree but it's not very funny.'
'I have decided to live each day as though it were my last, so I lie in bed all day slipping in and out of consciousness.'
'We scattered my parents last year. We did cremate them first. We didn't just dismember them and leave them in carrier bags in service station lavatories.'
• Jeremy Hardy Speaks Volumes, edited by Katie Barlow and David Tyler, has been published by Two Roads priced £20. click here to buy from Foyles at the cover price, or here to buy from Amazon for £14.93
Published: 3 Mar 2020
What do you think?