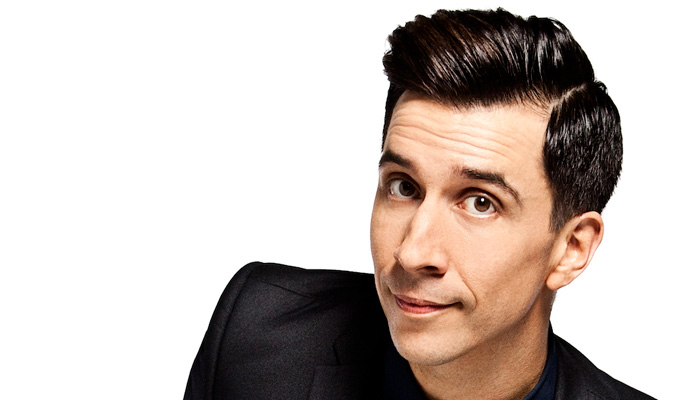 Son Of A Silverback by Russell Kane
For his first memoirs, Russell Kane has returned to the subject that has most won him acclaim in his stand-up: the relationship with his overbearing, alpha-male father.
Dave Kane was the epitome of a certain type of unreconstructed man, a hard-grafting Essex builder and sometime doorman who lived his life by an unbending upper-working-class code, and never more so that when it came to what it meant to be a man.
He was the breadwinner and master of his domain. A man who suppressed his emotions except when they came out in an unpredictable tsunami of rage. An iron-pumping, steroid-taking hardman who drew an arbitrary line about what point looking after your body made you gay, one of the worst offences in his sizeable mental statute book. A racist.
Furthermore, he was convinced the universe was out to get him, hexed by an apparent Kane Curse. People or businesses getting one over on him was a constant concern; the all-you-could-eat buffet being his one chance to get one over on the system and consume more than the value of the bill.
Russell tells a remarkable story of his dad turning up to a nightclub in a classy, expensive shirt that he was so proud to wear, then going properly mental to see someone else in the queue wearing the same thing. Pride was his main deadly sin, and this was an affront to it. That same sense informed his code of honour, of being self-sufficient and proud of it – he would never have dreamed of drawing benefits.
Through a series of eye-opening anecdotes, Son Of A Silverback paints a vivid picture of a man who seems at once larger-than-life and an instantly identifiable package of toxic masculinity. He handed down a lot of baggage to his son.
Other stories get a look-in, of Kane's awkward sexual awakenings, of a spot of amateur bomb-making gone awry, and of a big event at school that made the papers. But the cover illustration is accurate, the towering shadow of Dave Kane looms large over everything: this is his story more than Russell's
In prose, Kane puts aside almost all of the manically urgent affectations of his stand-up when he writes. If occasionally his asides seem a bit too eager to peacock his knowledge or crowbar in a desperate joke, that may be understandable in the context of an upbringing where intellectualism was frowned upon. But mostly this instinct is parked.
Kane is keen to explain that his is not a rags-to-riches story. Thanks to Dave's graft, the family were relatively comfortable with holidays in Spain and much-vaunted home improvements. But if he didn't have to escape poverty, Kane achieved something just as difficult: he escaped his destiny in a rigid class system, unwittingly enforced by his equally unyielding father.
Russell is nothing like Dave, as he first explored in his Edinburgh Comedy Award-winning stand-up show Smokescreens And Castles more than a decade ago. A scrawny, sensitive, awkward, effete, slightly nerdy boy –intelligent and inquisitive in a world, and especially a family, that did not encourage such things.
The supreme irony is that for all Kane is the opposite of his father, it was the same 'look after No1' values that gave him the drive to get out of his unhappy situation. By determination and graft, Russell put himself through college as a slightly mature student, and vigorously set to work on improving himself, feeding his hunger for literature and painstakingly learning every new word he encountered to gain entry to a world from which he had seemed excluded.
Social mobility joins toxic masculinity, body image and mental health as one of the touchstones of this book. How much different – easier – would Kane's life have been had he had a nurturing upbringing. But maybe that would have robbed him of the drive that made all the difference.
For through his own efforts, Kane achieved the elusive ambition of 'making something of himself', first as an advertising copywriter and then, as we know, as a stand-up. But the first gig is the point that this book ends – out of the shadow of the silverback at last.
• Son Of A Silverback by Russell Kane is published by Bantam Press, priced £16.99. Click here to buy from Amazon for £8.49
Published: 15 Jan 2020
What do you think?